The Gadgeteer is supported by readers like you! If you buy something through links on our site, we may earn an affiliate commission at no cost to you. Thank you! Learn more.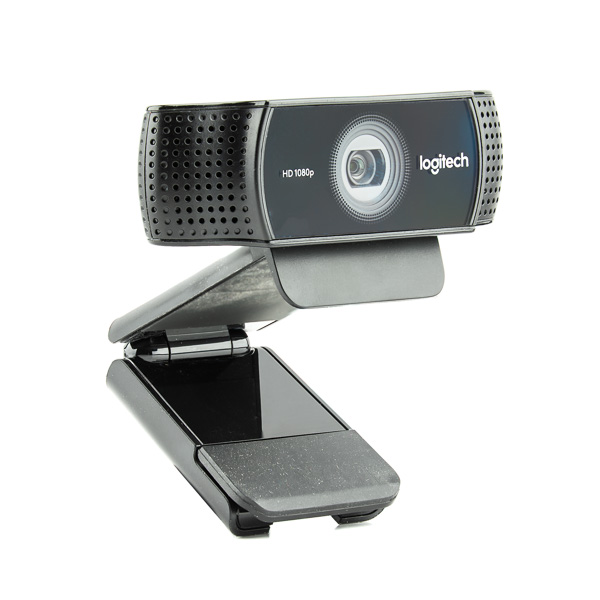 I used to write video chat software a few years ago, so I've seen my share of webcams. When the chance came along to review the Logitech C922 Pro Stream Webcam I jumped at the opportunity to see how good the latest webcam from Logitech really is.
What is it?
The Logitech C922 Pro Stream Webcam is a full HD webcam with Full HD 1080p at 30fps, 720p at 60fps and 30fps streaming capability. The C922 is optimum for recording, game streaming, or video conferencing – basically all of your webcam needs.
Hardware specs
| | |
| --- | --- |
| Dimensions | 1.73 in (44 mm) x 3.74 in (95 mm) x 2.80 in (71 mm) |
| Microphone Type | Built-in Dual Stereo |
| Recording | 1080p30fps, 720p60fps, 720p30fps |
| Lens and Sensor Type | Full HD Glass Lens |
| Diagonal Field of View | 78° horizontal |
| Frame Rate (max) | 720p60fps/1080p30fps |
| USB Protocol | 2.0 |
| Image Capture (4:3 SD) | Yes |
| Image Capture (16:9 W) | Yes |
| Video Capture (4:3 SD) | Yes |
| Video Capture (16:3 9) | Yes |
What's in the box?
C922 Pro Stream Webcam
Tripod
XSplit 3 month premium license
Setup Guide
Design and features
Having owned literally dozens of webcams over the years, I've seen webcams ranging from the absolute worst to some of the best. Up until now, I was using a webcam that I paid nearly $200 for about 10 years ago. I thought it was a great webcam (it was when I bought it). As soon as I plugged in the C922 and fired up a video window, I literally said "Oh wow!" out loud. The video was that good!
I do daily video conferences using Google Hangouts with my main client. They immediately noticed that my video was much sharper and had a better frame rate than before. One thing that I noticed right away was the excellent autofocus of the C922, gone are the days of trying to manually focus my webcam, which is very difficult because I sit more than an arm's length away from it.
If you're needing to take close-up video or pictures, this webcam can focus at about 1.5 inches from the lens! The auto focus worked very well for the most part, but I couldn't get it to focus automatically on the tiny micro-SD card. It did however work very well with larger objects, which is what you would probably be using it for anyway.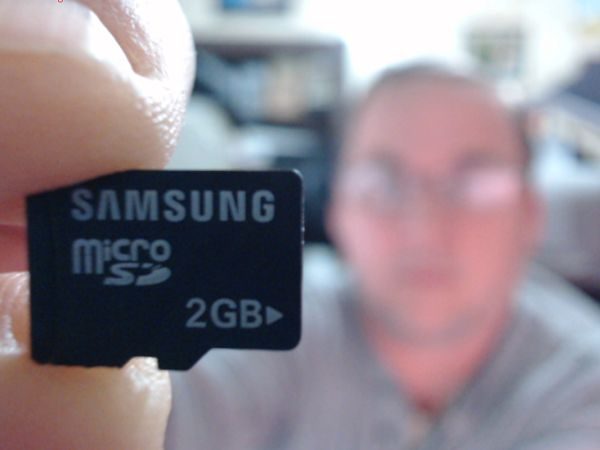 Although the camera will work just by plugging it in with modern versions of Windows, you'll want to download the settings program from the Logitech support pages if you want to adjust the settings which include brightness, contrast, autofocus, color intensity, and white balance. Autofocus and white balance also have an automatic setting (the default).
On Windows, the webcam uses the standard Windows driver, so it will pretty much function with anything that can access a camera through those standard drivers. I used it with Google Hangouts in Chrome and Firefox, OBS, and XSplit broadcaster. The C922 has H.264 capability which is an advanced compression technology that demands less network bandwidth.
The C922 works very well in low light, and the video automatically adjusts to accommodate flickering room lights or multiple computer screens. The screenshot below is lit with just a single browser window.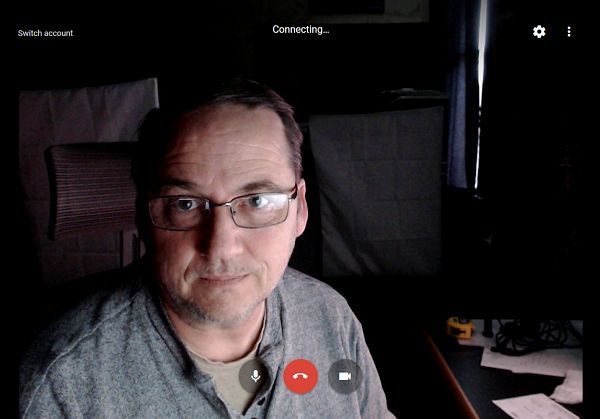 The integrated stand/base of the webcam is quite configurable. It has a standard 1/4-20 thread socket in the bottom for attaching it to a tripod and adjusts to fit monitors up to 2 inches deep. The tripod legs also pull out to double their length and making the footprint a 7″ triangle – plenty stable enough for any use. The base also is designed to just sit on a flat surface and has a rubberized surface to prevent sliding. It can easily fit on top of any modern monitor or laptop screen.
The settings program that can be installed is nothing to brag about. Ordinary users will find it easy to use and adequate. The settings used to be much more complex, but it feels like Logitech has designed it for basic users now. The first tab (Home) has settings for Standard and Widescreen, and anti-flicker control for 60hz and 50hz. The second tab (Advanced) has settings for brightness, contrast, autofocus, color intensity, and white balance.
The ChromaCam software is supposed to allow the replacement of your background, but on Windows 7 in Google Chrome it constantly crashed before I could evaluate it. When it crashed in Firefox it crashed the entire browser, and then repeated that each time the browser started because the page kept reloading automatically. Although it's probably something particular to my computer, I've never seen a software based background replacement solution work very reliably.
The audio captured by the webcam was satisfactory. It wasn't pro-grade audio, but no one expects that for a camera that costs less than what most pro-audio people spend on just their microphone.
What I like
Excellent video picture
Can record at 1080p30fps, 720p60fps, 720p30fps
Excellent  autofocus
LED's indicating that it's on
Excellent low light performance
H.264 streaming
What needs to be improved
Settings are limited, advanced users want more settings
ChromaCam software was not stable, crashed every time
Final thoughts
If you really want a webcam with a great picture, this is the webcam to get. This is currently the best Logitech HD Webcam, with only the 4K Pro Webcam model ($199) being better. I really wish I had bought one of these a long time ago.
Price: $79.99
Where to buy: Logitech and Amazon
Source: The sample of this product was provided by Logitech.