We use affiliate links. If you buy something through the links on this page, we may earn a commission at no cost to you. Learn more.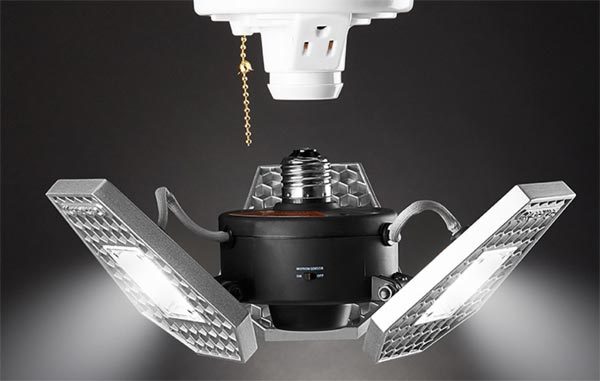 My previous house had those old-style ceramic, single-bulb ceiling light fixtures in the basement.  There were three of them in about a 1000 ft² area, and two of them could only be turned on with those pull-chains.  If I had seen these Motion Activated Garage Lights while I lived there, I could have converted that dark, dangerous area into a light-filled area simply by walking down the stairs.
You just screw one of these lights into the bulb socket – you don't need to replace the ceiling fixture or add any special wiring.  The three LED light panels can be adjusted to direct light where it's needed.  They produce 3000 lumens of light while using only 25W of electricity; that's 3.8 times the light of a 60W bulb while using less than half the electricity.  The LEDs are rated for 50,000 hours of use.
If you just want the extra light but can easily control the fixture with a switch, the motion detector can be turned off.  The fixture is only for indoor use, but it can be used in basements, garages, attics, or wherever you need extra light.  The Motion Activated Garage Light is $129.99 at The Sharper Image.