We use affiliate links. If you buy something through the links on this page, we may earn a commission at no cost to you. Learn more.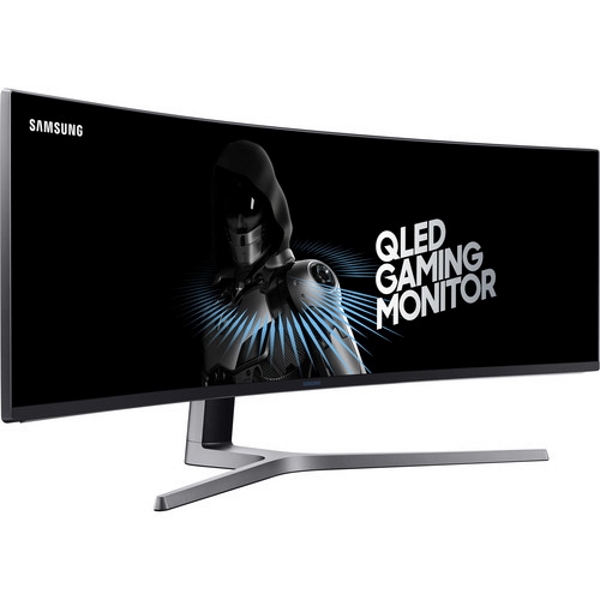 Each week, I spend a lot of time in my home studio editing photos and videos, and I rely on the four monitors that I use to create a multitasking environment. It is a bit tedious using four monitors for my workflow, and I would much prefer to just have two. My concept relevant to my workspace and workflow is to have one large high-resolution curved monitor, and one flat 4K monitor. While this arrangement may sound weird to some, it would work great for me.
I have been researching large high-resolution curved monitors, and I came across the Samsung CHG90 49″ 32:9 Curved 144 Hz FreeSync HDR LCD Monitor. Now I know that this monitor by the manufacturer's description is designed more for the gamer than the editor, but I do wonder if it will work for me both for its size and its specifications. It is obvious that the real estate would work well for me, but the jury is still out on its functional ability for editing, until I can actually see it in person and ascertain how well it can properly reproduce true colors, etc.
According to the manufacturer's specs, it is equipped with AMD FreeSync 2 technology, has a 1 ms response time, and a 144 Hz refresh rate. It has a built-in USB 3.0 hub with 1 x USB 3.0 (upstream) and 2 x USB 3.0 (downstream), 2 HDMI ports, 1 DisplayPort, 1 Mini DisplayPort, 1 3.5mm Audio-in port, and a headphone jack. It is also wall mountable.
If you would like to read more about the Samsung CHG90 49″ 32:9 Curved 144 Hz FreeSync HDR LCD Monitor or purchase one, head over to Amazon and check it out.