We use affiliate links. If you buy something through the links on this page, we may earn a commission at no cost to you. Learn more.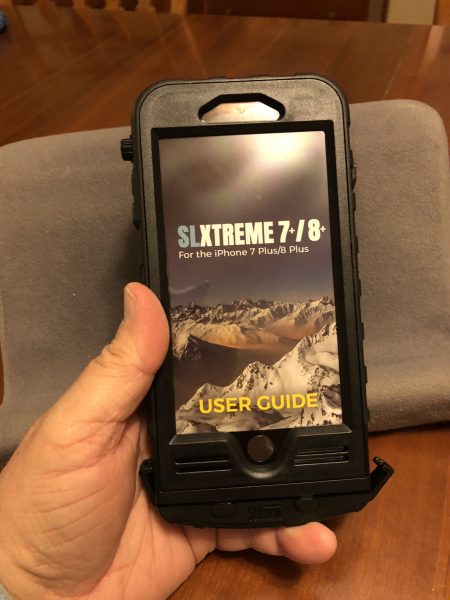 As Apple releases new products, case manufactures rush to add protection and fashion. Some add charging. I was recently sent a case that not only allows plugging into a charger but also has solar cells to charge your phone! It's called the SLXtreme 8+ (because it's from a company called Snow Lizard and is for the iPhone 8 Plus). I was sent a unit in Black to try with my new 8 Plus. It also comes in a Mossy Oak camo pattern.
Note: Photos may be tapped or clicked for a larger image.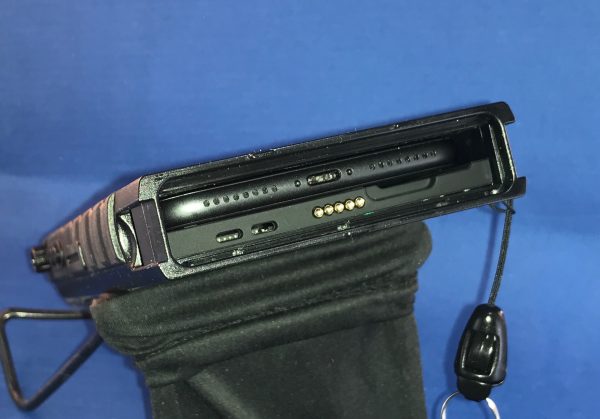 What is it?
The SLXtreme 8+ is a case, screen protector, and charger all in one. The case requires a totally naked phone but fits like a glove. You clamp the bottom on, which contains a Lightning connector and a link to the solar PV cells on the back of the case. There are clear covers for the full screen and a thinner cover over the home button which also allows the phone to read TouchID. There is also a large sealed clear aperture on the back which protects the rear camera and flash unit.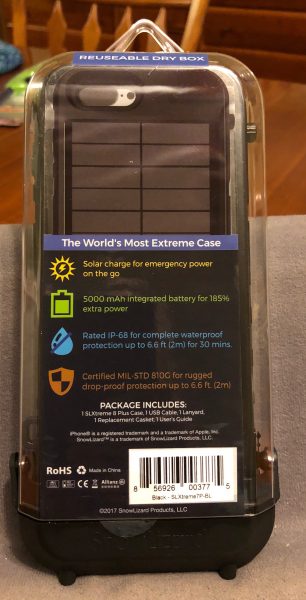 Hardware specs
Solar powered: Features a built-in trickle charger to keep your battery replenished. The solar indicator helps you position the case for best solar power Collection.

Integrated battery: built-in 5000 mAh battery boosts your phone's power up to 185%, adding 16 hours of Talk time or 12 hours of app activity.

Waterproof: fully submergible to 6.6ft (2Ml for L hour). IP-68 Ingress protection rating. Water, mud, dust, snow, ice and sweat proof.

Rugged: handles drops up to 6.6ft (2Ml military Spec 810G certified). Newly rubberized grips provide protection against drops, bumps, spills or hammer misses. Screen protector prevents scratches.

Packaging reusable as an IP67 watertight, crushproof and dustproof dry box.

Compatibility: this SLXtreme case can be used to protect your iPhone 7Plus or iPhone 8Plus.
What's in the box?
The packaging itself in a reusable, IP67 waterproof box. Inside it are the SLXTREME SL 8+, a USB A to microUSB cable, a 17" (doubled) lanyard loop with a detachable leash, an extra "O"-ring for the seal, and an instructional card.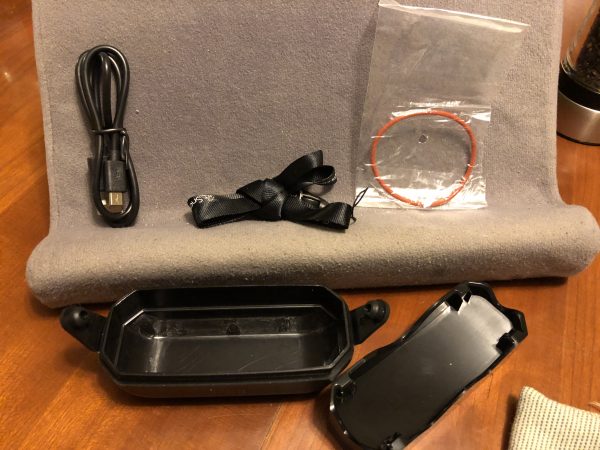 Design and features
The Snow Lizard SLXtreme is a 7.5" x 3.75" x 0.875" sealed case of hard PVC plastic. There are ridges down both long edges for gripping. On the face is a full-view clear touch-through screen cover that allows full view and control of the iPhone screen. There is a thinner membrane over the home button that allows TouchID to function (at least when it's not underwater, according to the literature.) The bottom has a stopper-sealed USB port and a membrane-covered speaker/mic opening. There are passthrough controllers for every function except the ringer mute. The phone fits in snugly since the screen needs to touch the front for the touch-through to work. No skin or screen protector can be on it when in this case.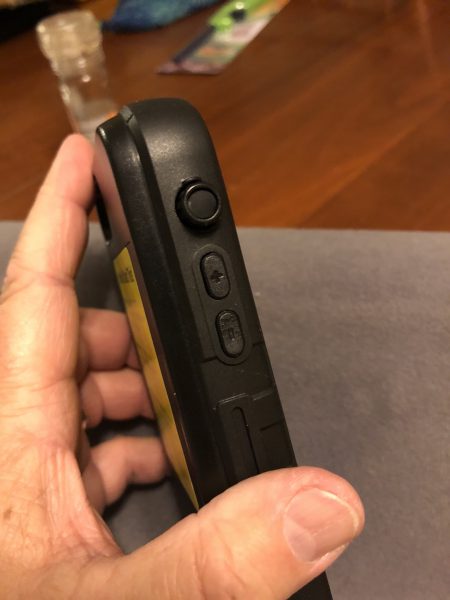 On the back, there is a solar panel about the same size as the iPhone 8 Plus' screen fit flush. At the bottom, there is a rubberized on-off switch for the charger, and 4 blue LED battery capacity indicators. The microUSB connector (which has a waterproof plug) will first charge the phone through the case, then charge the battery.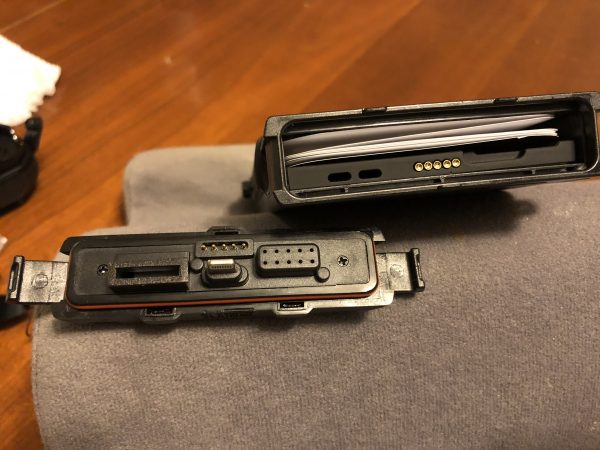 When it came, I put the iPhone 8 Plus in straight-away, and was really blown away that the TouchID worked without any hesitation. It actually didn't register with me at first, because I just turned on the phone in the usual way. (And isn't that just the best way for tech to be implemented? It just does what you expect, NBD.)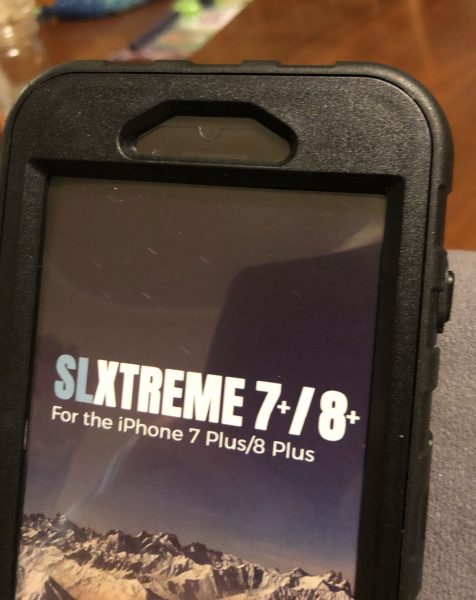 Sound through the speakerphone or playing from Spotify is not quite as loud as the naked device or what it would be in the leather Apple case I usually use, but it was plenty loud. I noticed no delays or problems using Bluetooth devices through it.
There is a loop in the plastic on the lower right side for the lanyard to connect with. Be aware that this is a 16.25-ounce package, and that thin ribbon may be tough on your neck, but it's pretty durable. There is a split-ring loop at the end that you could use for your company ID. It would allow you to unclip your phone and leave your lanyard/ID in place, should you need to set the phone down or connect it to a charging source.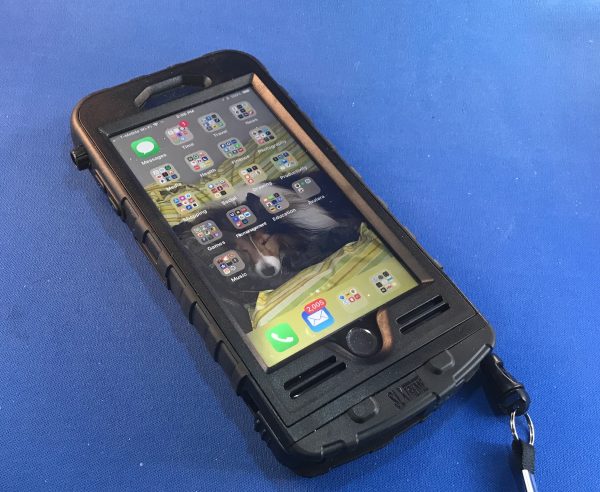 What I Like
Smooth, precise fittings
Solar charger and battery work together with USB for full charging options
Mic, Speaker, and TouchID pass-throughs work very well.
What needs to be improved
Final thoughts
There are few folks, in my opinion, who really need a full protective case like this, but there are loads of folks who use one anyway. My younger daughter is one – she's rarely on a bike, kayaking, or doing anything more dangerous for her phone than walking to work in the rain. Yet she has a full-tilt Defender case, "just in case." This one, however, with the solar and battery option, may be better than her current case.
If you need a "weekend" case for your hiking, biking, kayaking or just picnicking by the river, this would be one to strongly consider. If you're in construction and away from power outlets, the solar charging is going to keep you charged up all day without having to worry that your phone is sitting on the hood of your truck while you're 30 feet down a hill taking survey measurements when that sudden shower soaks everything.
Price: $129.99 on company store, slightly less on Amazon
Where to buy: Company website or their Amazon store
Source: The sample of this product was provided by Snow Lizard.