We use affiliate links. If you buy something through the links on this page, we may earn a commission at no cost to you. Learn more.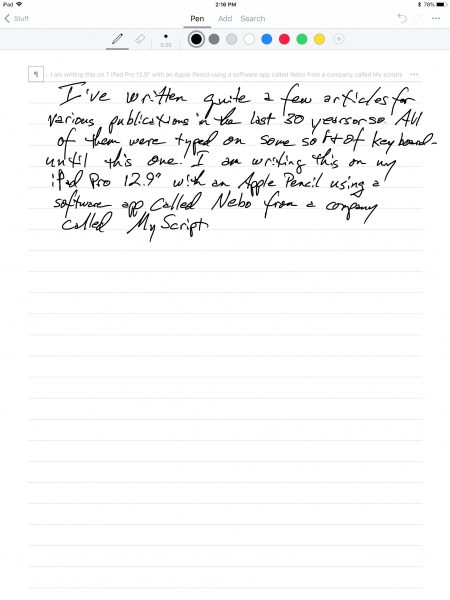 I've written quite a few articles for various publications in the last 30 years or so. All of them were typed on some sort of keyboard, until this one. I am writing this on my iPad Pro 12.9″ with an Apple Pencil using a software app called Nebo from a company called MyScript.
Twenty years ago, I had a Newton from Apple. It was larger than the iPhone 8 plus I carry now, but the handwriting recognition was quite good. Sure, the first generation text translation made a lot of goofs, but with the second generation, they learned not to only translate from a dictionary. This reduced the incidence of "Egg Freckles" translations to a statical zero.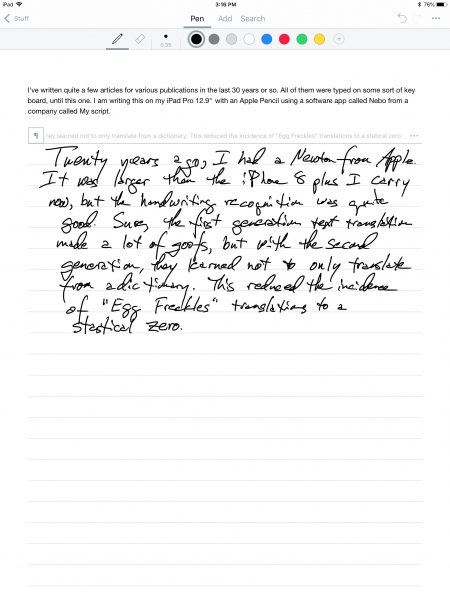 Now that I have a replacement for that technology, I am eager to see Apple add pencil support to the iPhone! I think as an option, pencil enhanced text input would catapult the handwriting desires of a few into high gear.
Those using digital ink technology today still are hampered with two things: transcribing the ink to an editable format, and then making sure what is deciphered actually is what the original writer meant. You'll notice above the hand-written text in the screenshots, the text is being translated and spell-checked in real time. This allows the writer to pause and be sure of the spelling, intent, and word choice. Or, after full conversion to text, to edit traditionally with a keyboard.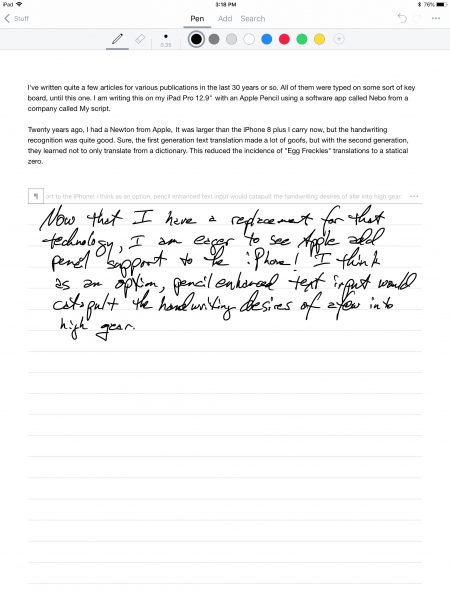 This section is added using my Mac keyboard as I'm posting the screenshots and text pulled in from Nebo:
The Nebo software is available for $5.99 on the Windows 10 Store, GooglePlay store, as well as the Apple AppStore for iOS. Check the stylus requirements. I know the iOS version requires Apple Pencil, the other two have similar limits. If you have the hardware, though, this thing is a treat!