We use affiliate links. If you buy something through the links on this page, we may earn a commission at no cost to you. Learn more.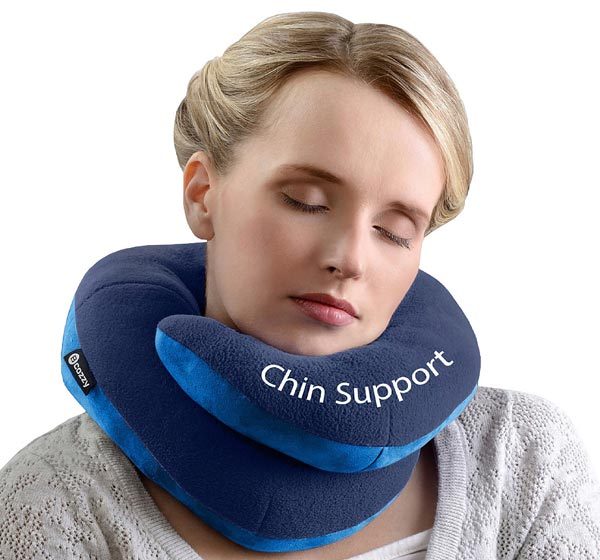 When you're a passenger in a plane, train, or automobile, you may find yourself dozing off.  And then when you wake after sleeping slumped forward, you probably suffer from a stressed neck and shoulders from sleeping with your neck unsupported.  BCOZZY says their travel pillow is the one you need – the one that will fit, will support your head and prevent pain, and that will help you sleep restfully.
The BCOZZY Chin Supporting Travel Pillow is more supportive than those bead-filled  cushions.  Its flat back doesn't push your head forward, the adjustable chin support function stops your head from falling forward, and booster side cushions help keep your head in a comfortable position.  BCOZZY even makes carrying it easier, because the cushion has a snap strap on the back so you can clip it to your carryon.
And FYI, you can use the pillow at home for more comfortable naps there, too.  Also, BCOZZY says:
"We are proud and thrilled to hear that the BCOZZY pillow is helping not just travelers but also people with disabilities like Parkinson's and Alzheimer or with other neck and back problems that are forcing them to sit and sleep in a chair, elderly people that find it hard to hold their head and those who use it daily for lounging and relaxing their neck and shoulders after a long day at work."
BCOZZY is available in sizes for adults or children in black, red, navy, gray, purple, or pink.  Normal price is $49.97, but the travel pillows are available now for $29.97.  Get your pillows at the BCOZZY website.