We use affiliate links. If you buy something through the links on this page, we may earn a commission at no cost to you. Learn more.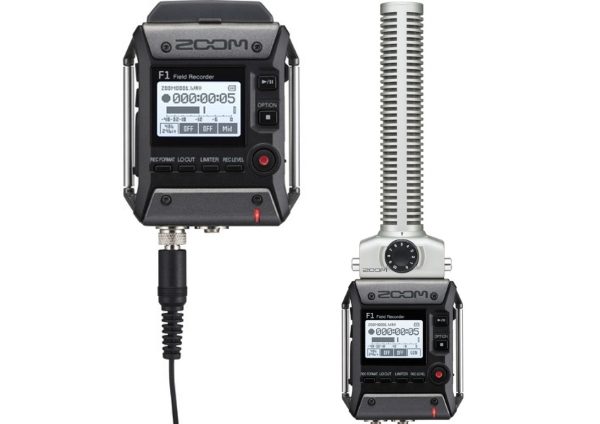 Some time ago I wrote a news story on the Zoom H6 audio field recorder, which is my favorite portable audio recorder. Zoom makes great audio recorders, with the only caveat being their proprietary microphones for direct attachment. Over the years I have purchased both Shure and Sony Lavalier microphones (with base units), and while I have been able to plug them into my Zoom H6, I have continued to look for additional versatile recording options.
Just recently, Zoom released its new Zoom F1 audio recorder, and at first glance, I love this device. This 2 channel field recorder can be used with a Lavalier microphone, or it includes the built-in interface for the zoom proprietary microphones so that it can be mounted on a camera with something like my favorite Zoom SSH-6 shotgun stereo mic. It has a built-in belt attachment, a micro USB port, a 1/8 stereo mic/line input with plug-in power, and a 1/8 stereo phone/line output jack with volume control. It accepts up to a 32GB micro SD or micro SDHC card, to record 24-bit/96kHz wav or mp3 audio files. It has an onboard Limiter, low-cut filter, and auto-level control. It can be powered by three AAA batteries, or an AC adapter, which unfortunately is not included and must be purchased separately. It also has a nice clear display, so that all of the required functions and settings can be easily seen with a quick glance.
If you are a fan of Zoom audio recorders like I am, and you would like to check the Zoom F1 out, you can head over to Amazon or B&H Photo Video and get more details. If you would like to purchase one, you can pick it up with a couple of options starting at $199.99 for the recorder and Lavalier mic.