We use affiliate links. If you buy something through the links on this page, we may earn a commission at no cost to you. Learn more.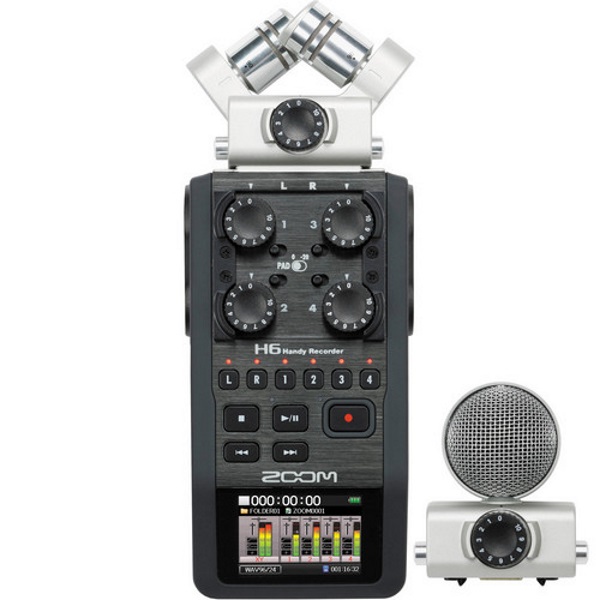 For those of us who are also into filmmaking, audio quality and the ability to capture great audio quality whether in the studio or in the field, is a mandatory prerequisite for any good production. I have tried a few portable recorders and I was not quite satisfied with the balance of audio quality and function until I purchased the Zoom H6.
The Zoom H6 Handy Recorder with Interchangeable Microphone System is a great portable recorder with really good preamps that record very clean audio. When comparing quality and cost, it is a winner.
In the box, you will find a 2GB memory card, batteries, XY and Mid-Side microphones, a hard case, Cubase entry level software, a foam windscreen, and a USB cable. The Zoom H6 features 4 XLR/TRS inputs, and records up to 24-bit/96KHz. Its modular interchangeable mic system allows you to use their proprietary shotgun mono or stereo mic or their adapter that adds 2 more XLR/TRS inputs for a total of 6 simultaneous channels. I frequently use their Zoom SSH-6 Stereo Shotgun Microphone Capsule, and it is nothing short of amazing both in quality and its ability to capture clean sound from quite a distance away. The recorder accepts SD cards up to a SDXC 128GB card, which holds an incredible amount of audio in WAV or MP3 format. It provides phantom power for condenser microphones, has a built-in speaker for playback, and 3.5mm line out and headphone jacks. It has a nice 2-inch color display and can be powered by a USB power pack, or 4 AA batteries that will provide approximately 20 hours of continuous recording. It also has a hot shoe mount that makes it easy to add to any rig or recording setup.
Visit Zoom for product details and if you would like to try it and get a great bang for the buck, you can pick one up at Amazon for $349.99.