We use affiliate links. If you buy something through the links on this page, we may earn a commission at no cost to you. Learn more.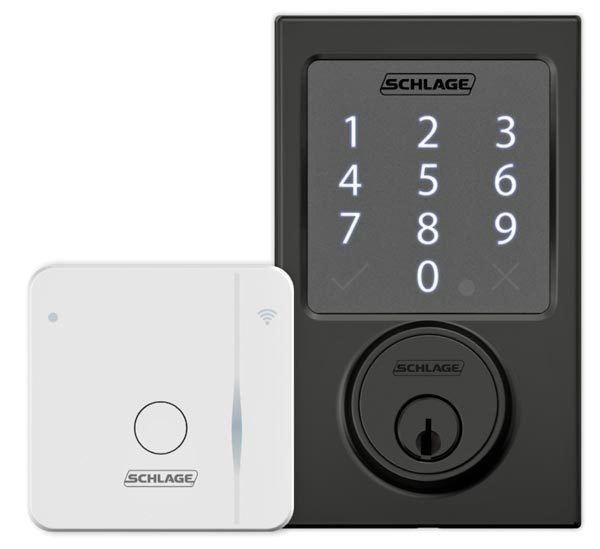 Schlage announced on May 9, 2018 that their  Schlage Sense™ Smart Deadbolt and Schlage Connect™ Touchscreen Deadbolt can now be unlocked with Alexa via voice commands.  This new unlock function is an addition to the current ability to verbally lock or check the status of the Schlage door lock via Alexa-enabled devices.
You'll need to log in to your Alexa app to enable the voice-unlocking feature (disabled by default for security), and you'll need to create a unique PIN while you're in the app.  Afterwards, you'll be able to unlock the Schlage lock by speaking the PIN; three incorrect attempts will disable the voice-unlock feature.
Of course, the Schlage locks will need to be connected to the internet for Alexa to unlock them.  The Schlage Sense Smart Deadbolt will require the Schlage Sense Wi-Fi Adapter (no monthly fee required). The Wi-Fi Adapter allows iOS and Android smartphone users to gain remote access to their lock through the Schlage Sense app. The Schlage Connect Touchscreen Deadbolt requires a Samsung SmartThings or Wink hub for connectivity.
The Schlage Sense Smart Deadbolt and Schlage Connect Touchscreen Deadbolt were graded Best in Residential Security, Durability and Finish from the Builders Hardware Manufactures Association (BHMA).  These locks enable homeowners to never worry about losing, hiding, carrying or forgetting keys.  Features include:
Create and delete up to 30 unique access codes so trusted friends and family can enter using their code at the lock's touchscreen

Schedule access codes so guests can only enter when you allow

Pair with a smart-home hub (Schlage Connect) or Wi-Fi Adapter (Schlage Sense) to check on the lock's status from anywhere, so you never have to wonder if the front door was left unlocked

View past activity to see which codes have been used and when

Update settings and check battery life
Rob Martens, futurist at Allegion, the maker of Schlage locks says:  "Schlage has been at the forefront of the Internet of Things industry since launching the Schlage Sense Smart Deadbolt.  This new integration and functionality is a testament to our ongoing commitment to raise the bar for innovation, convenience and security."
Visit the Schlage website to learn more.  The Schlage Sense ($229), Schlage Connect ($188.95), and Schlage Wi-Fi Adapter ($69.99) are available now on Amazon.