We use affiliate links. If you buy something through the links on this page, we may earn a commission at no cost to you. Learn more.
c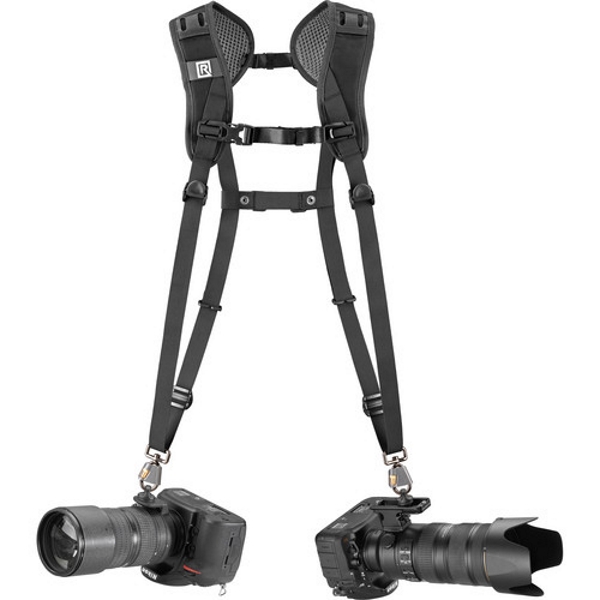 Many years ago when my primary focus was videography, I would pair up with professional photographers on many jobs like weddings and fashion shows. Although I was primarily responsible for the video production, I was a rapidly developing photographer, and I would look in admiration at the many "geared up" photographers. I remember seeing a photographer and good friend of mine all decked out with an expensive brown leather, dual camera harness, and thinking that it gave him a very professional and impressive look. While it was obvious that the harness was quite expensive, I was more interested in its fit, function, and use.
Over the years I have researched quite a few camera harnesses, but I never felt compelled enough to purchase one over my favored camera belts.
Just the other day, I came across the BlackRapid Double Breathe Camera Harness which by usual design, accommodates two cameras, one each hanging upside-down on each side. In this position, they can be easily and quickly grabbed and raised into position for the shot. The harness includes breathable mesh pads that make it comfortable to wear even with two large cameras and lenses. The pads are important since the harnesses are usually worn for a long time, and it is horrible to wear gear and feeling hot and sweaty.
On each side of the harness, there is a "brass and zinc-alloy CR-3 ConnectR locking carabiner". BlackRapid also includes their FR-5 FastenR Breathe to work with each carabiner, which creates a connection point via the camera's 1/4″-20 tripod mount. This can also work with a lens mount. The length of each strap can be adjusted from 36 inches to 63 inches, and the harness can be configured for use with only one camera. A pouch is included for storage and transport.
If you would like to purchase the BlackRapid Double Breathe Camera Harness, you can head over to Amazon or B&H Photo Video and pick one up for about $135.