The Gadgeteer is supported by readers like you! If you buy something through links on our site, we may earn an affiliate commission. Thank you! Learn more.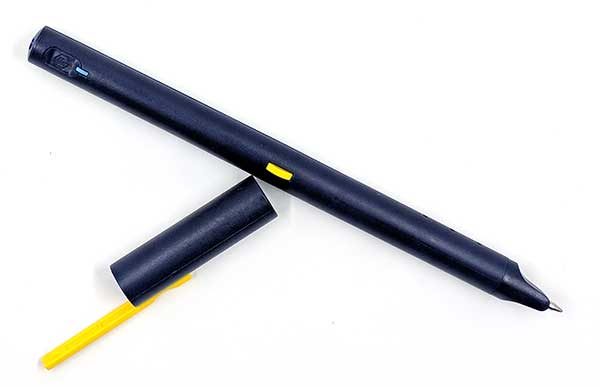 Do you keep a journal in a paper notebook but wish it had some of the features of a digital journalling app such as search and archiving? There are lots of apps out there for your phone or tablet that will let you keep a journal and write with a stylus, but I have been on a quest to find a hybrid system where I can use an old-school paper notebook with a pen. I recently discovered the Neo Smartpen M1. Let's check it out.
What is it?
The Neo Smartpen M1 is an ink pen with a built-in camera that digitizes your writing and works with an app on your iOS or Android device to record what you're writing as you write it in a special paper notepad.
What's in the box?
Neo Pen M1 smartpen
2 D1 size ink refills
micro USB charging cable
Design and features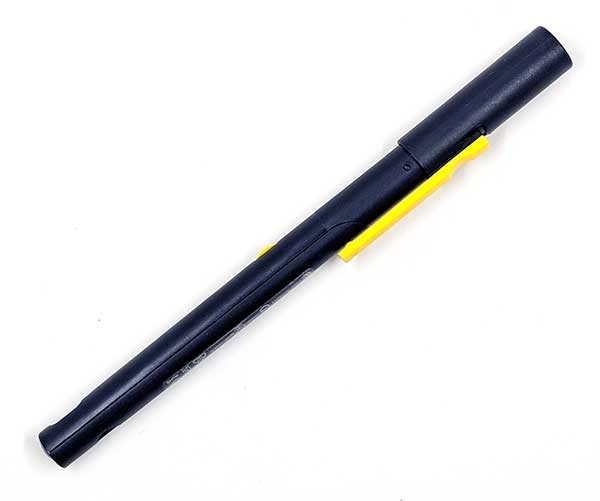 Neo is a company who has been offering smart pens for a while now. Their latest pen is the M1 and it's a newer version of the pen that Moleskine is using with their Smart Writing Set. The M1 looks like a regular pen, with a cap and pocket clip and is available in 3 colors including the one you see above.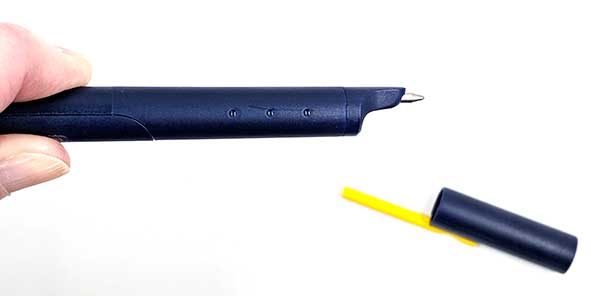 When you remove the cap, you will see a real pen that writes in ink on paper.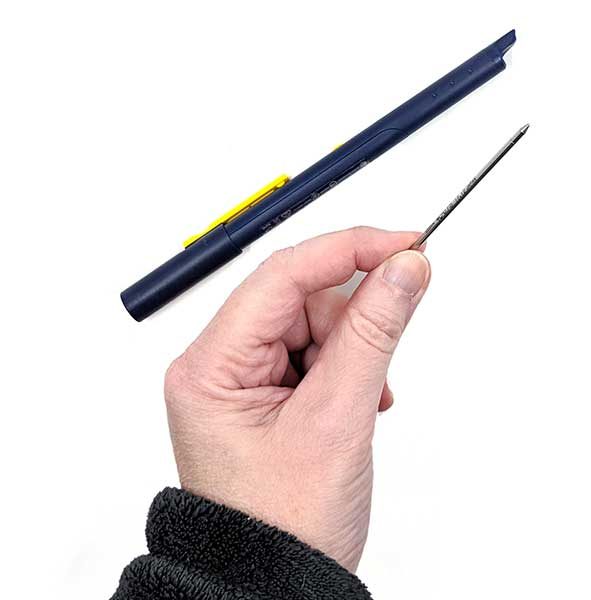 The M1 comes with 2 D1 sized refills that you can buy on Amazon and other retail sites in different colors and point widths. The refills are easy to remove and install. Basically, all you do is grab the tip and pull it out.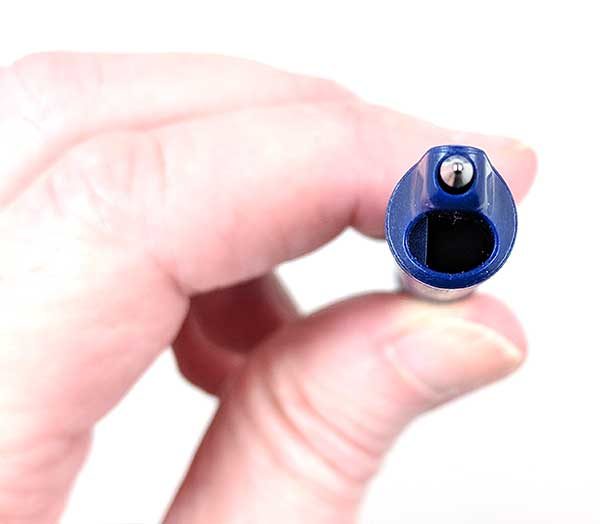 The Neo smartpen M1 has a built-in optical digitizer that is located above the ink tip. That means that you have to write so that this "camera" is pointing down toward the paper instead of turned upward.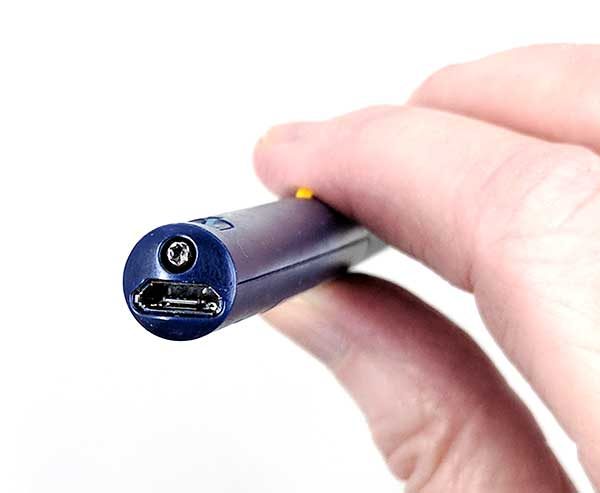 Before you can begin using the M1 smartpen, you have to charge it. There's a standard micro USB connector on the end of the pen.
A status LED on the barrel glows red while the pen is charging, green when fully charged, and white while the pen is in use.
There's a small power button on the barrel as well. Once you turn on the pen, you don't need to press the power button again as the pen will turn off on its own after inactivity and will automatically power back on when you remove the cap or start writing again.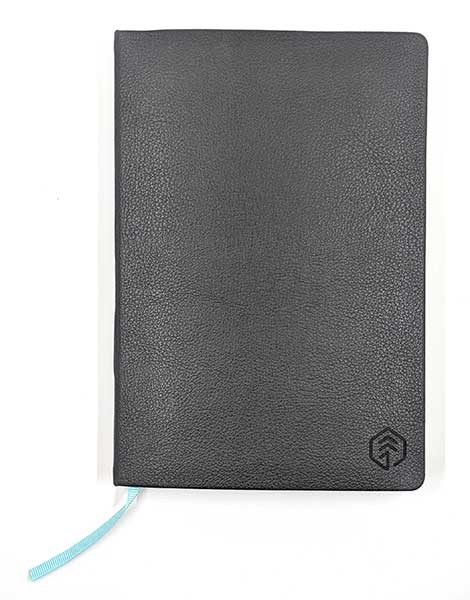 Neo smartpens have to be used with special notebooks if you want your writing digitized. At first glance, these notebooks may look no different than other paper journals. They come in different styles with hard or soft covers, spiral or hardbound, with a bookmark. Neo also offers PDFs that you can use to print your own pages for free. You can see all the pages here.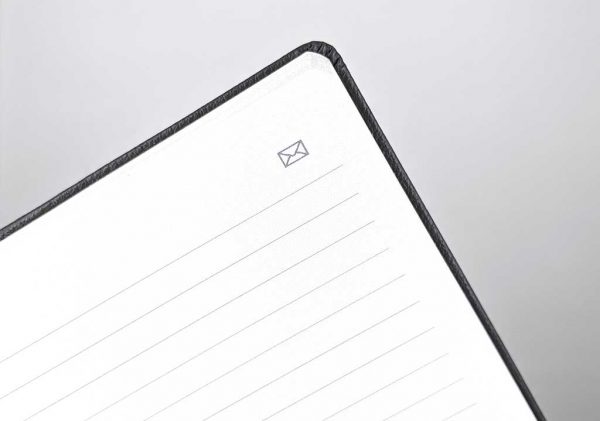 But if you look very closely at the page, you'll see tiny grey dots which allow the pen's digitizer to record your writing and drawings. Click the image above to see the dots.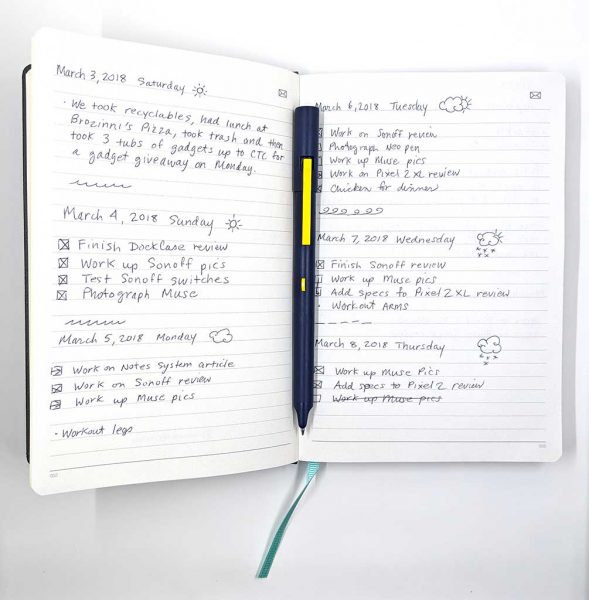 When I bought the M1 smartpen, I also bought one of the Neo N professional notebooks. These notebooks are pretty expensive ($24.95 from Amazon), but I like hardbound books so I splurged. The N Professional reminds me a lot of my favorite notebook the Leuchtturm1917.
The Neo N Professional notebooks have numbered pages and an envelope icon in the upper corner of each page that instructs the Neo app to email the page.
Neo Notes app
The smartpen can record your text without any extra hardware or software, but without using the Neo app you really can't do anything with it. The pen syncs to the app so you can view, edit, and search your pages.
The app allows you to use multiple notebooks if you have them and gives you the option of automatically syncing pages to Evernote, Adobe, OneNote, or Google Drive.
Once a page has been imported into the app, you can edit it with some basic tools that allow you to highlight text, change the color of text, and add more notes to the text with your finger or a stylus.
You can also watch a video replay of what you wrote and when you initiate a recording, it will attach that to the page as well. Just be aware that you have to start the recording from the app AND it's the phone that records the audio, NOT the pen.
The app will also allow you to transcribe the pages into text but it doesn't automatically share the transcribed text to Evernote, OneNote, etc.
As you can see, the transcription doesn't do a perfect job. If you like to doodle or add check boxes, it will try to recognize them as letters and the results might not be what you would expect.
The Neo Notes app allows you to search the text for words is useful and you can also tag pages with keywords for organization/filing purposes. This works pretty well as long as your writing is clear and legible.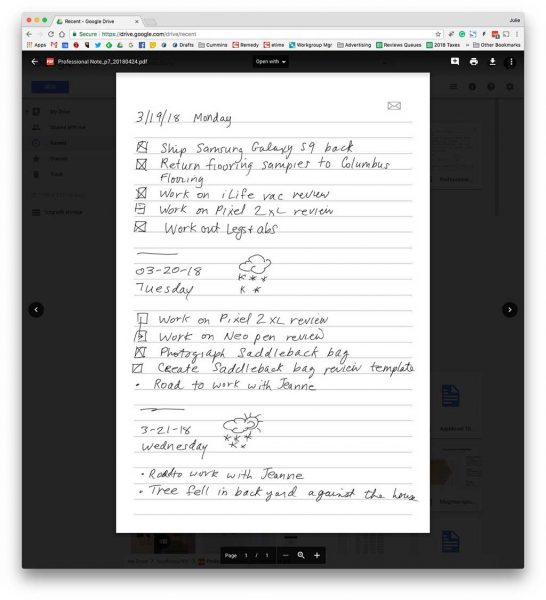 Writing with theNeo smartpen M1 is ok, but it's not nearly as enjoyable as my favorite pens which have a Pilot G2 refill. I'm just spoiled 🙂 That said, the pen does an impressive job of recording your pen strokes. As long as you don't start writing until you hear the beep after you take off the cap or press the pen to the page, you'll be fine. If you immediately start writing, the pen might not catch 100% of that first stroke.
What I like
Not any larger than a regular pen
Easily replaceable ink refills
Easy to use app
Can automatically sync with Evernote, Google Drive, OneNote,
What needs to be improved
Voice recordings use the phone's microphone and have to be initiated through the app
Need a setting to autosave transcribed page text to outside sites like Evernote
Final thoughts
I was excited to try the Neo smartpen M1 after it was suggested to me in the comments for a post I did about switching from analog to digital note-taking. That's why I purchased the Neo pen. I thought it might be the perfect combo of analog and digital. So how has it worked out for me? The pen is nice. So don't get me wrong. But, the excitement faded pretty quickly because I am not a fan of the way it feels to write with the pen. It writes fine, but it's just not as smooth as my favorite pens. I tried a couple different ink refills without any noticeable improvement.
I also found that my weird hybrid print and cursive writing style with doodles and checkboxes doesn't lend itself that well to transcription or text searches for words.
In the end, I found that although my notes were backing up to the cloud that I wasn't looking at them after the fact.  I've finally come to the conclusion that the best note taking and task system for me is a paper notebook, my favorite pen, and my own version of the Bullet Journal system. At the end of the day or week, if I need to remember something I've written, I quickly type it into a note on Google Drive where it will be backed up and is searchable since it's straight text.
While the Neo smartpen M1 didn't quite work for me, it's still a nice pen and I can see that it would be useful for meetings and school.
Update 1/27/19
I stopped using the Neo pen shortly after posting my review, but I later picked the notebook up again when I needed a new one after filling my X47 notebook at the end of last year. Since then, I have been using the Neo notebook as my daily journal. Although I'm not using the digital features, I like the notebook for several reasons. I like the feel of the cover, that it lays flat when opened, that the pages are numbered, and I like the elastic band on the corner that holds the notebook closed. Will I buy another one after the current one is filled? Doubtfully. But it's fine to use now since I'm not buying new notebooks while I already have many others I can use.
Price: $129.00
Where to buy: Neo or Amazon
Source: The sample for this review was purchased with my own funds.
Support The Gadgeteer
:
The Gadgeteer is supported by readers like you! If you buy something through the links on our site, we may earn a small affiliate commission. Thank you! Learn more.