We use affiliate links. If you buy something through the links on this page, we may earn a commission at no cost to you. Learn more.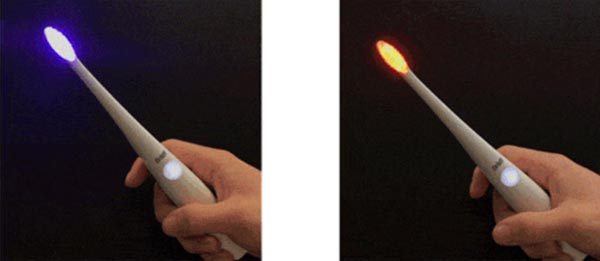 No matter how well you brush your teeth, brushing alone doesn't kill all the bacteria in your mouth nor does it completely prevent yellowing of your teeth, especially as you age.  Germs in your mouth can lead to bad breath, gum disease, and cavities.  Yellowing teeth can sap your self-confidence.  There are treatments for both these issues, but wouldn't it be easier if you could address both issues just by brushing?  The makers of Bristl, a light-therapy electric toothbrush, say that you can.
Bristl is a sonic toothbrush (12,000 rpm in gentle mode, 24,000 rpm in strong mode) with a 2 minute timer to encourage you to brush long enough to be effective.  For extra effectiveness, Bristl adds patent-pending dual light therapy technology that is "clinically proven to kill bacteria, heal gums, and whiten teeth."
The light therapy component uses red light, blue light, and purple light (red and blue together).  The red light is said to promote collagen secretion to strengthen gums and prevent and treat gingivitis.  Blue light kills germs that cause gum disease and helps whiten teeth.  Purple light combines all these promised benefits.
The planned MSRP is $99.00, but while the Kickstarter campaign is still active, you can receive a Bristl toothbrush, charger, and 2 brush heads for a pledge of $79.00.  Other pledge packages are available.  The funding goal was met within four hours.  The funding period ends Sunday , April 29, 2018, at 1:00 AM EDT.  Delivery is expected in June 2018.  Pledge for your own Bristl toothbrush at Kickstarter.