We use affiliate links. If you buy something through the links on this page, we may earn a commission at no cost to you. Learn more.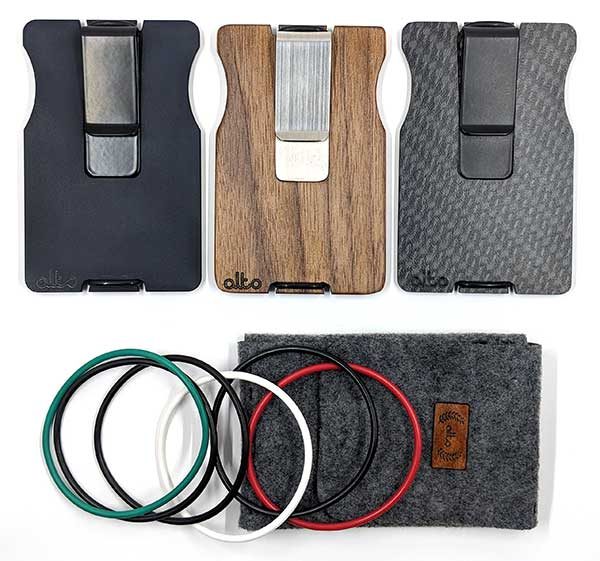 What images come to mind when you think about minimalist wallets? Maybe a classic binder clip that holds a few credit cards and some cash? Or maybe a really thin traditional style wallet that is made of sail cloth? How about a handmade wood, carbon fiber, or aluminum wallet that can hold cash and cards while remaining sleek and stylish? That describes Alto Wallets. Let's take a look.
What is it?
The Alto Wallet is a minimalist wallet that is available in three verisons: black aluminum, walnut or mahogany wood, or carbon fiber. The wallets are made by hand by the Alto brothers from Canada.
Design and features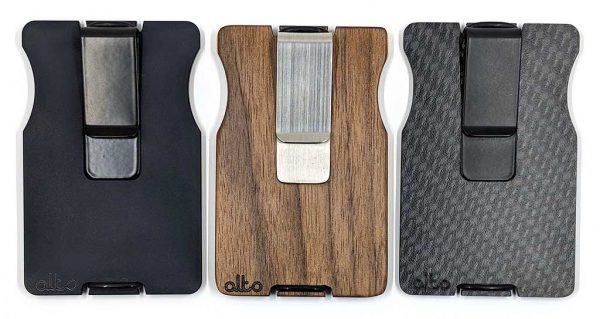 I was sent one of each of the Alto wallets which you can see in the image above. The black aluminum version is on the left, the walnut is in the center, and the carbon fiber Alto is on the right.
Each wallet has a steel money clip on one side along with the alto brand in the bottom left corner.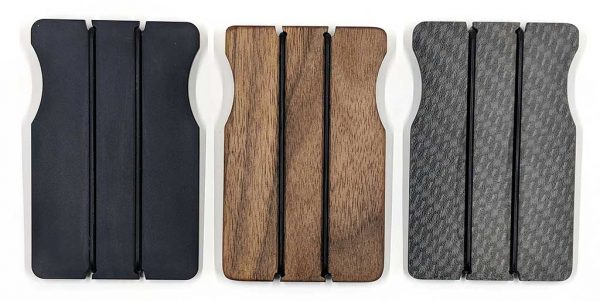 And on the opposite side is a durable nitrile band that can be used to hold your credit cards. The bands are replaceable and each wallet comes with 2 extra bands of different colors so you can customize the look of your wallet.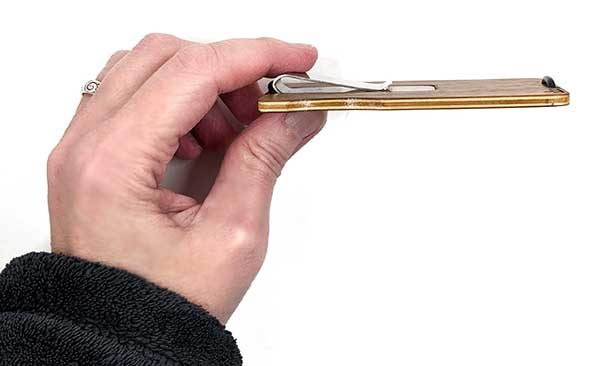 The Alto wallet making process has several steps which include (depending on the material used) vacuum bonding, CNC cutting, laser cutting, CNC milling, bead blasting, anodizing, and sanding by hand.
The resulting wallet is very well made and is thin but strong. There are no screws, seams, or moving parts.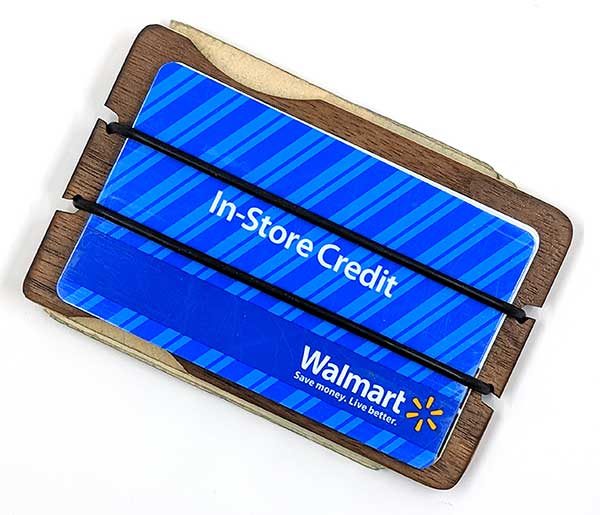 The nitrile band allows you to securely carry about 1-5 standard sized plastic credit cards. To remove a card, you just slide the stack out from under the bands. I found it a little awkward to do at first, but as I used the wallet for several days it because easier to do.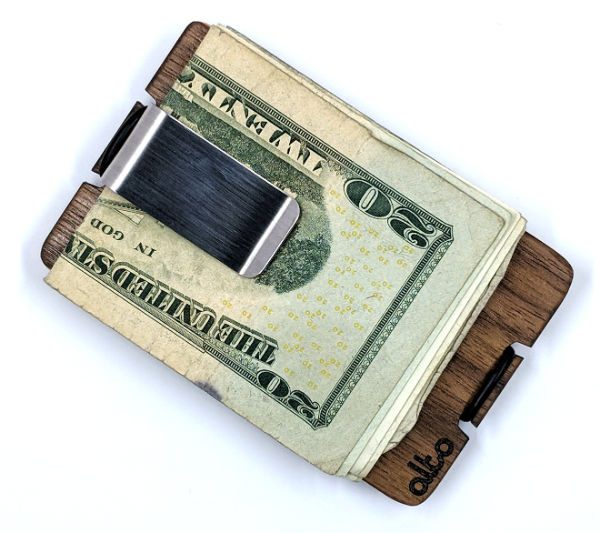 Cash can be inserted beneath the steel money clip. I found the clip to be really tight even when sliding only a few folded bills.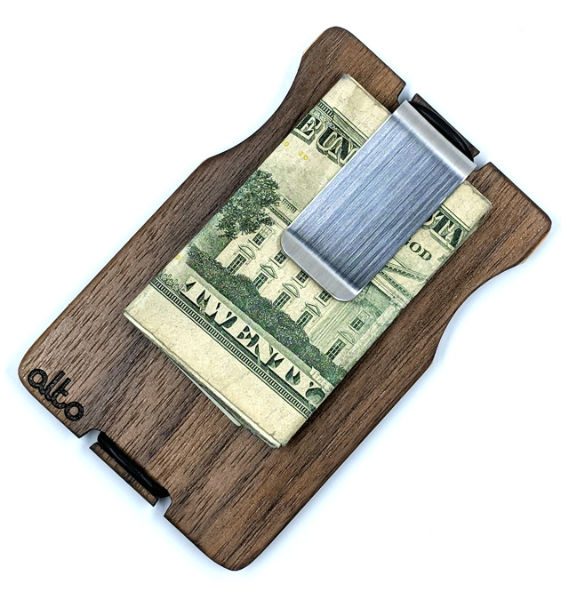 You can fold the cash in half or twice for a more compact look. Either way, it takes a little practice to side the bills under the tight clip without tearing them. According to the Alto brothers, the clip will loosen slightly after a short break-in period.
What I like
Well made
Can hold both cash and credit cards
3 styles
What needs to be improved
Expensive
Can take some effort and practice learning to access cash and cards due to the tightness of the band and clip.
Final thoughts
I really like the look and feel of the Alto Wallets. They are well made and I found no defects, burrs, sharp edges, or other workmanship issues.
I think the wallets are better suited for minimalist guys who have strong hands that can easily insert/remove the cash and cards from the bands and clip. Using the wallets was a little tough for me, so I must have wimpy hands. That said, Alto wallets are made to withstand a lot of everyday wear, tear, and abuse and should stand the test of time with no problems.
Price: $55 – $99 CAD ($43.62 – $78.51 US)
Where to buy: Alto Collective
Source: The sample for this review was provided by Alto Collective.