We use affiliate links. If you buy something through the links on this page, we may earn a commission at no cost to you. Learn more.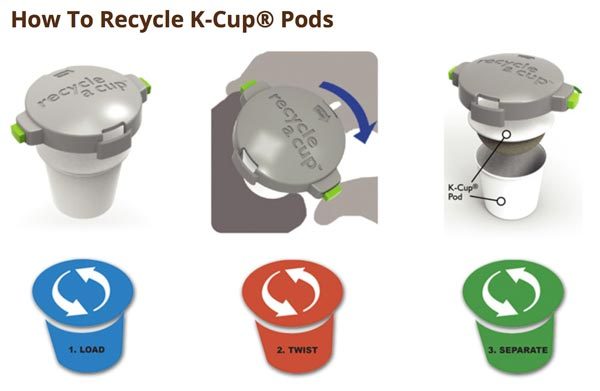 Keurig single-serving coffee machines are very popular.  It's convenient to load a coffee pod into the machine and have a fresh cup of coffee within a few seconds.  You never have to worry about drinking a cup that's been reheating in the pot made hours ago, and you'll never get stuck making a fresh pot of coffee because you got the last cup.  There are dozens of brands and flavors of coffee in Keurig K-Cups, so you're almost guaranteed to find the exact coffee you want.  The big problem with the Keurig system is all the waste produced with those non-recyclable plastic cups.  Thanks to Recycle a Cup, you won't have to worry about loading up the landfill with K-Cups anymore.
Recycle a Cup is a cutter that removes the top of the K-Cup.  Place the cutter over the top of the K-Cup, depress the green buttons, and twist the cutter a full turn.  The plastic bottom is freed and can be tossed into recycling.  You can also remove the aluminum top for recycling and toss the paper filter and the coffee grounds into recycling.
You can remove your contribution to the 20 billion K-Cups that flood the landfill each year by purchasing a pair of Recycle a Cup cutters for $9.99 at the Recycle a Cup website.