We use affiliate links. If you buy something through the links on this page, we may earn a commission at no cost to you. Learn more.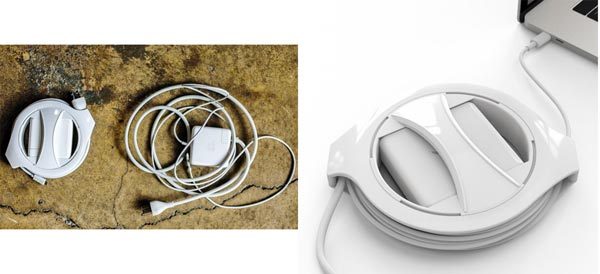 Chargers for MacBooks have permanently-attached cables that can be hard to roll up and control for neat transport.  The chargers used to have little flip-out wings that were designed to wind the thin cable around without stressing the attachment point, but those wings are missing from the chargers now.  Even when they were there, they didn't really work well for the thick power cable, just the side with the MagSafe connector.  The folks at Fuse decided to do something to tame the nest of cable snakes with their Side Winder reel organizer for MacBook.
The Side Winder is a white plastic reel that holds the charger in the center.  Snap the Side Winder closed and reel up both cables into a neat package.  To use the charger, you pull on the ends of both cables to unwind them.  You can completely pull the cables out or just pull out the length you need to connect everything up.  When you're ready to pack things away, Fuse says you can wind up your cables in under 5 seconds.  And the Side Winder protects your cables and prevents fraying.
The Side Winder is available in two sizes to fit either the MagSafe 1 or 2 charger or the USB-C charger.  It's compatible with the 45W, 60W, 61W, 85W, and 87W chargers.  The normal price for the reel is $42.99, but it's available now for $28.99 at Fuse.