We use affiliate links. If you buy something through the links on this page, we may earn a commission at no cost to you. Learn more.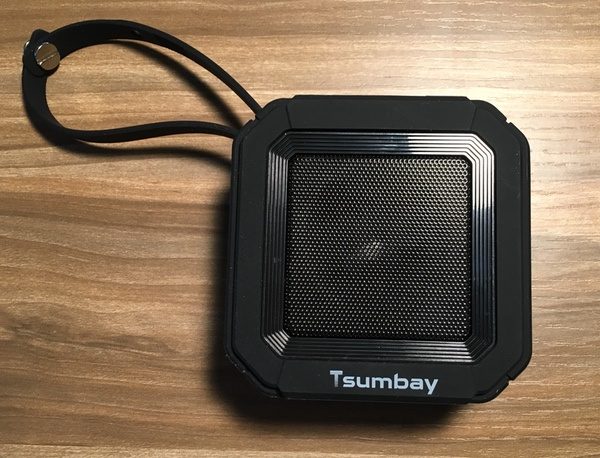 I *may* have gone overboard in my testing on this one. With great sound and a shockproof design, the Tsumbay Mini Portable Speaker is a nice little runabout for playing your tunes on the go. But I found out the hard way that there are limits to its water resistance. It's a tragic tale. Let's dive in!
What is it?
It's a tiny portable Bluetooth-enabled speaker that's water- and shock-resistant for indoor and outdoor use.
Hardware specs
Bluetooth 4.2 with 10 meter range

IP65 waterproof and splashproof rating

Rubberized shockproof housing

2000 mAh rechargeable battery with 20 hours a play time between charges

5W speaker with passive subwoofer

2.9" by 2.9" by 1.5"

9 ounces total weight

Can be paired with an additional unit for true wireless stereo.
What's in the box?
1 Tsumbay A106S speaker

1 Aux cable

1 USB to micro-USB charging cable

1 User manual
Design and features
The Tsumbay Mini Portable Bluetooth speaker is a great traveling companion. It's an ideal size and weight for packing, and the rubberized shock-proof and dust-proof housing ensures that you don't have to baby it. It's also got a nice rubber strap with a screw-on grommet so you can tether it to your bag, a beach chair, or the handlebars of your bike. These are all great features for playing your tunes on the go.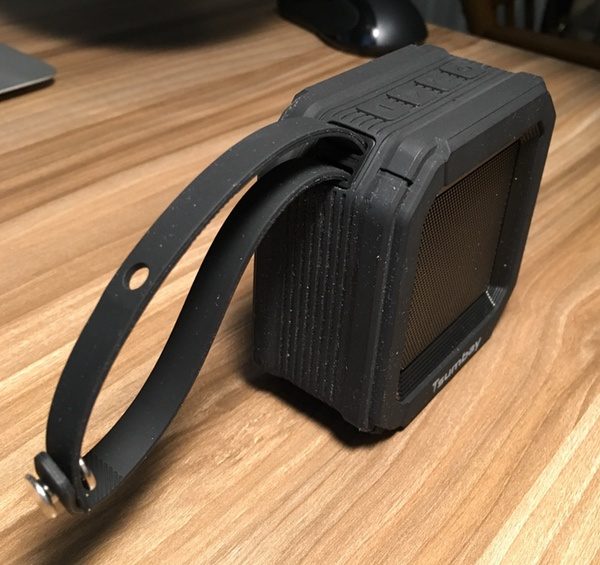 The layout and controls are super simple. You have four buttons: power on/off, next track, previous track, and accept/end calls (volume is managed from your paired device). A little rubber tab on the side opens to reveal the aux-in and micro-USB charging port, with a tiny indicator light that lets you know when Bluetooth is connected or when you are charging. It's all well-organized and straightforward, with no mystery buttons or complicated functions to sort out.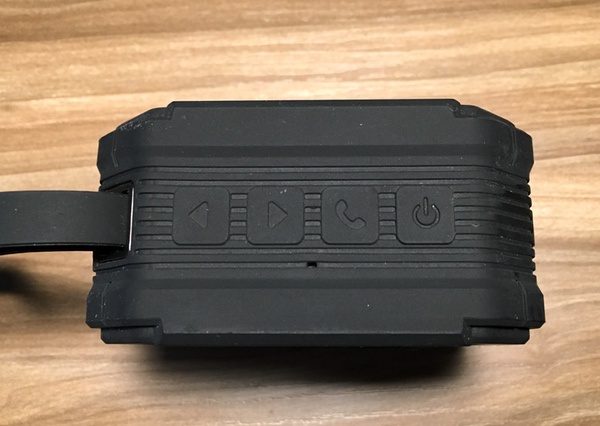 Bluetooth pairing is also managed through your paired device. The speaker goes into search mode when turned on for the first time, and automatically pairs with the last known device on future power-ups. To switch devices, you'll need to disconnect the active paired device and connect the new one. This works fairly well for the most part, but I did find occasions when I needed to restart the speaker a couple of times to make it discoverable if I was switching devices.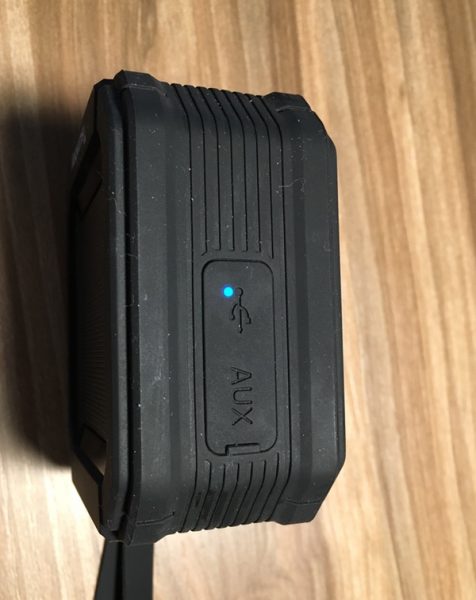 Audio is powered by a 5W speaker and passive subwoofer and sounds surprisingly good considering the size of this little guy. It's got well-rounded stereo sound, with great quality and range. It's on par with other larger portable speakers I've tested in this class and does the job when you're looking to play your tunes on-the-go. I didn't notice any significant difference in sound quality when using the aux cable, either. You can also pair multiple speakers to get true stereo sound, but that was not something I explored in this test.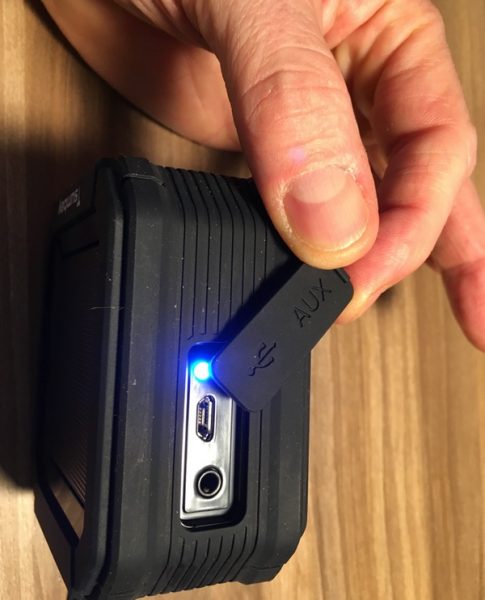 The 200 mAh battery provides 20 hours of continuous play at 50% volume, with a 3-4 hour recharge time. I've been using it as a travel speaker for the home or the office and found that the lower end of the volume range is more than comfortable enough to get good sound without annoying my neighbors. I'd say I've gotten a solid 2-3 days of periodic use between charges, so it delivers as advertised.
Now let's talk about water resistance.
The Tsumbay Mini Portable Bluetooth speaker carries an IP65 waterproof and splashproof rating. In their literature, Tsumbay claims that the speaker is great for using in the shower. Sounds good. I like music in the shower! 
So I did this: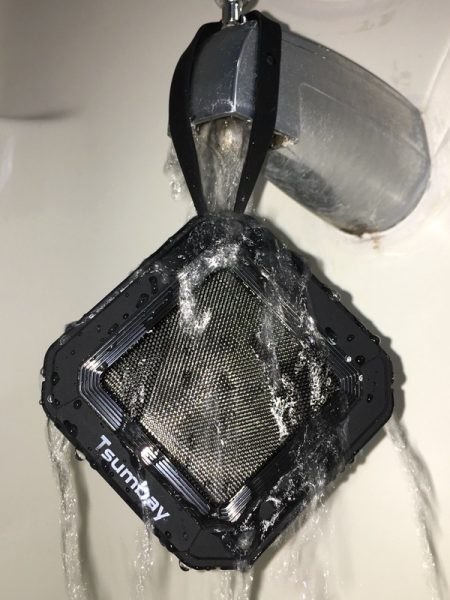 I ran the speaker under the faucet for about 60 seconds, and it continued to play. Dried the sucker off, and it played the rest of the afternoon. And then, somewhere in the night, it died. By morning, it was completely non-functional.
Here's the thing: a waterproof rating of IP65 qualifies for resistance against water from a nozzle. That means you could get it wet in the rain, or an accidental hose splash (which I have tested on other speakers). The steady soaking under a faucet? Not good. Water leeched into its precious innards, and a great little speaker made it's way to Davey Jone's Locker.
(If you're wondering… IP66 provides protection against strong water jets & heavy splashes. IP67 provides protection against brief water submersion. IP68 provides protection against full water submersion. Forewarned is forearmed.)
The lesson, my friends, is to pay attention to the label. I'm pretty sure the Tsumbay Mini Portable Bluetooth speaker will hold up to the occasional splash or surprise rain event. It could even sit in proximity to your shower. Just don't put it under the faucet. That's bad.
What I like
Compact size fits easily in your bag

Excellent sound, especially for its size

Water, dust, and shock resistant

Simple control layout
What needs to be improved
Some Bluetooth pairing issues (required multiple restarts to change devices)

Won't withstand heavy soaking provided by overly enthusiastic product testers
Final thoughts
I don't want to short-sell the quality of the Tsumbay Mini Portable Bluetooth speaker. It's a tough portable speaker with great sound in a tiny package. It's ideal if you're on the move and looking for something that can handle some outdoor adventures. Just be careful around water. Water resistant doesn't equal waterproof. 
Price: $24.89
Where to buy: You can buy it on Amazon.
Source: The sample of this product was provided by Tsumbay.