We use affiliate links. If you buy something through the links on this page, we may earn a commission at no cost to you. Learn more.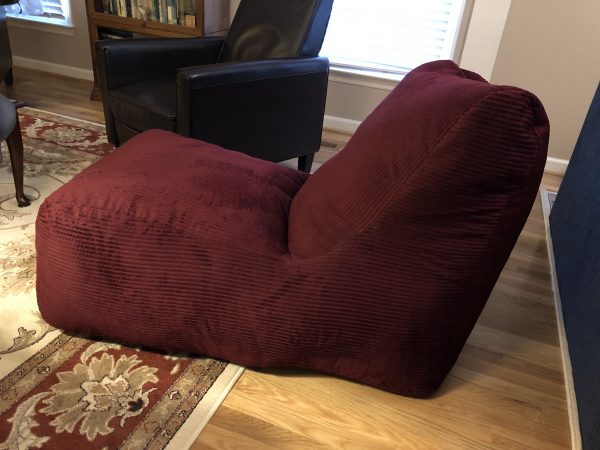 We here at the Gadgeteer are not afraid to tackle anything that could remotely be considered a gadget – even a piece of non-traditional furniture. Such is the subject of today's review, the Sumo Solace, a beanbag-type chair that adjusts to the user's body. I was sent one in a deep red wide-wale corduroy to test. I have given it a full battery of tests, from reading, napping, and just sitting while chatting with others to playing guitar and trying to type.
Note: Photos may be tapped or clicked for a larger image.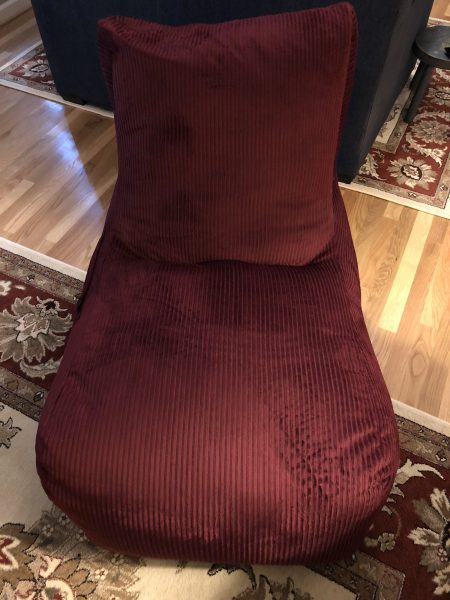 What is it?
In 1968, the Italian Modernist movement in it's transition to post-Modernism, released the Sacco chair, a loose sack stuffed with polystyrene beads. Due to the post-war manufacturing machinery of the time, the design was easily copied, slightly modified, and took over dens, dorm rooms, and TV rooms of most of the families I knew at the time. It was tough to go to a house where there wasn't one lurking in a corner, usually in a slick vinyl, and in some pop-art color like buttercup yellow, fire engine red, or Mr. Yuk green. Sometime in the late 1970's however, structure returned to furniture and we got overstuffed couches, but at least you could get out of them with ease.
Let's go to Wikipedia:
A bean bag chair is a large fabric bag, filled with polystyrene beads, dried beans, or a similar substance. The product is an example of an anatomic chair. The shape of the object is set by the user.
Hardware specs
As best as I could for a flexible seat, here are the measurements I took:
25 in. X 25 in. seat
16 inches high on the front
30 inches high in the back
41 inches deep overall
What's in the box?
Just the bag, in a plastic bag.
Design and features
The Solace is roughly L-shaped. The back is fairly thick but doesn't force you to sit up straight like a structured chair does. Instead, it conforms to your back's natural shape. The texture of the fabric is lush and inviting. When you push your hand into it, it gives for a long way before offering support. There is a single pocket on the right side as you're sitting in it, which would hold the remote for an AppleTV or a smartphone. I don't think a normal cable system remote would go in without stretching or ripping the fabric out – it's pretty tight, especially once you sit down in it.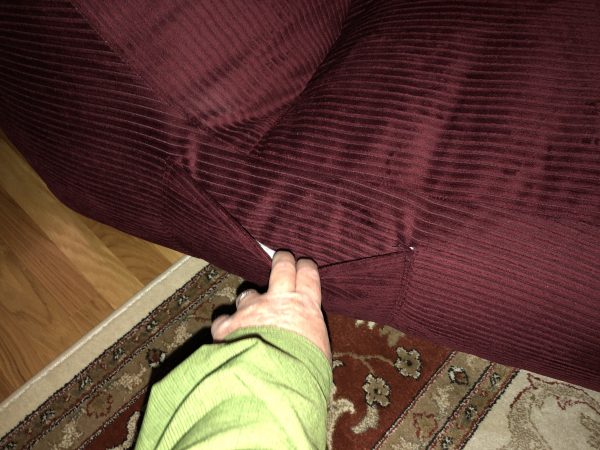 The transition between the 25"x 25" seat is a stitched seam, and the side panels make a dramatic upward angle at that point. This is the point where your hips will naturally fall. The less-than 90º angle of the chair gives you some of the benefits of sitting (you can eat and drink and see others in the room) and some of the benefits of lying down (your back is fully supported, your pelvis is not forced into a right angle). This could be a good angle for watching TV or playing a video game. I tried it with a stand for my iPad with the keyboard on my lap. Since I still have to look at the keyboard on occasion, it's not optimal.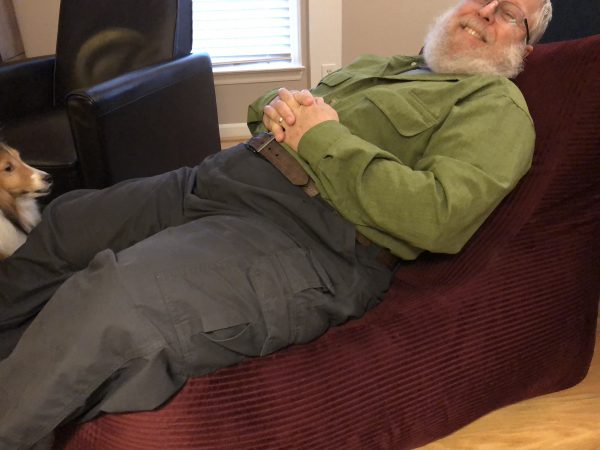 The biggest irritation I noticed when sitting in it is that everything required effort to hold up on the chair. Books had to be held tightly, along with holding your arms up. (Note that the whole Solace is only 25" wide, so there is little space to hold your arms on the back or seat area.) Gravity wants you to have your arms flop to the floor. Plates required constant attention because your thighs are slanted back, which makes for easy spillage. If you want to nap, your arms will flop at an unnatural angle, unless you put them in your pockets or hook them into a belt loop. Using a blanket helps, but you have to almost swaddle yourself.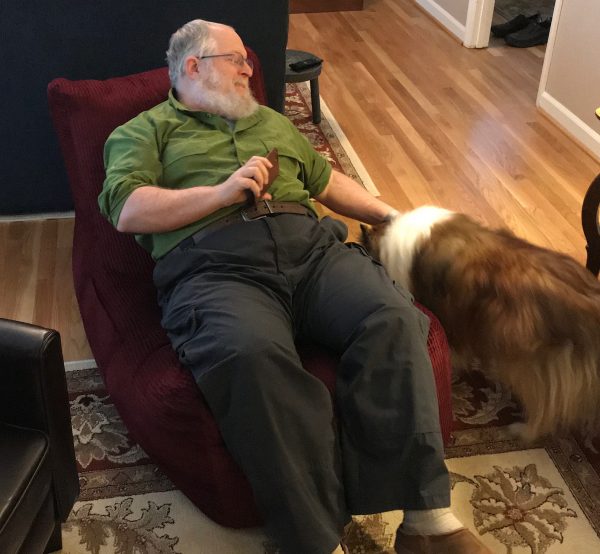 If there is an animal in the house, your face is at a perfect vantage point for attention, which may or may not be to your liking. I didn't use this in a house with toddlers, but that may be another thing to consider.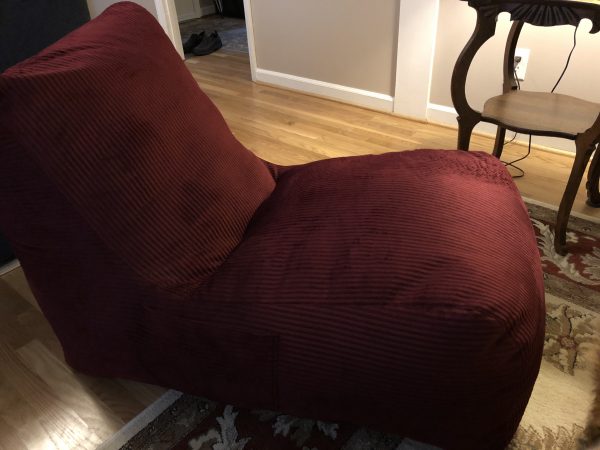 Since it's low (25" from the floor), it requires surrendering to gravity when sitting. You don't sit on it so much as approach it with a controlled collapse. (Forget trying this in a short skirt or with your kilt on, unless you're among intimate friends!)
Unless your shins are very short (or you're under 3' tall), you're not going to be able to plant your feet on the ground and lift yourself out with just your legs, since your legs are at a ~65º angle, and you can't place your feet far enough behind your knees to do a kip-up. (Well, I guess you could slide forward into one, but it's gonna be tough.) There are no arms or anything else to use to boost your body up, so you're at the mercy of someone to help you, or rolling onto your knees to hoist yourself up. If you have a drink, iPad, guitar, or another item, you're further compromised, since there's nowhere to put these items.

Setup
I suggest you move the shipping container, or at least the inner bag, as close as possible to where you want to use the Solace because releasing it from that bag is almost like pulling the string on a self-inflating life raft. It's going to expand – quickly – and be larger than you thought. It can be moved around, but it is larger than the box it comes in and requires a bit of wrestling to move far.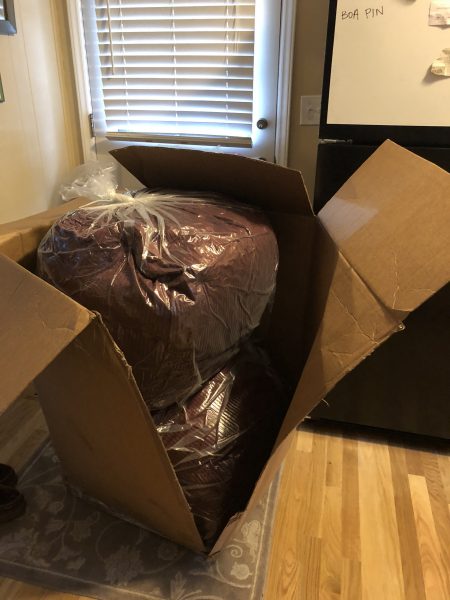 Performance
The Solace performs as expected: it's soft, enveloping, and comfortable. It's also impossible to get out of gracefully.
What I Like
Comfortable and enveloping
Self-contained
Washable cover and replaceable filling
What needs to be improved
The product as is functions nicely
Final thoughts
I've been using the Solace in my living room, and while comfortable, the arm-flop aspect is a huge negative for me. I will probably build, find, or improvise some sort of frame/table to place next to it to provide structure for drinks or other items, as well as assistance getting into and out of it. I could see this being used in my office or an enclosed porch as a relaxation/casual seating piece, but it's not something I would use regularly for gaming or reading.
Price: Usually $299.00 – currently on sale for $249.00
Where to buy: Sumo Lounge
Source: The sample of this product was provided by Sumo Lounge.