We use affiliate links. If you buy something through the links on this page, we may earn a commission at no cost to you. Learn more.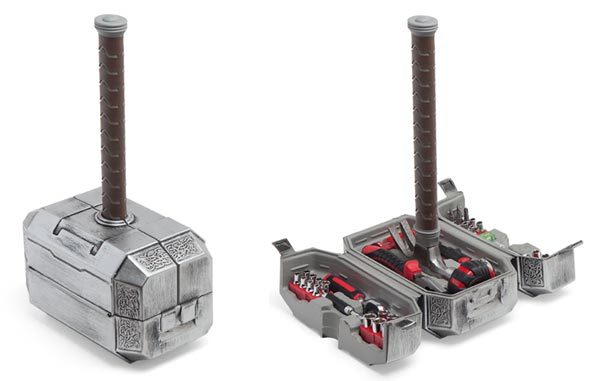 This version of Mjolnir might not be able to level mountains, but you'll be able to build a level table with it.  The Marvel Thor Hammer Tool Set is contained in a molded case that's a replica of Marvel's version of Thor's hammer.  The kit weighs 5.5 pounds, and it measures 15″ tall x 9″ wide x 6″ deep when closed.  Open it up to access the 44 included tools.
The kit includes:
6″ pliers
10′ tape measure (metric and imperial) with stopper, belt clip, and lanyard
24 1/4″ sockets

Metric: 4, 4.5, 5, 5.5, 6, 6.5, 7, 8, 9, 10, 11, 12, 13, 14
Imperial: 5/32, 3/16, 7/32, 1/4, 9/32, 5/16, 11/32, 3/8, 7/16, 1/2

2″ extension bar for sockets
2-in-1 stubby ratchet screwdriver with 6 bits

30mm double-ended bits: PZ2 x H5, PZ3 x H6, PZ1 x H4, PH1 x SL4, PH2 x SL5, PH3 x SL6

3 1/4″ extension bar for bits
6″ wrench
40Cr quick-release ratchet wrench
13 oz. claw hammer
Level
4″ folded knife (with 5 replacement blades)
4 drive brake caliper tool bits

Cross slot bits: PH3, PH3
Slot bits: SL5, SL6
You may not be able to see in the photo, but the handle of the claw hammer serves as Mjolnir's handle.  The kit is officially-licensed Marvel's Avengers merchandise that was designed by and is exclusive to ThinkGeek.  The Marvel Thor Hammer Tool Set is $99.99.  No matter how worthy you are, you are limited to a maximum purchase of 5 kits. Learn more and purchase the toolkit at ThinkGeek.