We use affiliate links. If you buy something through the links on this page, we may earn a commission at no cost to you. Learn more.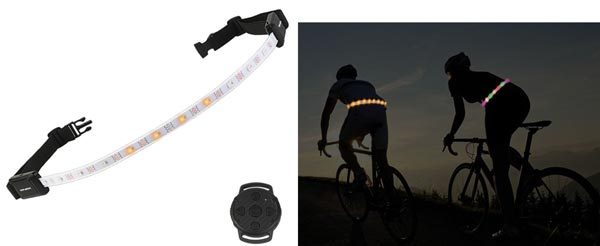 No matter your activity – cycling, horseback riding, skiing, motorcycling, running, or walking – the Vinida LED reflective belt will increase your visibility at dusk and in the dark.  The belts adjust from 21″ to 50″, so they can be used by children and adults, and you can even put them on your animal.  It comes with a remote control unit that can be worn on a wrist to adjust the lights from normal display to colorful display, right turn signal, left turn signal, and SOS.
The belt has a rechargeable battery that provides 12 hours of continuous light between charges.  It's waterproof with an IP64 rating, and it's made of durable materials to hold up to your active lifestyle.
In addition to the belt and remote control, you'll also receive a charging cable and a carrying case.  The Vinida LED reflective belt is $20.99 at Amazon.