We use affiliate links. If you buy something through the links on this page, we may earn a commission at no cost to you. Learn more.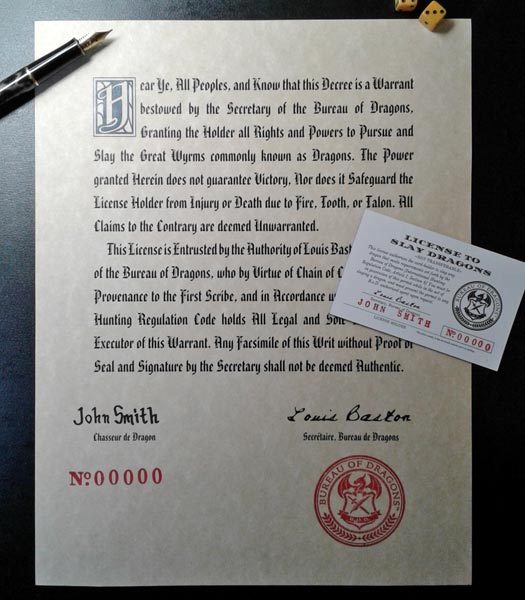 "Dragons are a childhood fancy, right up to the moment that one rips your best suit coat."  –  Louis Baston, Secretary of the Bureau of Dragons
For all you dragonslayers, you'll need to get yourself a license to slay dragons before your next trip there and back again or next outing to rescue damsels.  The Bureau of Dragons can issue the proper documents to make you a certified dragonslayer.
The Bureau avers that dragons are real and have existed before the dawn of man.  "The Bureau of Dragons is a non-governmental organization tasked with monitoring all known dragon-human interactions, and sole regulatory body for issuing a License to Slay."   The Bureau's website has been set up for two purposes: to train people in the ways of dragons, and to license people to slay.
If you or someone you know aspires to be a slayer of dragons, you can procure the proper license from the Bureau of Dragons for $9.95.  You'll get an official license stamped with your name and number for your wallet and one official Certificate of Authority to frame for your wall.  Get your license and begin your education in dragons at the Bureau of Dragons.