We use affiliate links. If you buy something through the links on this page, we may earn a commission at no cost to you. Learn more.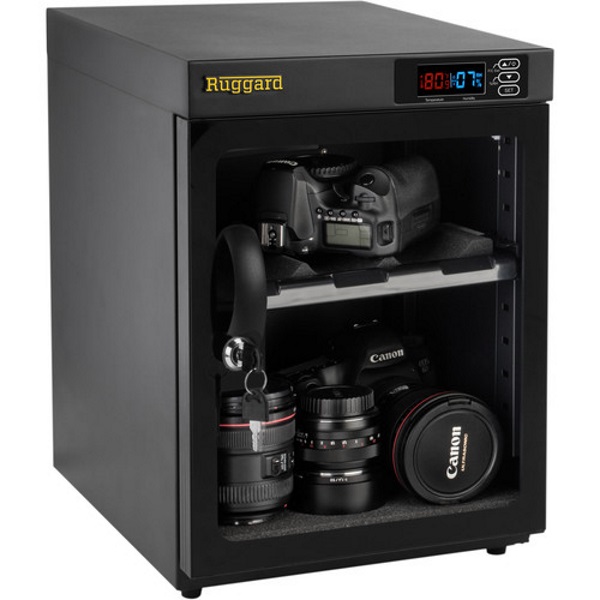 Living in New York City has been a real education on humidity, and its effect on various things in my apartment. The moisture caused by the humidity has not only ruined several electronic components of mine, but also many fabric items. As I learned more about my cameras and lenses, I began to understand the effect that the moisture from humidity can have on such sensitive electronic equipment. In addition, I read an article on the cost of fixing lenses and cameras when the moisture takes its toll on their mechanisms. I decided to invest in a Dry cabinet to protect my camera equipment and obviously my investment in them.
After much research, and because of my space limitations, I chose the Ruggard Electronic Dry Cabinet in the 30L size. I felt that while it is somewhat small, it would at least help me to protect the equipment that was not in my Pelican air-sealed cases. This dry cabinet is an electronically controlled humidifier and also protects the equipment from dust and other bad elements. It offers very nice features including a locking see-through door that seals when closed, interior lighting, adjustable shelves, and a multi-voltage power supply. Much to my surprise and satisfaction, the seemingly small cabinet is quite roomy inside. I have been able to store a large professional Canon DSLR with the extended battery holder attached, and 12 lenses ranging in size from the large Sigma 70-200mm lens all the way through the range to the small Canon 40mm pancake lens. None of the lens are stacked, and each occupies its own footprint. I also love the digital display that continuously shows the temperature and humidity, and I can set the desired humidity level from the control buttons next to the display.
I would recommend this dry cabinet to anyone looking to protect their sensitive equipment from the perils caused by humidity and other bad environmental elements, and since it is available in 7 sizes, the 30L being the smallest, there is a size to accommodate most camera equipment needs.
If you are interested in the Ruggard Electronic Dry Cabinet, you can head over to B&H Photo Video or Amazon to purchase one at the starting price of $149.