We use affiliate links. If you buy something through the links on this page, we may earn a commission at no cost to you. Learn more.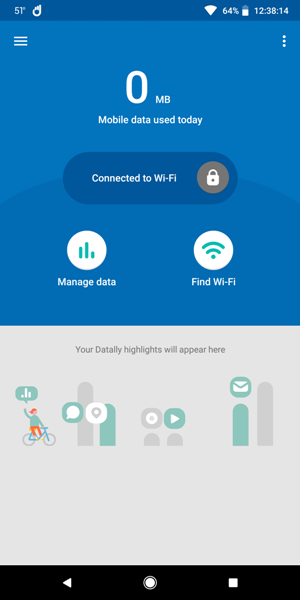 Datally is an app created by Google to help Android users save on mobile data. "It blocks background data and lets you control which apps use data." It also helps you find WiFi networks nearby and lets you know how other Datally users have rated that WiFi network before you connect.
When you install Datally, you must set up the app. It requires the following permissions:
Phone ("Used to help you monitor your phone's mobile data usage. Datally doesn't make or receive phone calls on your behalf.")
Location ("Used to show you high-quality WiFi networks nearby.")
SMS ("In select countries, this enables you to check your mobile data balance with your carrier and to get smarter recommendations on how to save mobile data.")
VPN – sets up a local VPN in order to "block unwanted mobile data usage – it doesn't send any of your traffic through Google's servers. The Datally VPN is only on your phone and doesn't redirect your Internet traffic to any other servers or locations.").
Usage access – to see which apps are using data.
It is a very straight-forward app that has the "Data Saver On/Off" sliding toggle prominently displayed on the homepage.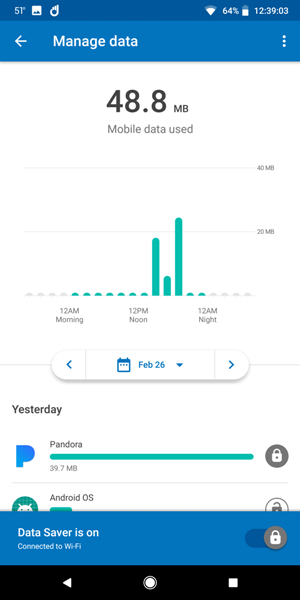 If you would like to manage which apps can use data, you simply need to tap on the "Manage data" button on the homepage and then tap the lock icon next to the apps you wish to change.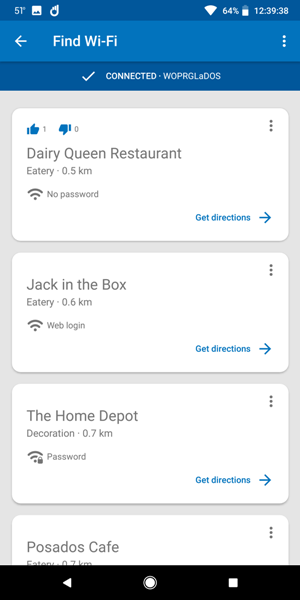 To view the WiFi networks near you, you need to tap on the "Find Wi-Fi" button on the homepage of the app. You will then get a list of WiFi networks near you, how far away they are from your location, whether or not a password or web login is required, and thumbs up or down icons indicating user ratings for that network.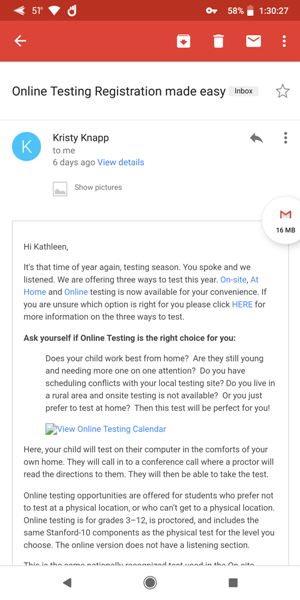 Datally will even give you real-time data use information as you use the apps on your phone (displayed as a small bubble in the app you are using – see above screenshot) – that is, as long as you do not have any Accessibility services turned on.
While you do have access to turning off background data use for each app through your device settings under your Data Usage section, Datally makes it a little easier to manage. So, if you have to watch how much data you use, Datally is certainly worth a try! Check it out on Google Play.