We use affiliate links. If you buy something through the links on this page, we may earn a commission at no cost to you. Learn more.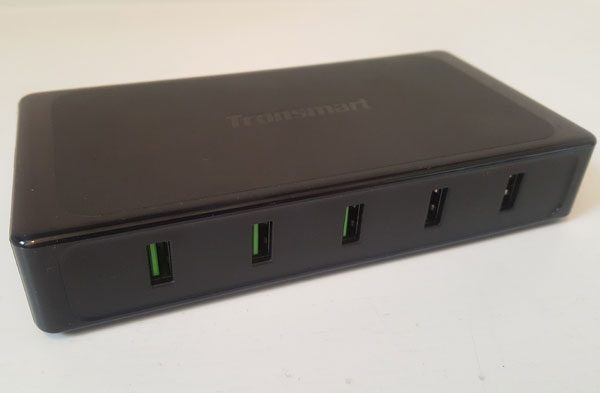 If you are like me, you have a multitude of gadgets that need charging.  And inevitably they all need charging at the same time, right?  And most of your gadgets don't come with power adapters anymore, right?  And even if they did you probably couldn't plug them up all at the same time in the same room, right?  That's where the Tronsmart desktop charger comes in.  Charge 5 devices at the same time, all of them at their fastest possible charge rate.  So for a device that costs approximately $27, how does it perform? Let's find out.
What is it?
It is a 5-port desktop charger that allows you to plug up any USB-charging device and it will provide the maximum amount of charging output that your device allows.
Hardware specs
Model: U5TF
Technology: Qualcomm Quick Charge 3.0 & VoltiQ & Huawei FCP (Backward compatible with QC 1.0 and 2.0 Technology)
Input: AC 100-240V, 50-60HZ, 2.4A (Max)
Output: Max 5-6.5V/3A, 6.5-9V/2A, 9-12V/1.5A; 5V/2.4A
Total Power: 90W
Size:  Approx. 6.25 in x 3 in x 1 in
Weight: 10.5 oz
Certifications: CE, FCC, RoHS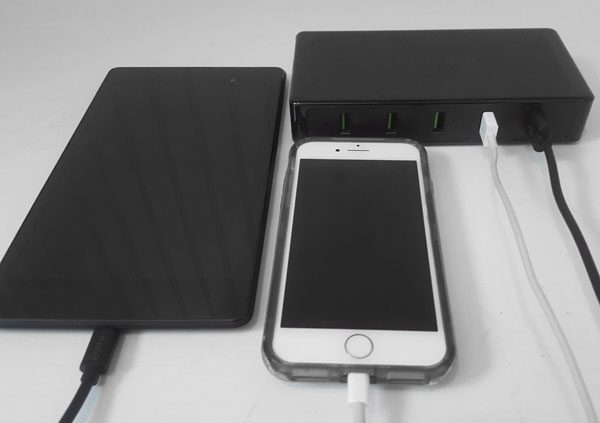 What's in the box with the Tronsmart?
1 x Desktop charger
1 x AC power cable
1 x User manual
1 x VoltiQ card
1 x Warranty Card Design and features
Design and function
The Tronsmart desktop charger is a little larger than some of the other desktop charging hubs than I currently own.  But it is the only one that I own that truly provides the maximum charging speed for every device.  It does indeed deliver on that promise.  It has a switch on the back to turn it on. I know this because when I first took it out of the box and plugged it up to try it, I plugged in one of my devices and walked away to do something around the house and came back later to realize that I never turned it on with the switch on the back.  It would be nice if it automatically started charging when you plugged something up, but that's not a deal breaker for me now that I know to look for the little indicator light on the top of the charger that indicates it is turned on.  Smart.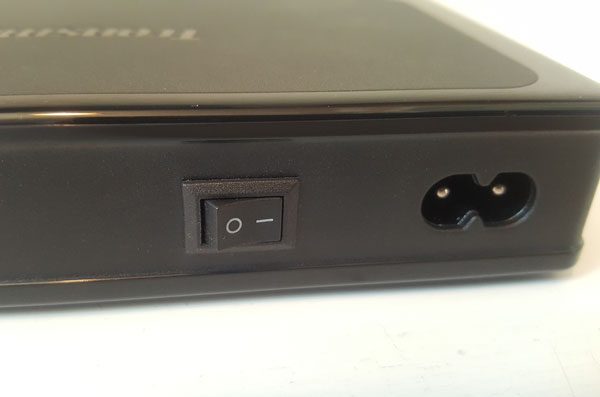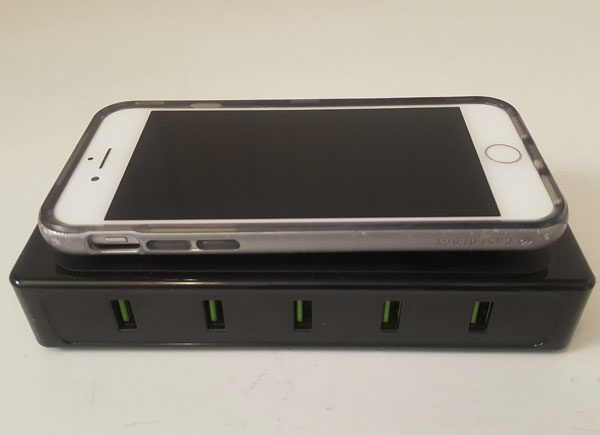 What I like
Great price
Very light
It does indeed provide the maximum charging speed for every device
What needs to be improved
A little larger than other desktop chargers
You have to remember to switch it on
Final thoughts
For the price and performance, I really can't find anything to complain about with the Tronsmart 5-port desktop charger.  It does exactly what it purports to do and it has a simple, clean design.  This is a much cleaner and smarter way to charge multiple devices at your desk than using one of those ugly power strips or trying to decide which devices to plug up to those valuable outlets in the wall.  I highly recommend this device.
Price: $29.74
Where to buy:  Amazon
Source: The sample of this product was provided by Tronsmart