We use affiliate links. If you buy something through the links on this page, we may earn a commission at no cost to you. Learn more.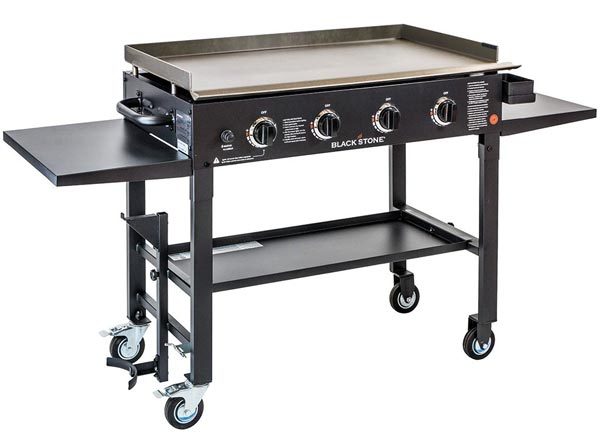 Grilling is the traditional outdoor cooking method, but did you know that you can have a griddle in your outdoor kitchen?  Blackstone says that 2018 is the year of griddling, and their line of outdoor griddles will allow you to take your place at the forefront of this movement!
Griddles expand the types of foods you can prepare in your outdoor kitchen.  You can make things like eggs, bacon, and pancakes for breakfast, cheesesteaks for lunch sandwiches, and stir-fries and delicate fish for dinner.  The griddle tops are thick, cold-rolled steel that cleans up easily.  The griddles use propane and have electric push-button igniters.  There's a range of sizes from a 17″ Table Top Griddle for tailgating and picnicking up to a 36″ four-burner griddle.  Even the larger griddles have stands with folding legs so you can take them along, too.
Prices for Blackstone outdoor griddles range from $99 for the tabletop model to $399.00 for a 36″ stainless steel model.  Check out the full line of outdoor griddles at Blackstone.