We use affiliate links. If you buy something through the links on this page, we may earn a commission at no cost to you. Learn more.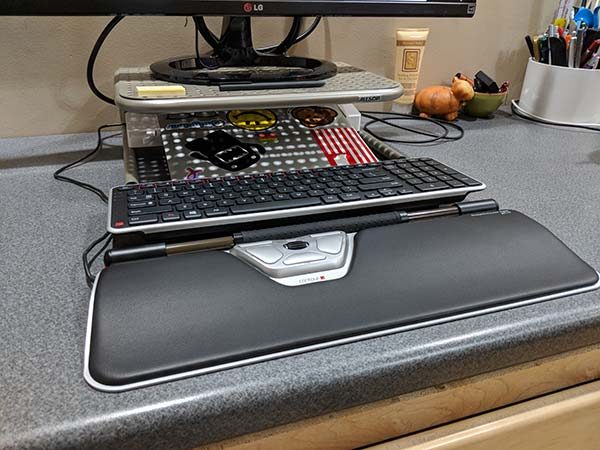 I've recently been on a mission to find a new mouse to help alleviate some problems that I've been having with my right hand and thumb. After reviewing Contour Design's Unimouse, they followed up with an offer to review their Rollermouse Red plus which they felt might help me more than their Unimouse. I've been using the RollerMouse Red plus for the past couple of weeks and am ready to share my thoughts.
What is it?
The RollerMouse Red plus is a unique cursor moving device, aka "mouse". But unlike a traditional corded or wireless mouse, the RollerMouse Red sits behind your keyboard and moves the cursor by moving a rubber covered tube. That makes it sound much stranger than it really is, so keep reading.
What's in the box?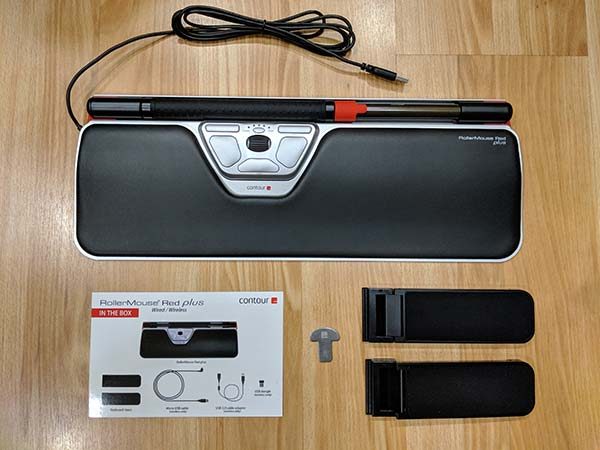 Rollermouse Red Plus
Keyboard supports
Key to remove wrist rest
Design and features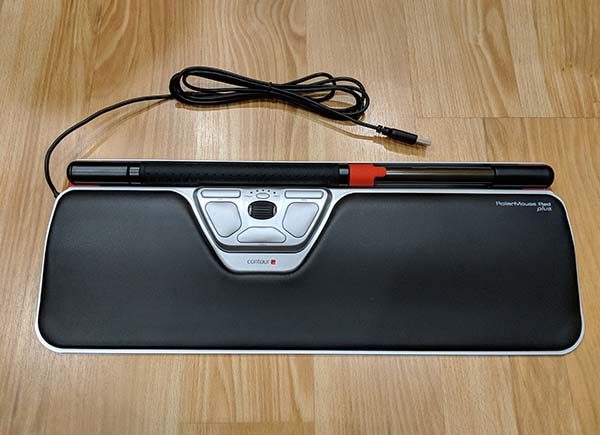 The Contour Design RollerMouse Red plus is premium looking and feeling product which features a large padded wrist rest with the roller bar attached above it.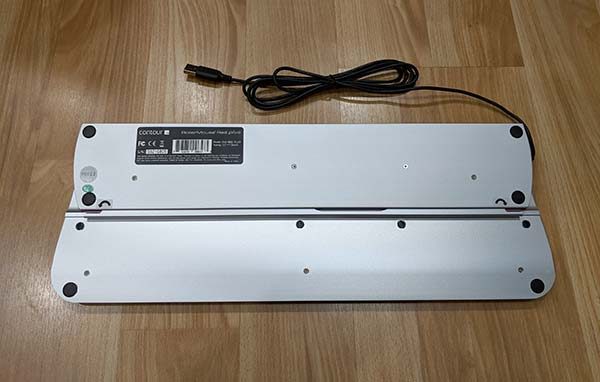 The base of the RollerMouse Red plus is made of aluminum which has enough weight that it does not move around once you place it on your desk.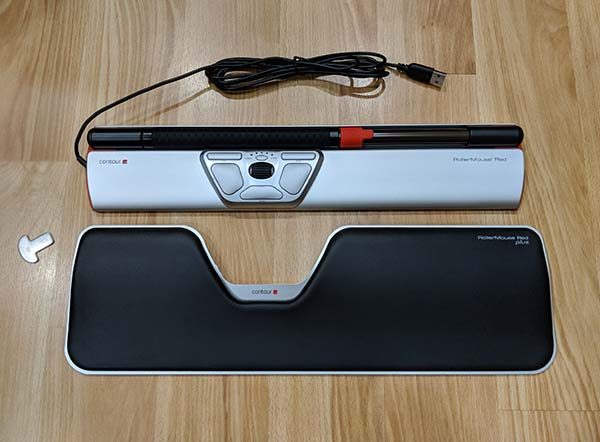 If you don't have room or really like the wrist rest, it can easily be removed by using the included tool. I personally like the wrist rest and find that it enhances the comfort of using the RollerMouse Red plus.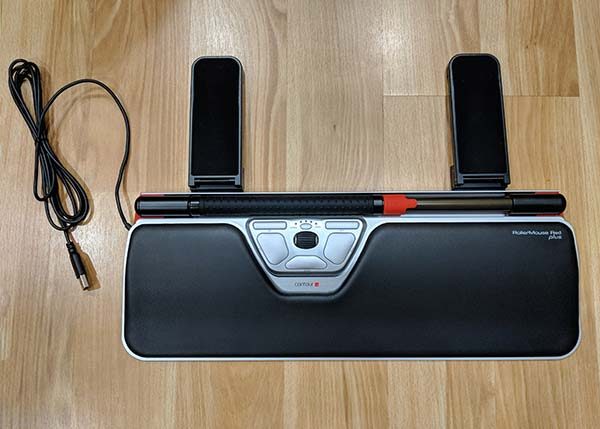 Also included with the RollerMouse Red plus are two keyboard supports that slide into slots on the base of the device. These supports allow you to position your keyboard so that it is raised to the level of the RollerMouse Red plus.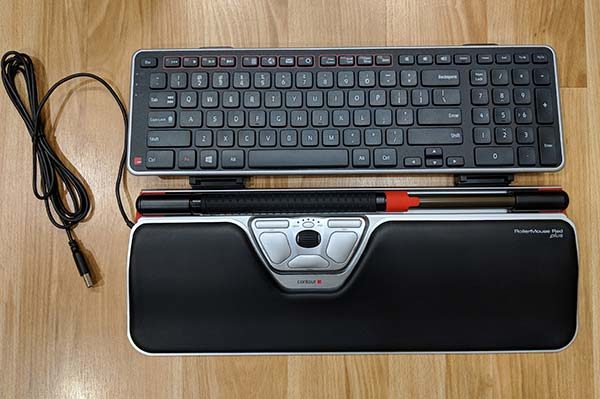 Contour Designs also included their Balance Keyboard which has been designed to be used with their roller mice. I started out test the RollerMouse Red plus with the Balance Keyboard, but I ditched it for my original Apple wireless keyboard early on in the process. The keyboard is nice, but the layout of the Balance Keyboard didn't work that well with my MacBook.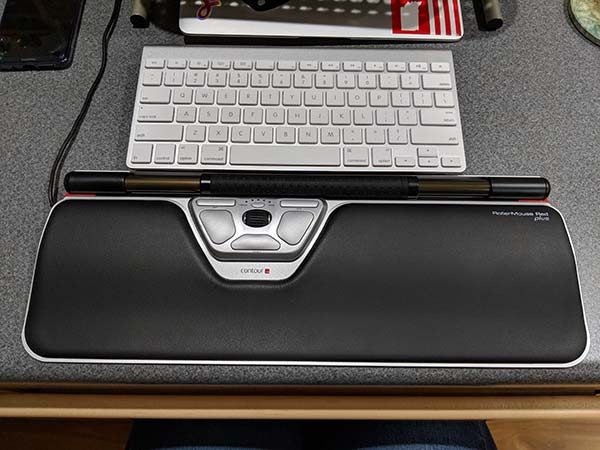 My Apple wireless keyboard looks tiny compared to the RollerMouse Red plus, but it works fine for me.
How does the RollerMouse Red work?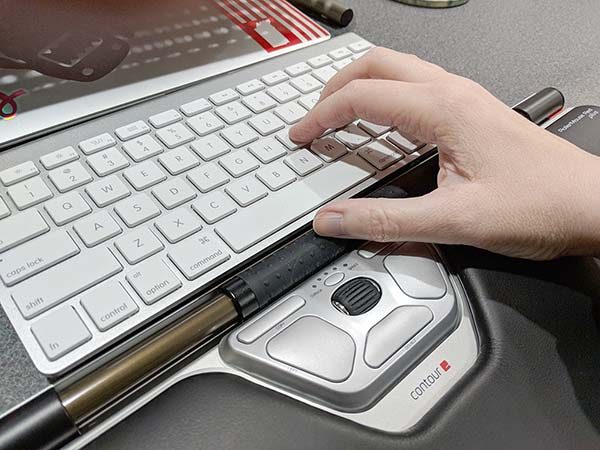 The RollerMouse has an 11.75-inch long tube with another tube over it that can roll up and down and be moved side to side with one or both of your thumbs. This is what moves the cursor on your computer. The roller bar has a rubber cover with nubs that make it easy to move around without slipping under your thumbs.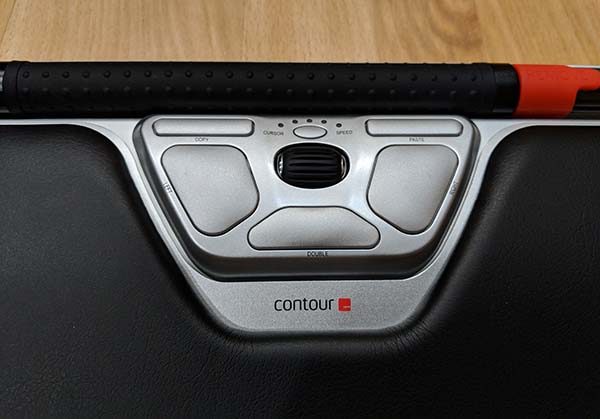 The roller bar can be clicked to select things. In addition to clicking the roller bar, there are other ways to select items with this "mouse". Below the roller bar are dedicated left and right mouse buttons, copy and paste buttons, and a one-touch double-click button. There's also a small roller in the center that is used as a scroll wheel. This scroll wheel can be clicked to open pages in a new tab in your browser.
You'll also notice a small oval button between the copy and paste buttons. This button is used to customize different settings for the RollerMouse Red plus. You can customize the cursor speed, click force of the roller bar, and the volume of the button clicks.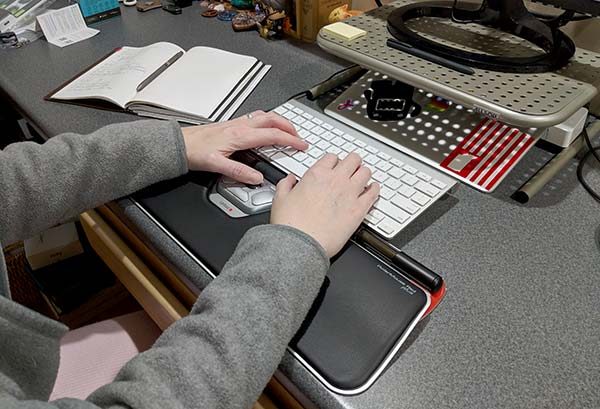 As I mentioned above, I've been using the RollerMouse Red plus for the past few weeks. At first, I didn't think I was going to like it because it felt awkward to use the roller bar especially to select things by clicking it. When I first started testing the RollerMouse, I still had my Logitech mouse next to the keyboard and I found that I would unconsciously reach for it and use it instead of the RollerMouse without really paying attention to what I was doing. I was using my traditional mouse as a crutch of sorts. After I finally took the Logitech mouse and put it in a drawer, I quickly acclimated to the RollerMouse and it now feels second nature to me.
The whole idea behind this mouse is that you don't have to move your hands away from the keyboard to use it. I can just drop my thumbs to the roller ball to move the cursor or to the smaller scroll wheel to scroll pages while still keeping my fingers on the home row of the keyboard.
Positives
Keeps hands on the keyboard
Comfortable
Multiple buttons and scroll wheel
Can be used with any keyboard
Negatives
Slight learning curve
Accidental presses of the dedicated left mouse button
Expensive
Final thoughts
I really like the Contour Design RollerMouse Red plus ergonomic mouse because it's comfortable to use and I don't have to move my hands away from the keyboard like a traditional mouse to use it.
There are two downsides to the RollerMouse Red plus that I want to mention. I noticed that the palm of my left hand would sometimes accidentally press the dedicated left mouse button which would end up moving the cursor to a new location. This usually happens when I'm typing and will cause me to start typing new text in the wrong location. It doesn't happen to me very often, but when it does, it's kind of annoying.
But the biggest issue with the RollerMouse Red plus is the price. At $265, it's not a frivolous purchase. That price will scare a lot of people away from buying one, which is unfortunate because it's quickly becoming my favorite "mouse" of all time.
Price: $265.00
Where to buy: Contour Design or Amazon
Source: The sample of this product was provided by Contour Design.