We use affiliate links. If you buy something through the links on this page, we may earn a commission at no cost to you. Learn more.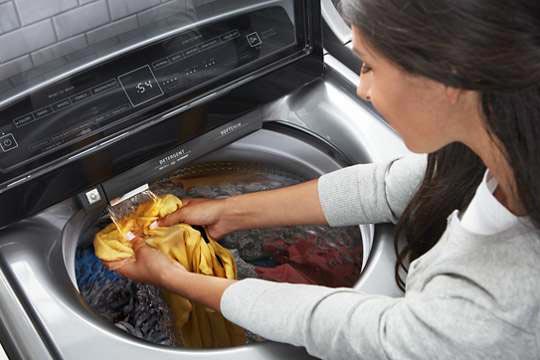 Having a sink in your laundry room would be ideal because it would allow you to start pre-treating stains before laundering without having to then carry soaking wet fabric through the house to the washing machine.  In many space-conscious homes these days, there's hardly room for a washer and dryer, forget about having room for a laundry sink, too.  The 4.8cu. ft. HE Top Load Washer with Built-in Water Faucet from Whirlpool has a faucet built in, so you don't need a separate sink.
You can easily pre-wash a piece of laundry using a stream of water from the faucet inside the machine's stainless drum.  The machine has lots of other features, too.  It has a dispensing system that can hold a supply of detergent, bleach, and fabric softener and dispense the right amount for your selected load.  It has auto load-size sensing, to select the right amount of water, and intuitive touch controls to make selecting from the 27 selectable wash cycles, 4 soil levels, and 5 wash/rinse temperatures easy.  MSRP is $899.00 for the 4.8 cu.ft HE Top Load Washer with Built-In Water Faucet and Intuitive Touch Controls.  Learn more about the features of this clothes washer and locate a vendor in your area at Whirlpool's website.