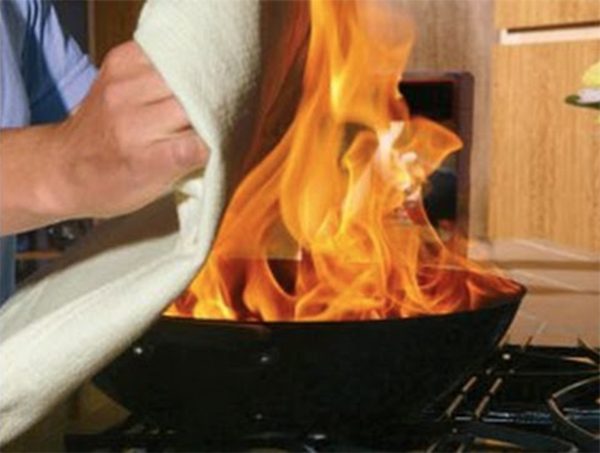 Do you keep a fire extinguisher in your kitchen like safety experts recommend – and sometimes homeowner's insurance policies require?  If you have one, do you know how to use it?  Or even how old it is?  If you have a kitchen grease fire and don't aim the spray from the extinguisher correctly, you can spray burning oil all over the kitchen and yourself.  There are other ways to put out kitchen fires – baking soda and pot lids, for example – but you have to have them in easy reach to be effective.  If you mount the red nylon packaging of a Kovenex fire retardant blanket near the stove, you'll be able to extinguish that fire before you could find the fire extinguisher and pull out the pin.
The Kovenex blanket is a 35″ x 32″ piece of high-performance fabric with inherent fire-resistant, heat-blocking, burn-protection, and tear-resistant properties.  Simply rip open the Velcro closure of the red mounting package, unfold the blanket, and place it over the fire to quickly put it out.  The fabric is not chemically treated and doesn't emit toxic fumes.  It's safe for contact with your skin and even protects your arms as you lay the fabric over the fire.  In addition to smothering a fire, you could wrap the Kovenex blanket around someone as they escape from a fire.
With fire extinguishers, you have to worry about their fill level, but it's never a problem with the washable and reusable Kovenex blanket.  The Kovenex Home Safety Fire Blanket is $36.00 at The Grommet.
Support The Gadgeteer
:
We may earn a small affiliate commission from purchases made from buying through links on our site. As an Amazon Associate I earn from qualifying purchases. Learn more.