We use affiliate links. If you buy something through the links on this page, we may earn a commission at no cost to you. Learn more.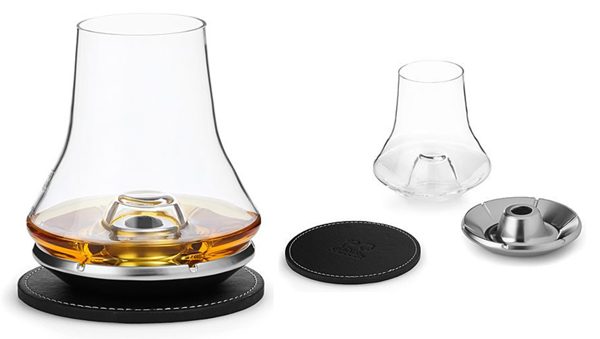 This tasting glass was inspired by the Glencairn, the traditional whiskey-tasting vessel.  But this one has a wider base with a dimple in the middle designed to hold it in place on a cooling metal base.  Place the metal base in the freezer for a few hours before using, and it will be ready to chill your whiskey without ice cubes that dilute your drink – and without those metal balls or stone cubes that risk the safety of your teeth.
The metal cooling base should chill your drinks for 30 minutes.  You should pour to keep the level of the whiskey below that of the dimple in the glass, which is said to divide the whiskey and "prevent overpowering alcohol vapors from hitting your nose while you taste".  The tasting set is completed with a faux-leather coaster to protect your table from the cold metal.
The Whiskey Tasting Glass and Chilling Coaster is $40.00 at UncommonGoods.