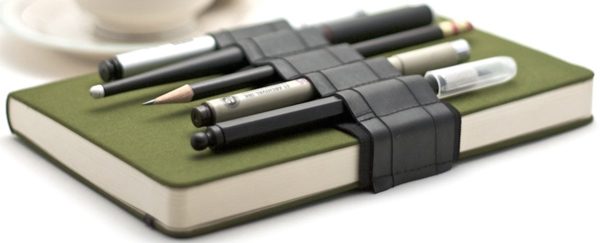 If you have trouble keeping up with a pen or pencil for writing in your journal or planner, you'll be interested in the Journal Bandolier.  The Bandolier straps around your notebook, journal, or planner, and it keeps your pens, pencils, or markers corralled in loops.  You'll always have your favorite writing implements handy when you need them.
In addition to the reclaimed rubber and elastic version shown here, the cleverhands Etsy shop offers the Journal Bandoliers in leather and fabrics, and they are sized to hold just a couple or many pens, depending on the style you select.  Journal Bandoliers are available from about $17 to about $26 in the cleverhands Etsy shop.
Some of our links in posts like this one are affiliate links, which means that we may receive a small commission on purchases at no cost to you.