We use affiliate links. If you buy something through the links on this page, we may earn a commission at no cost to you. Learn more.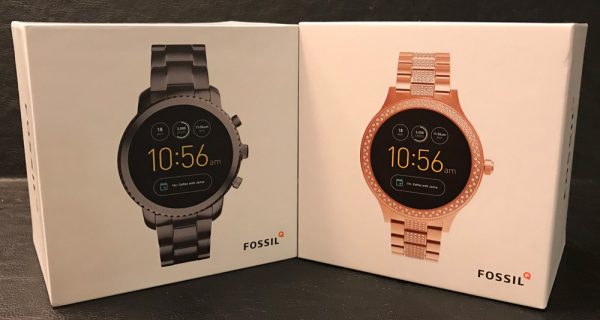 Since Fossil sent me two of their latest GEN3 smartwatches, one much more masculine than the other, I thought it would be fun to do a joint review. So I drafted a longtime gal-pal of mine to try out the bedazzled rose gold Venture since it was just too bling for me to handle 😉 . Kati isn't the classic Gadgeteer tech-geek but does know and like her electronic gear to work when & where she needs it. We'll see how the latest smartwatches from Fossil fair in a relatively niche and unforgiving market.
Dave's comments are in black and Kati's are in blue. Dave will be discussing the Q EXPLORIST SMOKE and Kati will be looking at the Q VENTURE ROSE GOLD-TONE both made from stainless steel.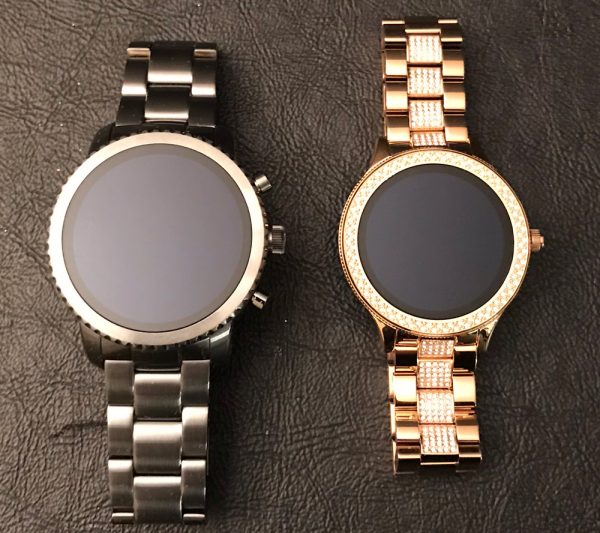 Dave: the Q Explorist and Q Venture are both GEN 3 Android Wear smartwatches by Fossil featuring a solid list of features you'd expect in a modern wearable. Though there are a few features that are sadly missing as well.
Kati is a founding member and has been part of my wife's Friday evening Wine Club forever. Sadly she's had to listen to me go on about countless tech-toys I've reviewed over the years. Very glad she has agreed to join me on this review, cause, no matter how high-tech or futuristic something is, pink bedazzled just ain't me…
Kati: Long-time reader, first-time reviewer, I am what you might consider a 'late adopter' of tech products, I like them to be well vetted and easy to use. My wearable tech experiences are mostly wireless earphones or Fitbit products. I am currently on my third iteration of Fitbit, using the Alta which I wear pretty much 24/7 to track exercise and sleep. Even for the tech I have, I use them sparingly (other than the Aervana electric wine aerator…but that's a different review) and don't want to work too hard to reap the benefits of my products, this is where I feel the Venture falls short, if I could access the tech faster and more intuitively, I might be more inclined to wear full-time. (see below for Apple vs Android comment)
Tech details
Storage: 4GB
Operating System: Android Wear™
Sensors: Light, Accelerometer, Gyroscope, Optical
Compatibility: Android™ Devices 4.3+ and iOS 9+ / iPhone 5+
In the Box: Wireless Charger (USB Type), Quick Start Guide
Connectivity: Bluetooth® Smart Enabled / 4.1 Low Energy, Wi-Fi 802.11 b/g/n – Powered by Android Wear™
Battery Life: Estimated all day
Functionality
Outside Temperature: Yes
Heart Rate: No
Activity Tracker: Built-In Fitness Tracker
Touchscreen: Yes
Notifications: Social Media / Text / Email / App Alerts / Multiple Time Zones / Alarm Clock / Calendar Alerts
Timer: Yes
Text and Voice: Yes
Physical details
Case Color: Black
Case Size: 46mm
Case Shape: Round
Case Thickness: 12.5mm
Case Material: Stainless Steel
Strap Closure: 2 Pusher Foldover Clasp
Strap Color: Black, Gunmetal
Circumference: 200 +/- 5mm
Strap Width: 22mm
Strap Material: Stainless Steel
Weight: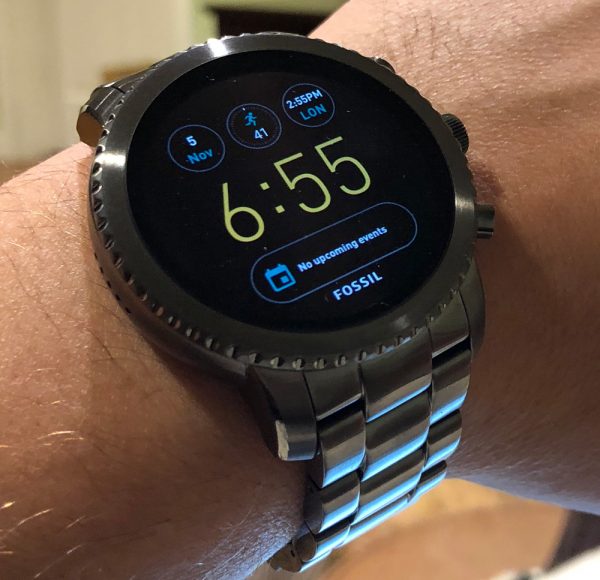 Wearability
Dave: Neither smartwatch is small by any stretch of the imagination. But the Explorist is HUGE, measuring in at 46mm in diameter, 12mm thick, and weighing a hefty 5.6oz (aka 1/3 of a pound). This behemoth makes my already small wrist look like a toothpick. Though I'm pretty sure I could stop bullets like Wonder Woman with this slab of tech.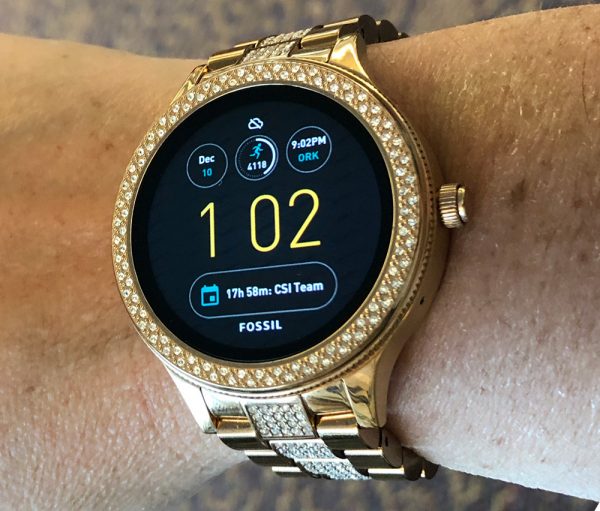 Kati: The Venture is smaller than the Explorist but still bigger than I would normally wear and heavy, but after a while, you get used to it. I did need to shorten the band, but no instructions on how to do this unless you go to the internet. Eventually, I used the tool that came with my Fitbit to shorten the band and it fit like a charm.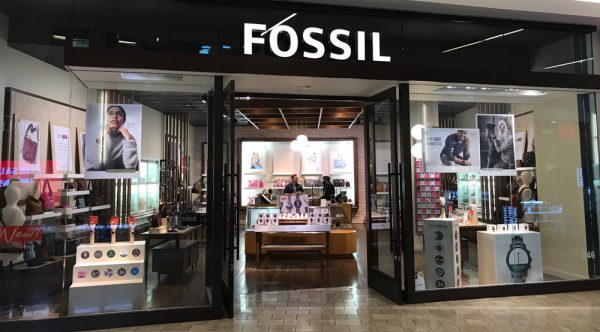 Dave: I needed to shorten my band as well. This is something you typically do once and you're done with it. Many folks would just have a jeweler take care of this. I took mine to an actual Fossil store in a nearby mall. The guys there were happy to help me out and took care of it in about 5 minutes. They were all very interested in my Gadgeteer review lifestyle. Bottom line is that I was impressed Kati adjusted her band by herself…cause she has people who do this sort of task for her (aka me) but has been truly embracing her first Gadgeteer review.
Setup
Dave: The Fossil GEN3 smartwatches run Android Wear 2.0 and are compatible with smartphones running Android 4.3+ or iOS 9+. I've set up my fair share of smartwatches over the years, using both Android and iPhone alike. For me, setting up the Q Explorist went well and was uneventful. Basic watch functions, notifications, music, and fitness tracking all happened quick and easy (15 minutes).
Kati: This is where my non-tech world collides with Dave. I typically rely on Dave for most of my upgrades (ok, all) and I use a mix of 'read the instructions' and 'push buttons until something happens approach'. This was good for this particular watch as the instructions were minimal, at best. I easily set up the app and connected / synced both, however, the app was silent on all the bells and whistles this watch has to offer. It assumes I know what I am doing…I don't.
Dave: As Kati said, she typically gets her tech support from me. It usually involves "here please fix it or could you get this working". But we thought it would be more "fun" for her to jump off the cliff to see if the parachute would open…guess it didn't. 
Kati: I did add my email (I think) but still looking to download music so I can have only the watch and no phone when out for a walk. And I don't even know all the other cool things this could do to improve my life. Hmmm – maybe I am in the vortex (of pain) between iPhone and Android apps…**looking at the help section I think this may be my issue…everything related to Google products and not my prime music or apple apps…might be good at the outset to mention it is Google-centric and not universal – unless I am missing something.
Dave: Yes, Kati is correct…it is much easier to use this watch if you lived completely in the Google ecosystem. But its no worse than if you had an Apple Watch & an Android smartphone.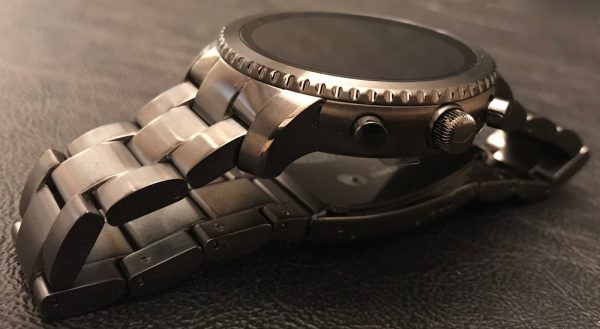 Hardware
Dave: Other than size, color, and a bit of bedazzling, the main difference between the Explorist and Venture are the two programmable buttons on the right side of the Explorist.
Kati: uh, it has two buttons??
Dave: No, not yours… Though both smartwatches are made from stainless steel with a brushed gunmetal and rose gold finish on them. Both bracelets are more of the same and have a 2-pusher foldover clasp to keep them securely on your wrist. Both are well made and have a classic wristwatch appearance (other than the front face that is). The stainless steel is thick and heavy with a quality heft and feel to it.
Kati: I like the rose gold and would wear this as a work or 'fancy' watch, but cannot see it as a daily experience as I fear I would bang it up as the face is so large. (I do like the whole 'change the look of the face on a whim' option of the digital watch – who knew?) 
Dave: The front face has a large touchscreen that is responsive, vivid, and can be seen in daylight conditions. The watches also have a built-in microphone and speaker that is surprisingly loud and clear considering its size.

Both the Venture…

…are available in a multitude of colors and band choices.
Functionality
Dave: The Explorist and Venture are definitely smart wearables giving you the all the basics of time, date, notifications, fitness tracking (aka steps), music, swappable/tweakable watch faces, etc. But Fossil has excluded what I consider some key functionality: heart rate monitor, GPS, waterproofing…what I "need" for my epic workouts. The GEN3 of Q series smartwatches are much more fashion focused and a lot less fitness based. A choice that definitely bucks the current generation of other wrist-based devices.
Kati: I pretty much only use it for time, date and looking at steps taken. Obviously, this is me as I can't figure out how to download music to take up the 4gb of space, but for what it has/I use, I like it. I kept a 'review diary' and multiple times I wrote something to the effect of "it's different than I expected, but I like it."
Dave: Both Kati and I found the battery life lacking. Kati's experience worse than mine. On the days I worked out with it, I streamed music for about an hour over lunch and it was down to approximately 20% by dinner time.
Kati: Where mine rarely lasted a full day worth of use.
Positives
Quality stainless steel casing and band
Feels like a classic timepiece
Bright, vibrant color screen
Android Wear 2.0
Will be upgraded to Oreo
Negatives
Heavy and huge
Lacking heart rate monitor/GPS/waterproofing
Instructions are nearly nonexistent
No LTE option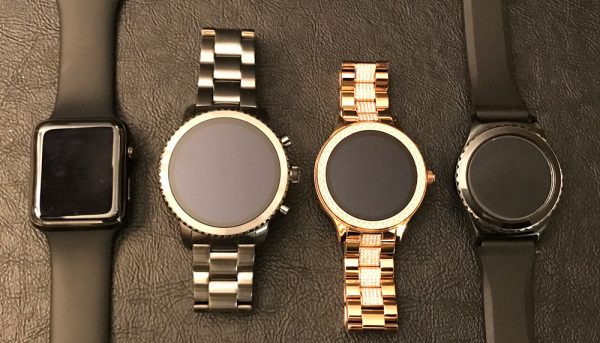 Final thoughts
Kati: I'm like a magpie, easily distracted by sparkly things. This watch is all that and more. Anytime I wore it, I received positive compliments and I have to say, as a fashion watch, I quite like it. As a functional, everyday watch, I can't commit as I want something that can take me from morning to gym, to work, and then bed to track sleep. Since this is 'smart' the charge did not last enough to track sleep. Plus there is no way that I would wear this gem to the gym for fear of damaging it and ruining what makes it so lovely. I do think if I was able to fully unlock all the functionality of the watch then I would use it more. But for now, it will be relegated to a beautiful, functional work or evening watch that is pretty, but more jewelry than high-tech wearable.
Dave: Fossil's GEN3 Smartwatches are decent players in a crowded field but I say that with much subjectivity. It really boils down to what type of person you are and wearable you want/need. I completely agree with Kati about fashion vs function and perhaps features. As the workout enthusiast, I am, I want heart-rate, GPS, waterproofing (or at least sweat-/rain-proofing), to even consider a wearable on my daily wear list. Plus considering it's size, the Explorist (or Venture) should have better battery life, all the additional features I mentioned, and heck LTE too. Apple, Samsung, and Huawei can do it…why can't Fossil??? That said, as a smart fashion watch the entire GEN3 Q series of wearables would meet most people's needs as a wearable but more as jewelry than fitness tool.
Price: $275.00
Where to buy: Available at Fossil or Amazon
Source: The samples of this product was provided by Fossil.