We use affiliate links. If you buy something through the links on this page, we may earn a commission at no cost to you. Learn more.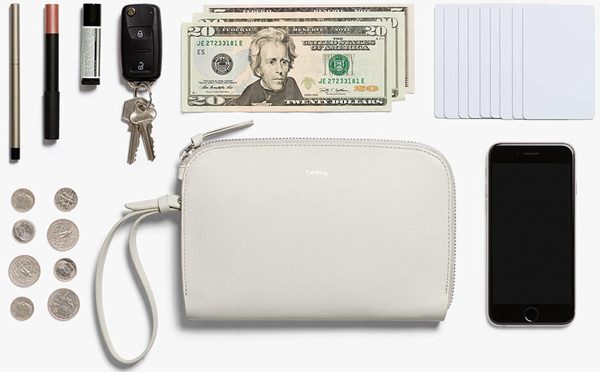 It seems that most of the wallets featured on The Gadgeteer are men's wallets or unisex wallets that basically hold some cards and cash and really nothing else.  That's not a problem for men because their clothing tends to have usable pockets, unlike women's clothing which usually have decorative pockets if any at all.  That lack of pockets is why some women carry a small purse, even when they don't want to.  The Clutch from Bellroy is a wallet designed for women, and it has many of the things I personally look for in a minimal bag.
The Clutch measures 7.9″ X 5.3″.  It's zippered closed, so you don't have to worry about losing anything, and it has a wrist strap so you don't have to worry about laying it down and losing the Clutch itself.  A central pouch, which can serve as a coin purse, divides the wallet into two sections.  There's room inside for cards, cash, a phone, and even your keys and a few other small items – making the Clutch a perfect wallet to take when you run out for a quick lunch or some errands and don't need a big bag weighing you down.
The Clutch, in Bellroy's own words, is made from "premium hides tanned under gold-rated Leather Working Group environmental protocols, then dyed through so they age gracefully. The woven fabrics we use are sustainably produced and chosen for their durability and lightweight performance."  The Clutch is available in alabaster (shown), navy, black, and deep blush for $189.95 from Bellroy.