We use affiliate links. If you buy something through the links on this page, we may earn a commission at no cost to you. Learn more.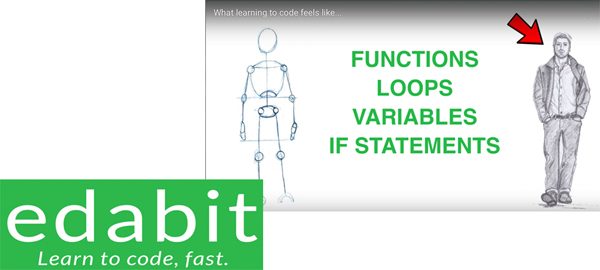 Have you ever tried to teach yourself a new language using just a book?  You can progress just so far before you need to talk to someone who is fluent in the language.  Learning to program computers is that way, too.  You're learning a language with which you can tell the computer what to do.  You may learn basics on your own easily, but there's probably a point where you need some guidance when you try to apply the simpler things you've learned, say how to draw a stick figure,  to learning how to complete more difficult tasks, say how to draw a full human figure.  With Edabit, you can learn the basics, and then learn to apply those basic concepts to increasingly difficult challenges, until you're ready to complete difficult tasks on your own.
Edabit helps you learn to program in Java, JavaScript, or Python.  You set up a free account, select the language you want to learn, and then select a skill level, from beginner to advanced, to get started.  There are 150 free lessons that will help you broaden your skill set by actually working through challenges that teach a new concept or reinforces what you know.  Edabit simulates learning in the real world – you have a task, you apply what you know to solve that task, and you consult resources to help you fill in your gaps.  Each challenge in Edabit is like an open-book test.  You'll have access to documentation and tutorials from all over the internet, and you'll have access to interactive help when you need clarification.  Edabit applies simple game mechanics to learning, so you'll earn points for each challenge you complete, unlock achievements, and compete against others for the top spot on the leaderboard as you advance from a beginner to an advanced programmer.
Signing up at Edabit is free.  All of the challenges to help you advance your skillset is free.  Go to Edabit and start learning a new programming language today.