We use affiliate links. If you buy something through the links on this page, we may earn a commission at no cost to you. Learn more.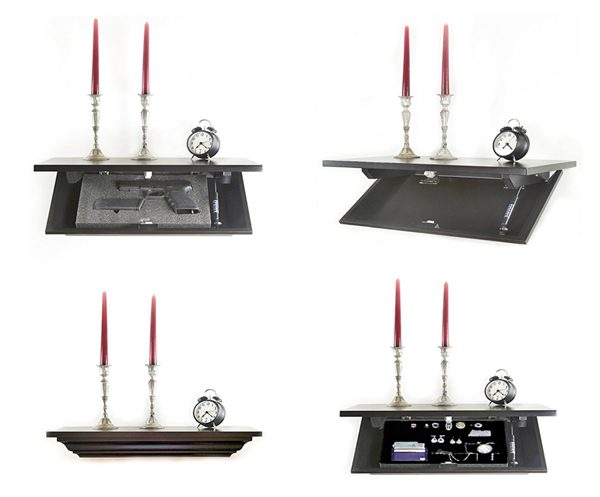 These cabinets aren't like those huge metal gun safes weighing hundreds of pounds, but they protect your handgun in a cleverly disguised hiding place and make them more quickly accessible (when you know how to open them) than having to dial open one of those big safes.  When closed, the Covert Cabinets shelf looks like a regular display shelf.  Underneath, the molding that decorates the bottom of the shelf conceals a locking, drop-down storage compartment that requires a magnetic key to open.
The shelf is 21″ X 12″ X 4″, with a 13.5″ X 8″ X 1.75″ interior storage area.  Total load the shelf can hold – concealed and displayed items – is 20 pounds.  The hinges operate smoothly using a dampener gas spring which allows for a controlled opening.  There's a foam pad in the interior space that can be cut to hold your stored items securely.
Covert Cabinets are available at Amazon in a couple different colors and designs.  This particular shelf is available a with free Prime Shipping option.  This black Covert Cabinets HG-21 Gun Cabinet Wall Shelf Hidden Storage is $169.95 at Amazon.