We use affiliate links. If you buy something through the links on this page, we may earn a commission at no cost to you. Learn more.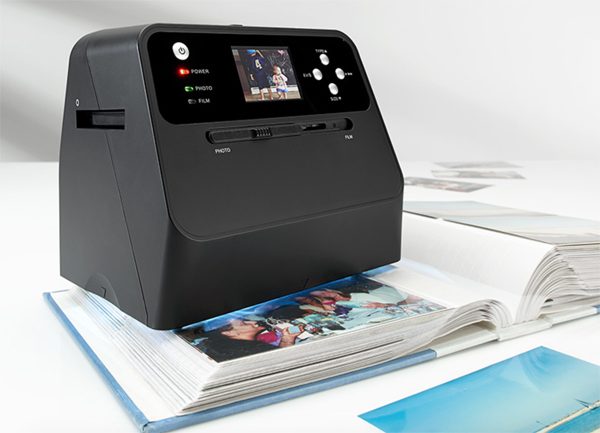 A few years ago, everyone seemed to be scrapbooking – taking old and new photos out of existing photo albums and creating new photo books filled with more decorations than photos.  I remember the bane of everyone's existence then was those old "magnetic" photo albums.  Seems those adhesive strips that held the photos in place welded themselves to the photos over time.  Removing photos from those albums often resulted in wrinkled (at best) or torn (at worst) photos.  With the Rapid Photo Album Scanner, you can get a digital scan of photos in those books, or any other album, without removing the photo or without having to disassemble the album.  The scanner can copy any paper image (up to 4″X6″) on a flat surface, plus 35mm negatives and slides. 
The scanner has a built-in 14MP CMOS sensor, LED lights to illuminate the subject, holders for negatives and for slides, and a 2.4″ color screen so you can see how to position the scanner.  Scans of black-and-white or color photos, negatives, or slides are converted to JPEG format and stored on the included memory card.  You can connect the device to a PC or Mac computer via USB to transfer scanned images.
The Rapid Photo Album Scanner is $199.99 at Sharper Image.  Right now, use code SHIP99 for free shipping and 20% off purchases over $99.00.