We use affiliate links. If you buy something through the links on this page, we may earn a commission at no cost to you. Learn more.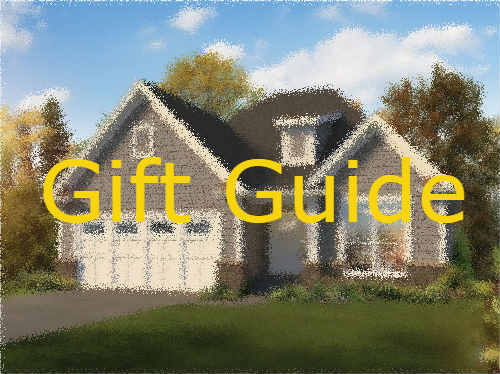 What do you give the devoted homebody?  You give them a cool new tool or gadget to clean, automate, or decorate their nest, of course! We've collected this list of useful gadgets, and beautiful decor items –  even a TV that serves as an art piece.  You can certainly find a gift for your gadget-loving nester here!
Price range $500+ (aka big spenders!)

Samsung's The Frame smartTV
You'll never need to worry about your TV looking like an ugly black hole in your carefully designed room with Samsung's The Frame smartTV.  When you're not watching anything, The Frame uses a picture-display mode to turn that ugly black hole into an attractive piece of art.  And of course it functions well as a TV, with 4K Ultra HD resolution, 4K HDR, and over 1 billion colors, and the smartTV function allows you to access Netflix, YouTube, Amazon video, and other streaming services without requiring extra set-top boxes.
Price: $1300 – $2800, depending on size
Read our review: Samsung's The Frame smartTV is an art installation for your home
Where you can buy one: Amazon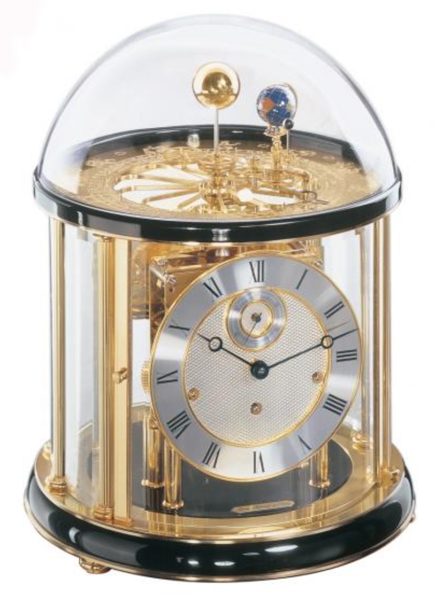 German Hermle Black Forest Chiming Keywound Mantel Clock Tellurium JHE1446
At $6000, this clock is for the gifter with deep pockets and a very special giftee who is an astronomy buff or clock collector. The German-made clock has an 8-day spring-wound movement with 4/4 Westminster chime on 4 polished bells. It not only shows the time, it also describes the Moon's movement around the Earth and the Earth's movement around the Sun. The small Earth rotates on its axis every 24 hours; the Moon rotates on its axis and completes a full revolution around the Earth in 29.5 days. The brass disk on the top is engraved with the month, date, and zodiac signs, so you can see the Earth pass through each sign as it completes its yearly travel around the small Sun. The German Hermle Black Forest Chiming Keywound Mantel Clock Tellurium JHE1446 is available from Clockway for $5999. (We wrote about a Tellarium Clock many years ago, but that $3000 clock is no longer offered at Edmund Scientific.)
Price: $5999.00
Read our review: Tellarium Clock – a solar system for your desk
Where you can buy one: Clockway
Price range $100+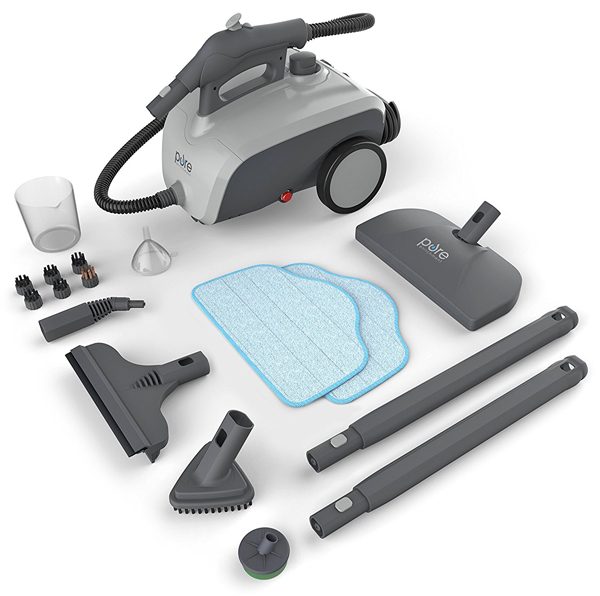 PureClean XL Rolling Steam Cleaner
One of the best ways to clean and sanitize your home without using harsh chemicals is to use steam.  The PureClean XL Rolling Steam Cleaner has the accessories that will let you clean sealed hard floors, showers, tubs, countertops, and many other things inside and outside your home.  The 1.5-liter boiler produces enough steam for about 45 minutes of cleaning, and the 16-ft power cord gives you lots of room to move around to clean.  The PureClean XL has 104 reviews, with an average rating of 4.4 out of 5 stars.
Price: $139.99
Where you can buy one: Amazon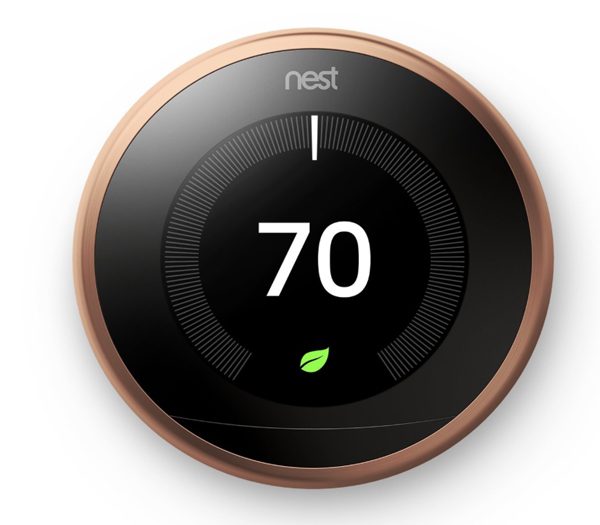 Nest thermostat
We had a Nest Thermostat installed when we had our heating/cooling unit replaced this summer. We have a strange situation in this building. The heated and the cooled air is provided to each condo unit, and we only have a blower and a thermostat in our unit. The Nest makes it easy to see the interior and exterior temperatures in the Nest app and so we can guess when the incoming air will switch between cooled and heated. We can control the temperature from our mobile devices, and we can even lock it so we never come home and find our cold-blooded daughter has adjusted the temperature to 85 degrees.
Price: $177 – $235
Read our review: Nest thermostat review
Where you can buy one: Amazon (original Nest) Amazon (new Nest E)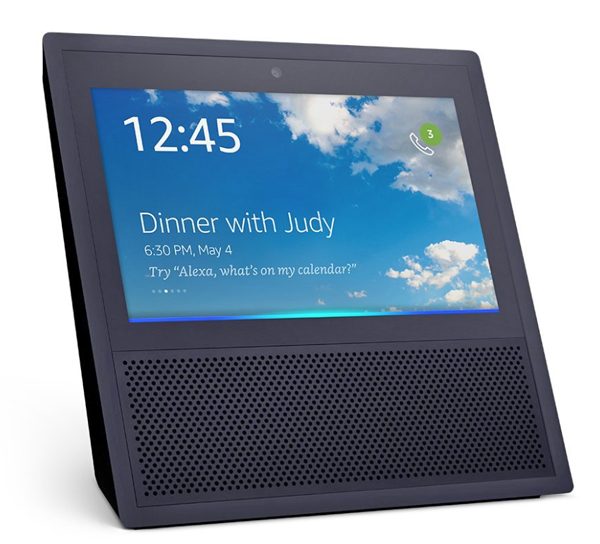 Amazon Echo
Amazon Echo devices come in a variety of sizes, with or without nice Bluetooth speakers, with or without display screens.  They all listen to questions or requests and perform a variety of functions: answer questions, tell jokes, play music from various music streaming services, set timers, and alarms, and even play videos (if they have a screen).  In addition, they become a hub to control a variety of home automation devices – from smart lighting to thermostats to door locks to who knows what else.
Price: $50-$230, depending on model
Read our review: Amazon Echo Dot 2nd generation review
Where you can buy one: Amazon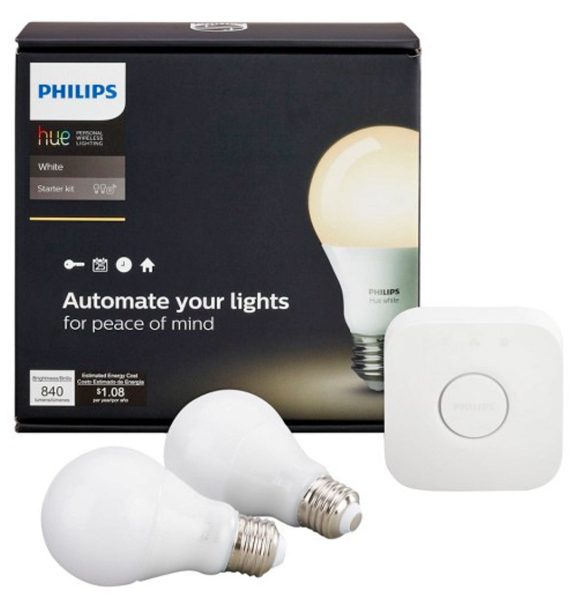 Phillips Hue wireless lighting system
Phillips Hue wireless lighting can be as simple as a single bulb with a pre-paired dimming switch to a full house of internet-connected bulbs and lighting fixtures.  Bulbs are available with standard, GU10, and chandelier bases; color changing or dimmable white; LED strips; ceiling fixtures; and accent lighting lamps.  You can add programmable switches to control lighting recipes, or you can find a variety of apps, including an official Phillips app, that allows you to control your lights from anywhere in the world (with a WiFi hub in your system).  You can even use IFTTT commands to automatically turn your lights on and off on a schedule, and you can set geo-fencing limits to turn lights off or on as you leave or come home.  Amazon Echo, Google Home, and Apple's Siri can control Hue lights, too, so you can just tell your home automation assistant to turn off your lights without having to leave your snug covers.
Price: prices vary
Where you can buy one: Best Buy, Amazon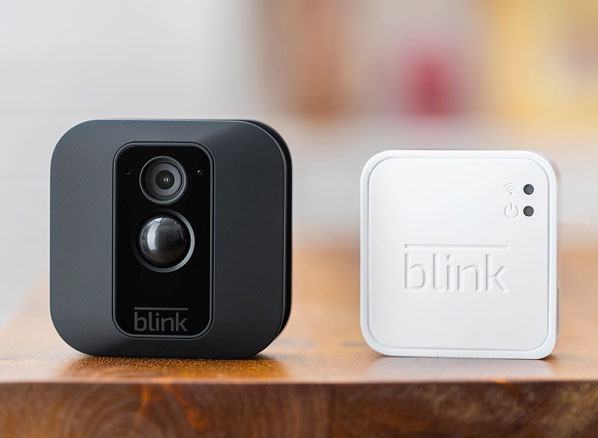 Blink XT wireless home security camera system
If you're looking for a home security camera system that doesn't require you to route cables all over the place or pay for a monthly service for cloud storage, the Blink XT wireless home security camera system is a great choice. These little cameras are completely wireless and are powered by lithium batteries that can last up to 2yrs before needing to be replaced. The Blink XT cameras can even be used outdoors because they are weatherproof.
Price: $129.99
Read our review: Blink wireless home security camera system
Where you can buy one: Amazon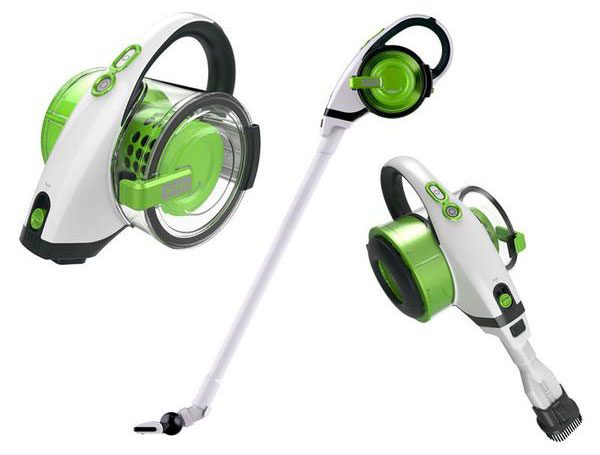 nugeni VACPAC+
This handheld vacuume offers a customizable deep clean for any space. The accessory system includes an extension wand so that you can reach any space in pyour home – high or low. And the powerful, 3D turbine motor offers uses less power (and less noise) while the AllergyAware filtration helps trap dust and other irritants for cleaner, healthier air.
Price: $189.99
Where you can buy one: nugeni
Price range $50 – $100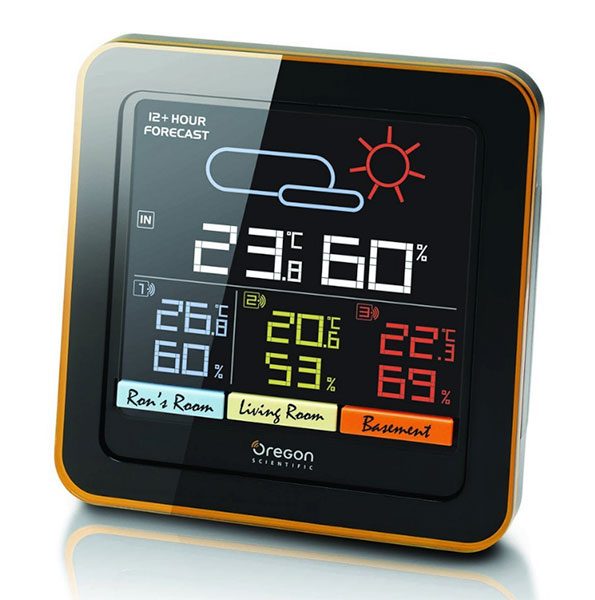 Oregon Scientific Multi Zone Wireless Monitoring Weather Station Color Display
Always know what the forecast is and the temperature outdoors, and indoors with this weather station from Oregon Scientific which comes with 3 remote sensors that you can place up to 100ft away indoors and outdoors. This weather station also has a mold alert to keep home conditions safe and healthy.
Price: $79.99
Where you can buy one: Amazon
Price range $10 – $50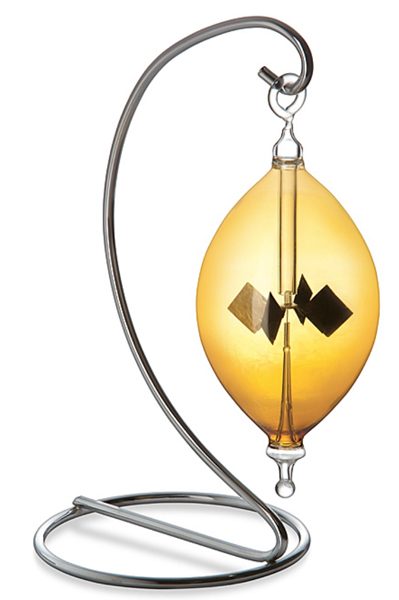 Radiant Light Mill (radiometer)
According to Wikipedia, a radiometer is "a device for measuring the radiant flux (power) of electromagnetic radiation. Generally, a radiometer is an infrared radiation detector or ultraviolet detector.  A microwave radiometer operates in the microwave wavelengths.  While the term Radiometer can refer to any device that measures electromagnetic radiation (e.g. light), the term is often used to refer specifically to a Crookes radiometer ("light-mill"), a device invented in 1873 in which a rotor (having vanes which are dark on one side, and light on the other) in a partial vacuum spins when exposed to light."  But who cares about all that mumbo-jumbo, when the light mill is such a cool, decorative toy!  ThinkGeek has a nice radiometer that hangs from a metal stand, so you can add it to your desk or tabletop, even if there isn't a nearby window, as sunlight, artificial light, and even infrared radiation can cause the blades to spin.It's made of glass and measures 6.5″ tall with a 3″ diameter; the metal stand measures 9.5″ tall x 6.5″ wide x 5″ deep (assembled). (Learn more about radiometers at Wikipedia.)
Price: $24.99
Where you can buy one: ThinkGeek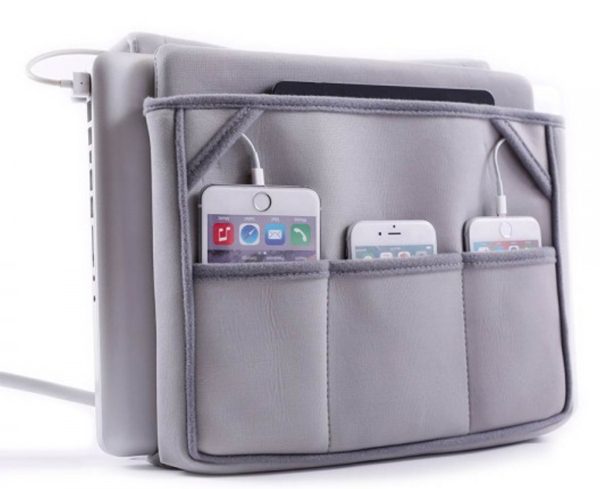 Bedside Tech Saddle
Nightstands only have so much surface area, so it may be difficult to find a place to put your glasses, phone, tablet, book, and laptop, and still have space to set a glass of water.  The Bedside Tech Saddle hangs beside your bed from a flap that fits under the mattress and provides storage for much of your tech gear.  It measures 11″ high x 10″ wide x 9″ deep; the under-the-mattress flap is 6″.  It has a sturdy inner frame to keep its shape even when fully loaded, and the neoprene body will protect your gear.  It has 3 phone-sized pockets, a reader or tablet pocket, and a laptop pocket that can hold up to a 1.25″-thick laptop.  Two hook-and-loop tabs on the back hold a power strip for easy charging of your items.
Price: $23.99
Where you can buy one: Great Useful Stuff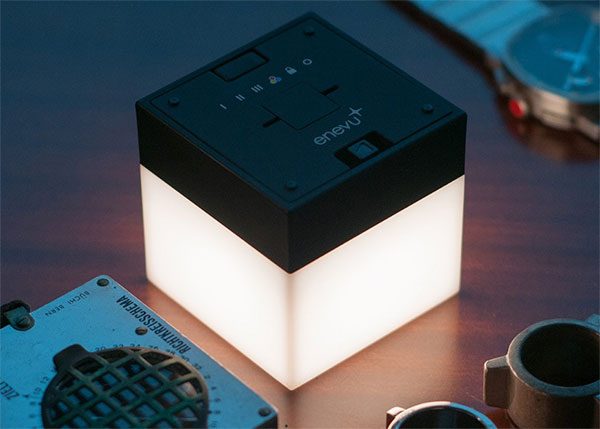 enevu CUBE
This little 2 inch cube is a portable 100 lumen color changing light that can be used as a night light, a small lamp during a power outage, or for any reason when you want a little extra light. It runs on regular AAA batteries for up to 100 hours.
Price: $29.90
Where you can buy one: enevu