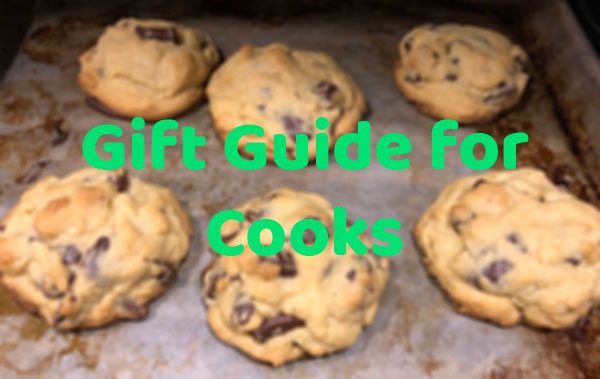 What do you give the avid cook or grill master on your holiday shopping list?  You give them a cool new tool to help them whip up something tasty, that's what.  Bob Patterson and I have selected 15 products that any gadget-loving chef will love!
Price range $100+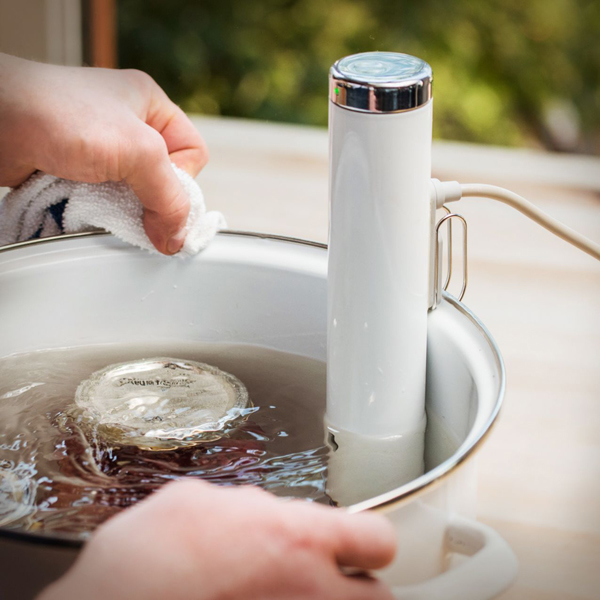 Joule Sous Vide by ChefSteps
The secret to perfectly cooked meats, fish, poultry, and vegetables is to cook them at the correct temperature for the correct time.  Cooking in the oven or on the stove top usually isn't able to provide the correct temperature, because they use much higher temperatures because the heat must be transmitted through the air (oven) or a hot piece of metal (cooktop).  Because water can reach a set temperature and hold it for a long while (with a stable heat source), cooking in water is an ideal heating method.  Of course, cooking directly in water does bad things to meat textures and can extract all the vitamins and flavors from the vegetables.
The Joule Sous Vide heater sits in your cooking pot filled with water and heats and holds the correct temperature.  You immerse a food-safe plastic bag filled with the food and wait.  Because the water temperature is low and held at a steady temp, the food won't overcook, even if left in the water longer than necessary.  After the food is cooked, you can transfer it to a pan for a quick searing or even coat and fry it just long enough to cook the breading.  The Joule is controlled by a smartphone app that allows you to choose the food type and degree of doneness (by looking at photos). -Janet
Price: $199
Where you can buy one: Sur La Table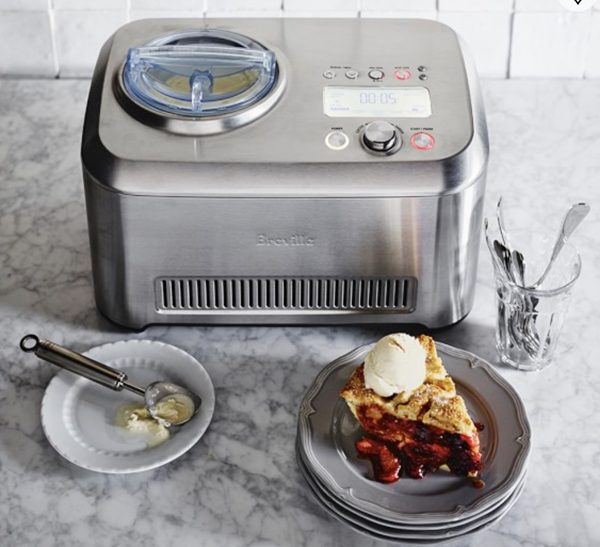 Breville Smart Scoop Ice Cream Compressor
Making ice cream at home may be fun, but it usually involves keeping a big freezing vessel in the freezer at all times for modern machines or a keeping bunch of ice and rock salt on hand for when the urge to make ice hits.  With the Breville Smart Scoop, all you need is a bunch of counter space to hold this 6″ x 11″ x 9.5 " high, 30.6 lb beauty.  The machine has a stainless steel and plastic housing and an aluminum mixing bowl.  All you have to do is add your ingredients and wait while the fully automatic Smart Scoop cools and stirs your to make 1.5 quarts of a tasty frozen concoction (no, not that one!). -Janet
Price: $399.95
Where you can buy one: Williams-Sonoma
Price range $50 – $100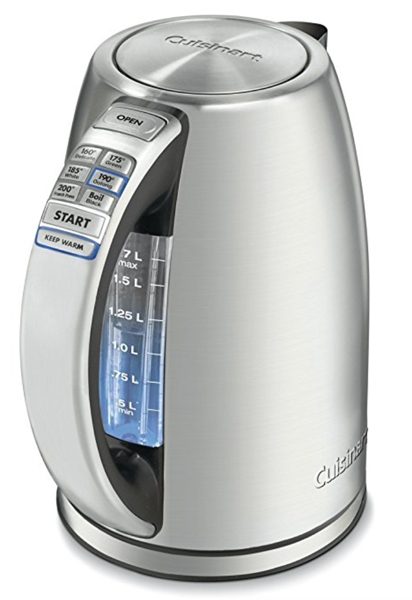 Cuisinart CPK-17 PerfecTemp 1.7 liter cordless electric kettle
This electric kettle is perfect for coffee drinkers who use French press pots or AeroPress coffee makers, tea drinkers, or people who want to mix up instant soups, oatmeal, or noodles. The Cuisinart CPK-17 PerfecTemp kettle is made of stainless steel, and it has 1500W / 110V for quick heating. It holds 1.7L of water, and the six preset heat settings let you choose the perfect temperature for brewing. The pot itself is cordless for easy pouring, and the corded base has a 30-minute keep-warm function in case you decide on a second cup. -Janet
Price: $79.96
Where you can buy one: Amazon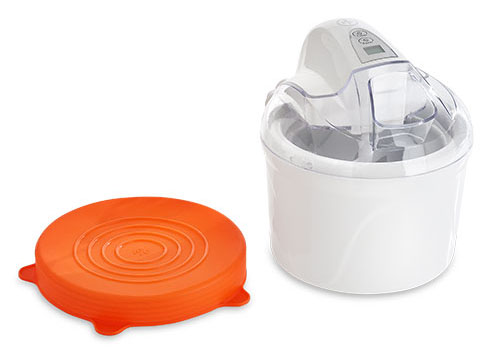 Pampered Chef Ice Cream Maker
No one buys their own ice cream maker. That's why they have friends like you! We reviewed the Pampered Chef Ice Cream Maker earlier this year and really liked it for its easy operation & cleanup.  It also makes a quart of ice cream at a time, so your cook can share the joys of your gift with you later. Everyone wins. -Bob Patterson
Price: $80.00
Read our review: Pampered Chef Ice Cream Maker review
Where you can buy one: Pampered Chef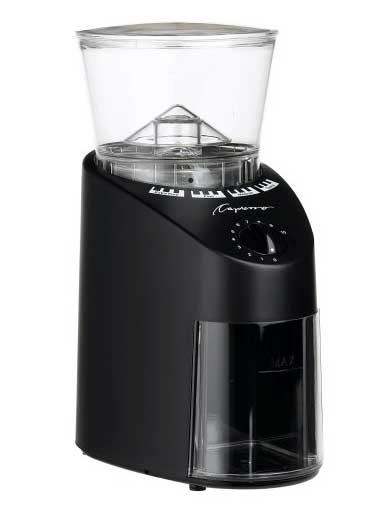 Capresso Infinity Burr Grinder
Fresh ground coffee is simply amazing. Once you start grinding your own beans, you won't go back. I'm shopping for a new coffee grinder at the moment, so I have been heavily researching the options. Burr grinders are the way to go, and the Capresso is one of the best you can find for under $100. With 16 different grind settings and a timer so that you don't have to sit and stare at the machine, this is a good one. -Bob Patterson
Price: $82.00
Where you can buy one: Amazon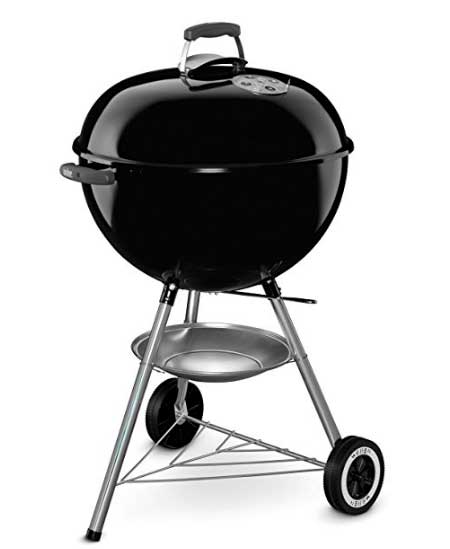 Weber Original Kettle Grill
Know someone who is ready to take their backyard grilling kung-fu up a notch? Charcoal grilling is magical, and you don't have to spend a fortune to get a good grill. Weber has been manufacturing the classic kettle-style grill since 1952, and it's the gold standard for backyard barbecues. Searing, roasting, smoking… it handles it all. It's easy to maintain, built like a tank, and backed by a ten-year warranty. There are also endless options to upgrade or mod the rig later for the gadget-inclined. This is the model that I have, by the way. -Bob Patterson
Price: $99.00
Where you can buy one: Amazon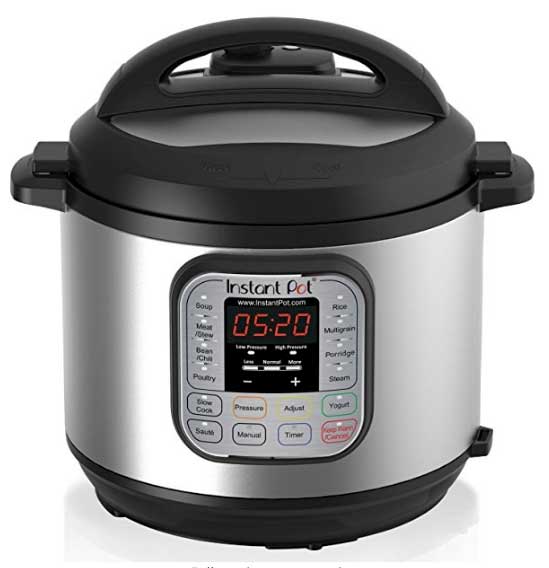 Instant Pot DUO60 6 Quart 7 in 1 Pressure Cooker
I'm just learning about the joys of using a pressure cooker. They are amazingly versatile. I've cooked short ribs to pull-apart tender in under 40 minutes, and it does amazing things for soups and stews without cooking for hours. This digital model is getting a lot of rave reviews because it also a serious multitasker that will saute, steam, operate as a slow cooker or a rice cooker (among other things). It's perfect for small kitchens or folks who want one tool to do it all. -Bob Patterson
Price: $97.50
Read our review: reviewing coming soon!
Where you can buy one: Amazon
Price range $10 – $50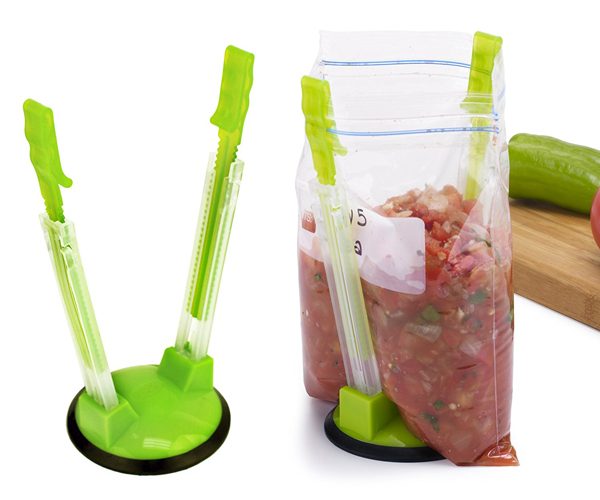 Jokari hands-free baggy rack clips
Do you store food, either leftovers or meals from bulk cooking weekends, in plastic baggies?  You know how hard it can be to fill a plastic baggy with soup or stews without a helper to hold the baggy open.  With Jakari, filling up plastic baggies will become a one-person job.  You just slip the top of the bag into the Jokari clips and the bag stays open.  You can also use the Jokari arms to dry washed baggies for reuse. -Janet
Price: $11.26 for a set of two
Where you can buy one: Amazon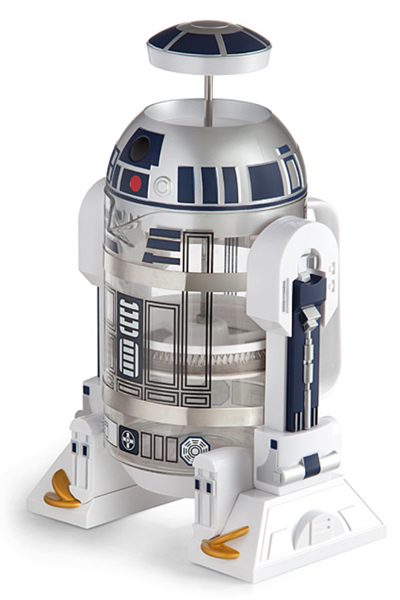 Star Wars R2-D2 Coffee Press
According to coffee lovers, one of the best ways to brew coffee is in an old-fashioned French press.  Nothing says your old French press has to look old-fashioned, and ThinkGeek is here to save you from boring with the R2-D2 Coffee Press.  This 32-ounce press is made of BPA-free plastic housing, a glass body, and a food-grade stainless steel filter assembly.  It measures 6.5″ wide x 9.5″ tall x 6.5″ deep (including the handle).  You'll no longer have to head down to the cantina for a perfectly brewed cup of coffee! -Janet
Price: $39.99
Where you can buy one: ThinkGeek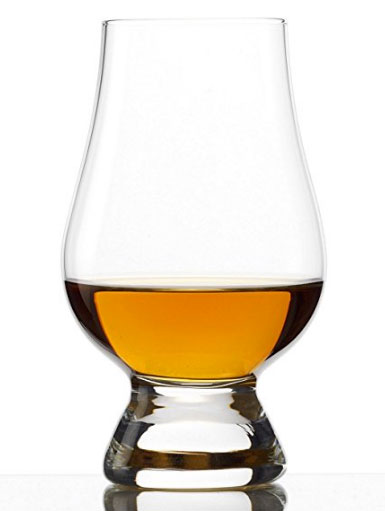 The Glencairn Whisky Glass (set of 4)
Considered the "official whisky glass" by experts, you can't go wrong with the Glencairn. The award-winning design features a tapered bowl enhances the flavors of the whisky and is dishwasher safe. Your whisky drinker will absolutely appreciate your taste in quality with these. I have several on my bar, and they're essential for enjoying your whisky neat. -Bob Patterson
Price: $25.48
Where you can buy one: Amazon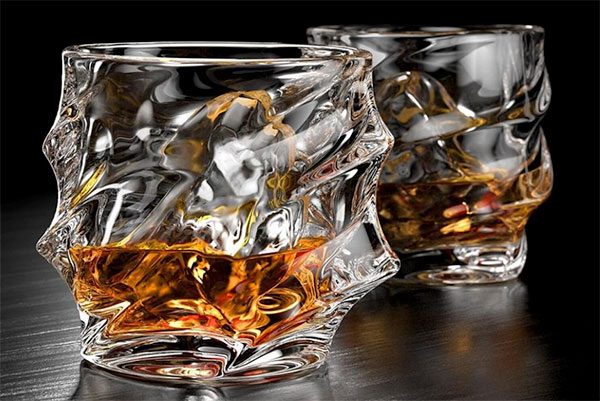 The Malviner Poseidon Crystal Whisky Glass
I have an alternative pick for the whisky fan as well. If you're looking for a fancy-pants upgrade, it doesn't get much cooler than this. These crystal whisky glasses are stunning works of art. Just look at them. They're gorgeous. These are on my wish list. They also sell sets and decanters that match the style if you're looking to splurge a bit. -Bob Patterson
Price: $19.95 and up
Where you can buy one: Malviner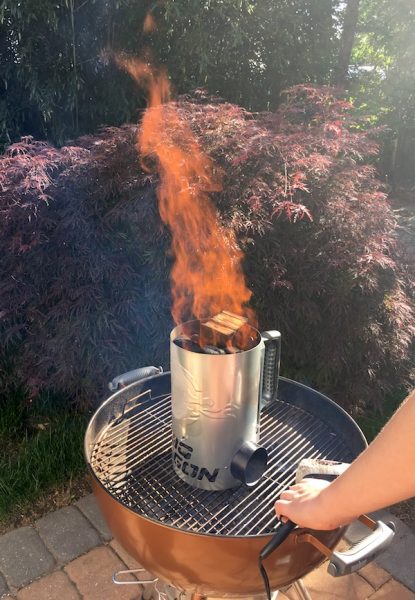 BBQ Dragon Chimney of Insanity
From Bob's review linked below: I believe that the Chimney of Insanity performs well as a replacement for your current chimney starter with a solid build, a great handle, and some nice additional safety with the side-loading tube. The real magic happens when you get airflow going through that side tube. That's when the beast earns its name, firing up a full stack of charcoal in half the time it would take otherwise. -Bob Patterson
Price: $29.95
Read our review: BBQ Dragon Chimney of Insanity charcoal starter review
Where you can buy one: Amazon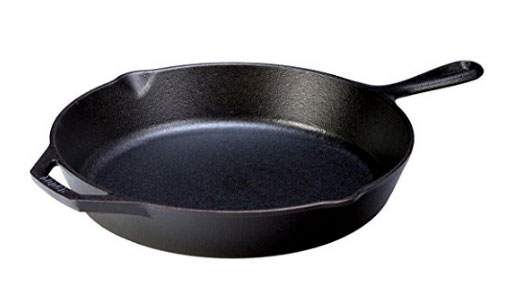 Lodge 12" Seasoned Cast Iron Skillet
Every cook should have a cast iron skillet in their arsenal. It's the most versatile pan you can own. Sear steaks, fry eggs, throw it in the oven or on the grill… I even cook cornbread and paella in mine. Plus, there's something really cool about learning how to maintain that nonstick surface. It's easier than you think and shows off your skills. It's a great gift for new cooks looking to fill out their toolset. Made in the USA, Lodge is still the best cast iron in my opinion. -Bob Patterson
Price: $29.00
Where you can buy one: Amazon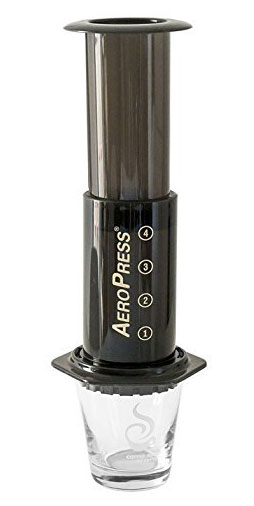 The AeroPress Coffee and Espresso Maker
There is a reason that the AeroPress is beloved by hardcore coffee fans everywhere. As long as you have access to hot water and ground beans, you can create an amazing cup of coffee in under two minutes. It's portable, easy to clean and even comes with its own storage bag. I keep one at the office and at home, so I can brew a fresh cup at a moment's notice. -Bob Patterson
Price: $31.95
Where you can buy one: Amazon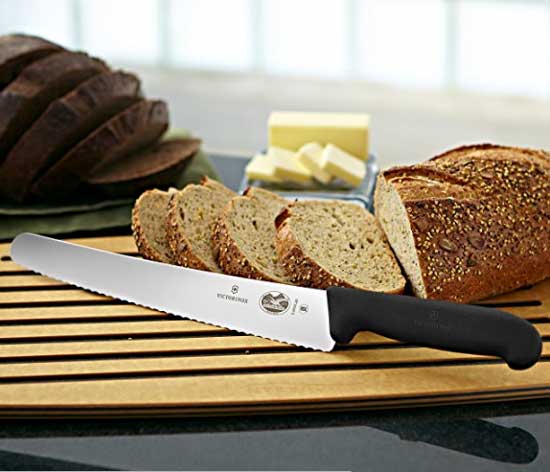 Victorinox 10.25" Fibrox Pro Curved Bread Knife
Everyone should have a good bread knife in their arsenal. The wide, curved blade design on this particular model gives you amazing control… it's a huge difference over typical straight-bladed models. The gentle serration on the blade will also handle all kinds of delicate work (sandwiches, soft bread, soft fruits & vegetables) without mangling them. I just replaced my old bread knife with this one earlier this year, and I should have done it sooner. -Bob Patterson
Price: $39.85
Where you can buy one: Amazon
Support The Gadgeteer
:
We may earn a small affiliate commission from purchases made from buying through links on our site. As an Amazon Associate I earn from qualifying purchases. Learn more.