We use affiliate links. If you buy something through the links on this page, we may earn a commission at no cost to you. Learn more.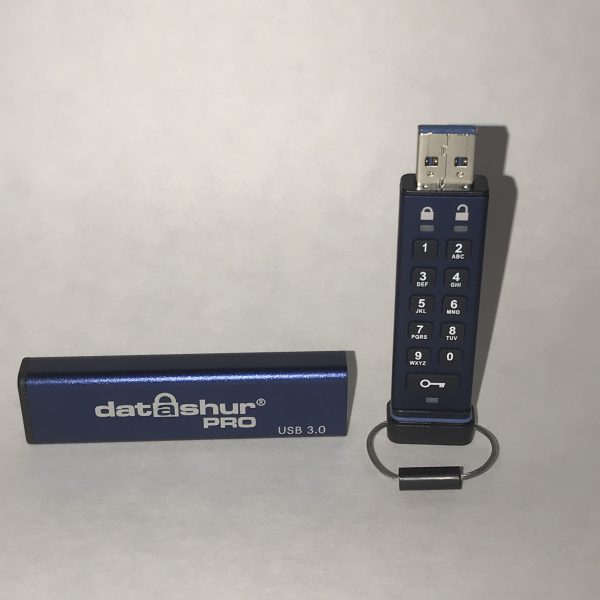 If you are in a hurry and dropping in to get the bottom line on the passcode protected datAshur PRO USB 3.0 USB Flash Drive from iStorage here it is:  it's by far the best flash drive I have ever had and probably like you, I have had dozens upon dozens of them.  It protects your data with a personalized passcode, can be used on any computer, is encased in a waterproof aluminum body and can even be personalized with your name, company name, etc. 
For the rest of you who have a little more time, I will get into the details of my new favorite data storage device.  I can honestly say I go into each product review I write for the Gadgeteer with a completely open mind and put each product through its steps, keeping in mind what our audience will want to know about the product and the tasks I need the product to perform.  That being said, I take assignments that fit my life, work or interests and are something I can speak on with a modicum of intelligence about and when this product popped up I was very excited to see if it backed up the claims made by iStorage.
Before I opened the package, I could see that the drive had been personalized with my name on the aluminum case.  This is a very nice touch for something that I have been taking into meetings, have in my pocket and have been using daily.  For a modest £5 per location on the drive, you can add laser etching to the top or side of the sleeve or the side of the drive (the etching on my drive is on the top of the sleeve).  You can also upload fonts to personalize your text or upload your logo in outline form to be etched onto the top of the sleeve, also for £5.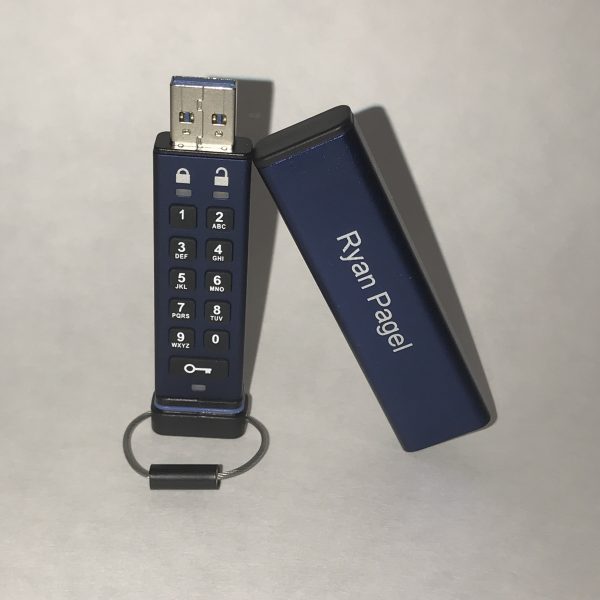 I have bought password protected flash drives in the past, only to learn the hard way that not all of them function the same way when it comes to where the flash drive can be used.  I have two password protected drives that I cannot access because they are linked to a computer that I no longer own.  This is not an issue with the datAshur PRO.  The password is held directly on the flash drive, not a computer so this device can be used on any computer since it is OS and platform independent.  Just enter your passcode, plug it in and you are ready to save/retrieve your information.
I bought my first password protected hard drive a few years back after my company had some safety and emergency training.  We were taught what to pack in an emergency "go bag" in case we had to leave the house without notice.  A password protected thumb drive was one of those items that I would have never thought of.  Now I have a scanned copy of our passports, drivers licenses, credit cards, bank accounts, etc. on a drive in my go bag.  I have been using the datAshur PRO for work and use it every day.  The rugged case allows me to toss it in my bag or pocket and not worry about being damaged or dust getting into it and the protection of having a PIN on the flash drive keeps me from worrying about my information being in the wrong hands should I accidentally leave it behind.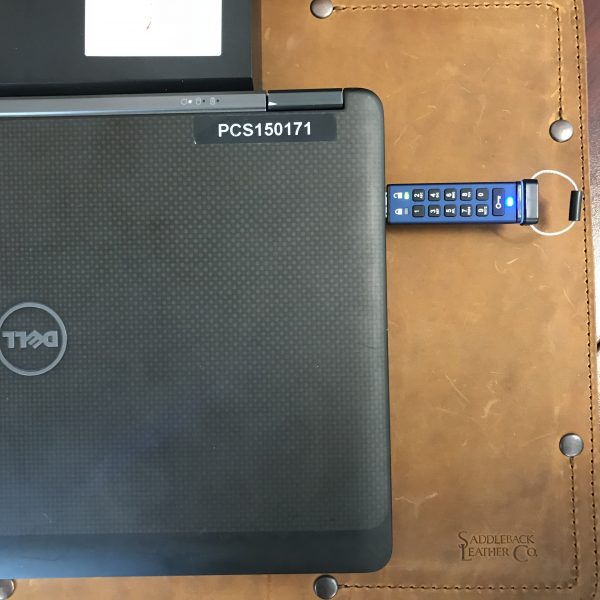 There is a rechargeable battery within the flash drive that charges when it is plugged in and allows the user to enter their personalized 7-15 digit PIN onto the keypad.  Your data is encrypted in real time with its onboard hardware encryption engine and is completely protected in the event your device is lost or stolen.  The datAshur PRO automatically locks when it is disconnected and can even be set to lock after a predetermined amount of time, making for an extremely secure place to store your sensitive information.  It can be programmed with independent user and admin PINs making this a great option for corporate use in addition to the personal applications mentioned above.  There are additional safety features that can all be found on the product page.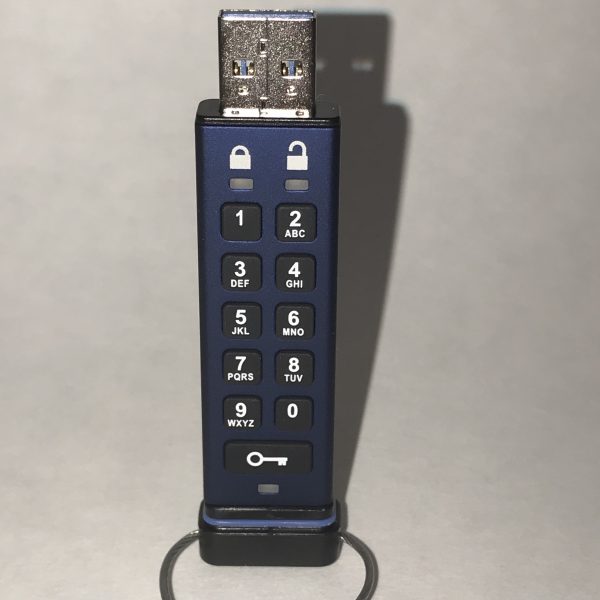 The datAshur PRO is offered in 4, 8, 16, 32 and 64 GB models, is USB 3.0, has AES 256-bit hardware encryption (no software required), is IP57 certified as water and dust resistant, can be used on any OS and platform and has a number of certifications and validations that can be found on the product page.  Prices range from £49 to £129 ($75 – $135 US from Amazon) for the different capacities with the personalization options of £5 each. 
For the security, durability, and peace of mind you get I think this is well worth the investment and should be seriously considered by anyone who wants to keep their data secured and private.  I don't think I will be going back to an unprotected flash drive ever again after using this.  I highly recommend this product and have already recommended that the IT department at my company looks into these for those of us who handle sensitive information.  iStorage also offers a wide range of secure data storage that will fit all of your capacity needs.
Source: The sample for this review was provided by iStorage.  For more information please visit their site and you can order one from Amazon.

Product Information
| | |
| --- | --- |
| Price: | $75 - $135 |
| Manufacturer: | iStorage |
| Retailer: | Amazon |
| Pros: | Sturdy construction; hardware password protected; water and dust proof certified; can be used on any computer or system; personalization options for name or company logo; easy to set up out of the box; rechargeable internal battery; great value and piece of mind for protecting your data in a standard sized thumb drive. |
| Cons: | I honestly have no criticism or cons for this product. It is only available in blue at this time so some may wish for other color options but this is hardly a con for me. |