We use affiliate links. If you buy something through the links on this page, we may earn a commission at no cost to you. Learn more.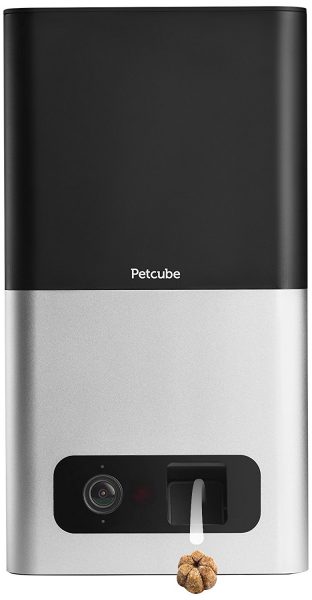 In 2013, the Gadgeteer introduced the Petcube to the world in the following news post:
Now, in 2017, we are introducing the new and improved Petcube Bites for modern and busy pet owners' homes. The concept is the same– to be able to give our pets love and attention even when our hectic lives are hogging it all, forcing us to be away from our homes. This version of the Petcube contains an advanced camera with 1080p HD video, 138॰ degree wide-angle view, night vision, and 3x digital zoom. Now you'll be able to see the look on your pup's face clearly when you call him a "good boy"! 
The Putcube's most entertaining upgrade is its treat-flinger. You heard me… TREAT-FLINGER! Although a variety of treats are compatible with this gadget, each camera comes with a Wellness Petite Dog Treats sample when ordered from Amazon. You'll never run out of treats because re-ordering is easy with Amazon Dash Replenishment right from the Petcube App. Even if you are present in the smart-home I know you all have… you can simply ask your Amazon Alexa to treat your pet or re-order treats since the two devices are harmoniously compatible. 
With Petcube Care, the video cloud recording service that stores video history, your Petcube will also act as a security camera; protecting your home at all hours. It has built-in motion and sound detection, and you can snapshot of the last 4 hours of activity for free, or you can subscribe for optional plans. Everyone starts with a free trial to Petcube Care initially.
Begin your long-distance relationship with your pets by ordering your Petcube from Amazon for $249.00 now!