We use affiliate links. If you buy something through the links on this page, we may earn a commission at no cost to you. Learn more.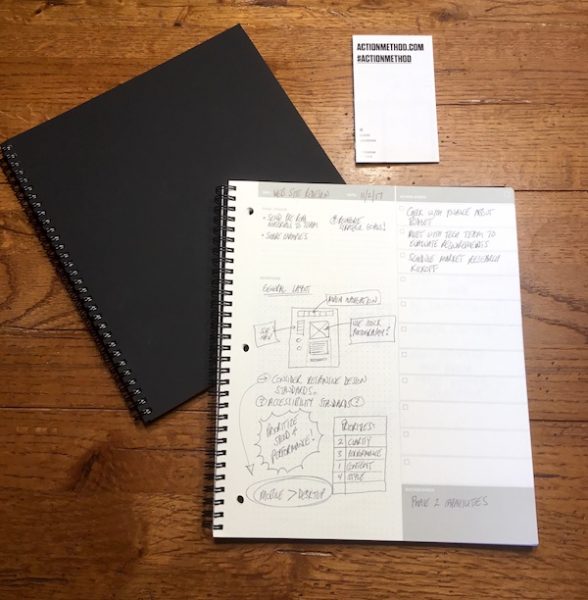 Originally designed for creative professionals, the Action Method is a note-taking system that focuses on identifying the action steps you need to keep your projects moving forward. Behance, the creators of the Action Method, have also developed a full line of beautiful notebook products designed specifically to work with their system. For this review, we're taking a look at both the Action Method and their fancy notebooks. How does it all work together? Let's review! 
How does the Action Method work?
The Action Method is a template for your note taking, breaking the page into four distinct zones to keep your notes organized as you go.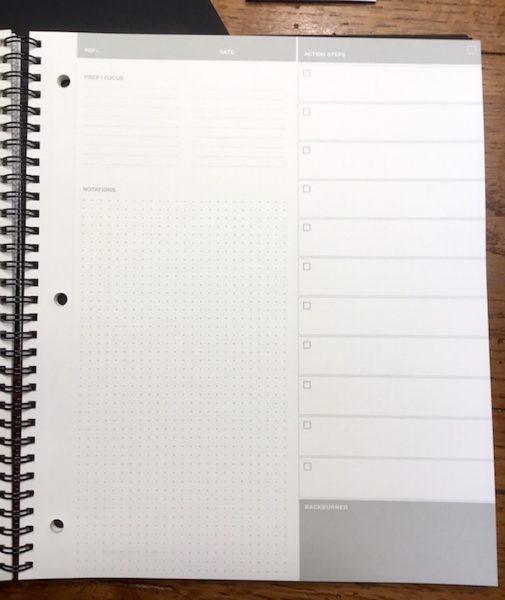 The "prep/focus" area is for pre-work setup including preparation activities and important focus areas for the upcoming session.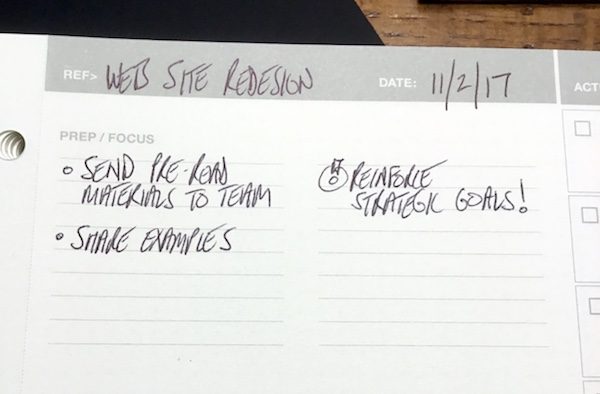 The "notations" area is for capturing your running notes, ideas, and sketches during the session.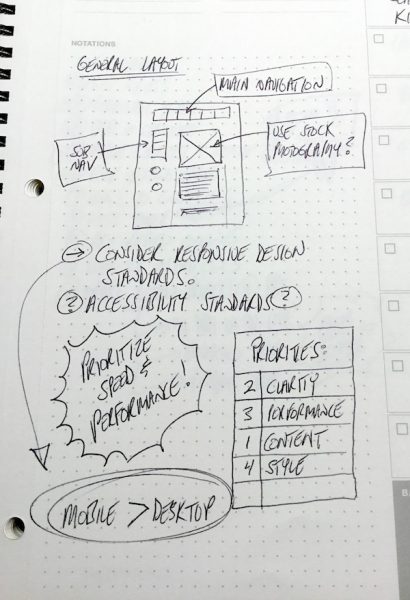 The "action steps" area is for capturing important tasks and activities to be completed after the session and includes checkbox areas to indicate when they are completed.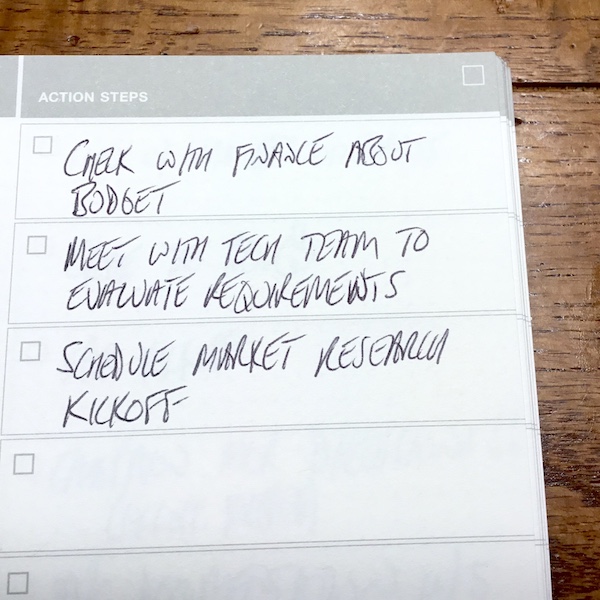 The "backburner" section to capture lower-priority items for future follow-up.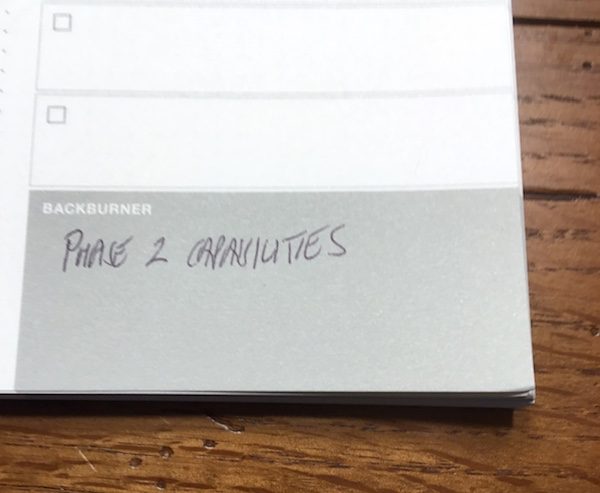 It's a wonderfully simple and intuitive system. They key is the Action Steps action, which allows you to clearly identify and prioritize your critical next steps when your note taking session is completed.
Beautiful, functional notebooks
Featuring top-quality materials and beautifully minimalist design, the Action Method Notebooks are lovely to work with. They also integrate some clever features that promote their overall usability. I've got two different types of Action Method Notebooks for my review.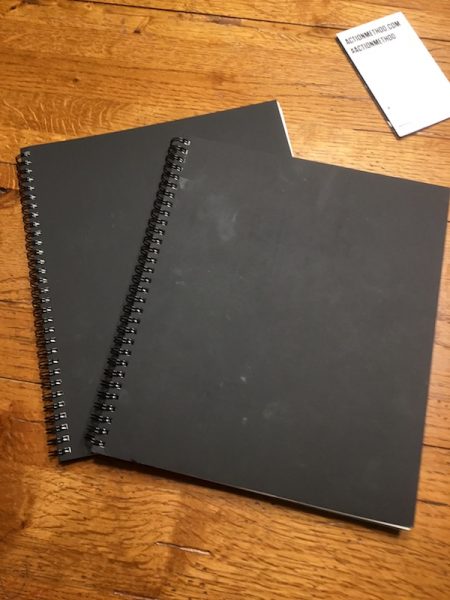 The Reduced Action Notebook variant I'm testing is designed with all the features of the Action Method system, but without the branding or color integration found in other products in the lineup. The cover material is a thick, semi-rigid material with a suede-like texture. The interior paper is a soft white 80-pound vellum that has a subtle texture and excellent hand feel. Bound with black double-spiral binding, each page also has two sets of perforations: separate the pages at the first perforation for loose pages, or at the second perforation to use the pre-drilled holes to add your notes to a three-ring binder.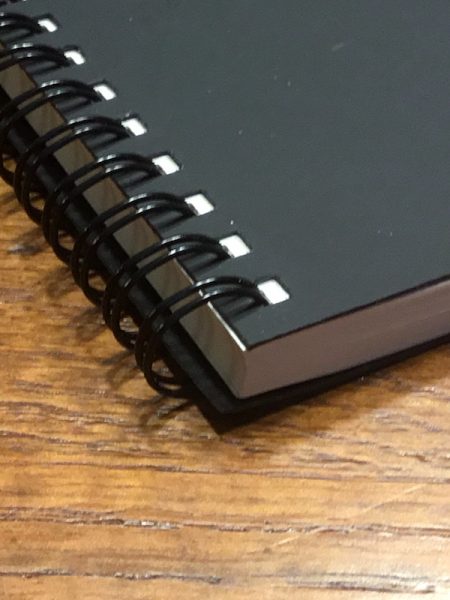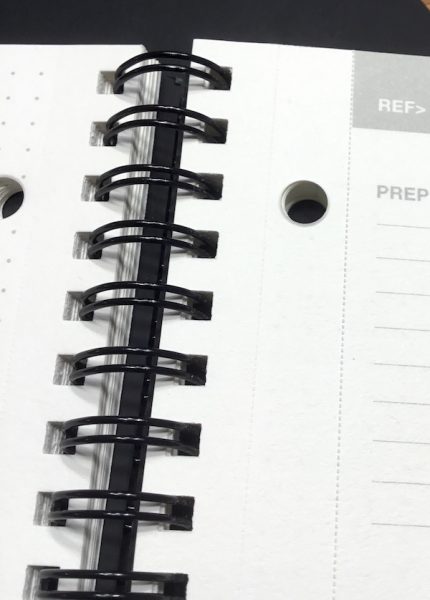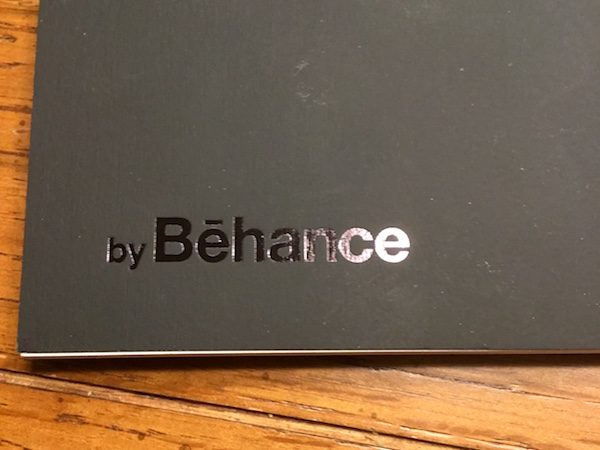 On the Reduced Action Notebook, you'll find each page is printed on the front face with the Action Method four-zone template in a neutral grey. The notation area features a dot-grid pattern to facilitate writing and drawing, and this pattern is also printed on the back of each page if you need more room for your observations and musings. In other notebooks in the product line, the action steps area is highlighted in solid blocks of bold color to stand out from the rest of the page. The Reduced Action Notebook uses the same layout but presents the action steps in simple framed boxes.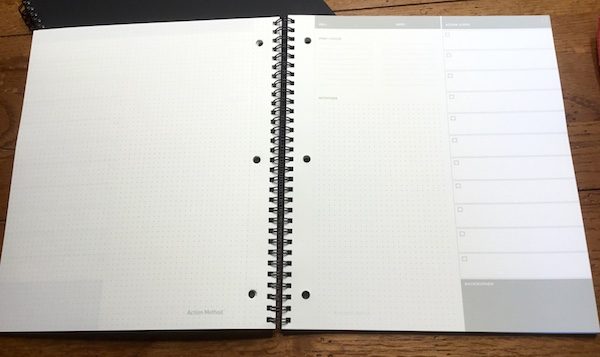 If you're a designer, the Dot Grid book may be more to your liking. It's the same style notebook, but the Action Method template is replaced with the dot grid pattern covering the front and back of all pages. This leaves the whole page open for sketching layouts with the grid pattern as a background guide. The Reduced Dot Grid Notebook I am testing also foregoes the external branding for simple, all-black cover.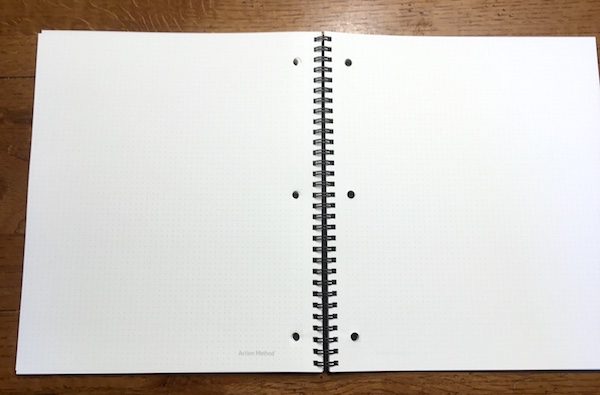 Speaking of which… the Action Method Notebook series sports a variety of notebook products to fit your needs. My notebooks are each 8.5" by 10.5", but different sizes are available as well as hard-bound Moleskine-style journal books, loose notepads, and notepads that just feature the action step format (which you could pair with your Dot Grid notebook for a complete note-taking solution). You can check out all the variations on the Action Method web site.
Let's take some notes!
You can take your notes on any old piece of paper, but there's something special about incorporating beautifully crafted notebooks into your daily work life. When you combine that with a simple & elegant system for organizing yourself, the result is a wonderfully useful set of work tools.
If you are a fan of high-end notebooks, you'll love the Action Method products. The material quality is on par with competitive products like Rhodia or Moleskine. The covers are durable, classy, and hold up well with continuous handling. The thick interior pages have beautiful texture with a great hand feel. The minimalist & elegant styling looks great when you pull it out of your bag for that big meeting. As a day-to-day notebook, they just feel good (and look good) to use.
The pages themselves are great for note taking. The soft white color is easy on the eyes, reducing eye strain. They also absorb inks wonderfully, reducing the smudges and smears that you sometimes get on cheaper papers. There's no bleeding through to the back of the page. The grey printed templates and grid patterns are dark enough to read well but light enough that they don't conflict with handmade scribbles (I tested blue and black inks for this). I tend to crawl all over the place when I take notes on a blank page, but I also don't like the formality of ruled pages that makes me feel like I need to stay within the lines. The dot grid patterning for your note taking areas is a great solution. It's excellent for sketching out designs, but also provides helpful guides to make your handwritten notes easier to read later.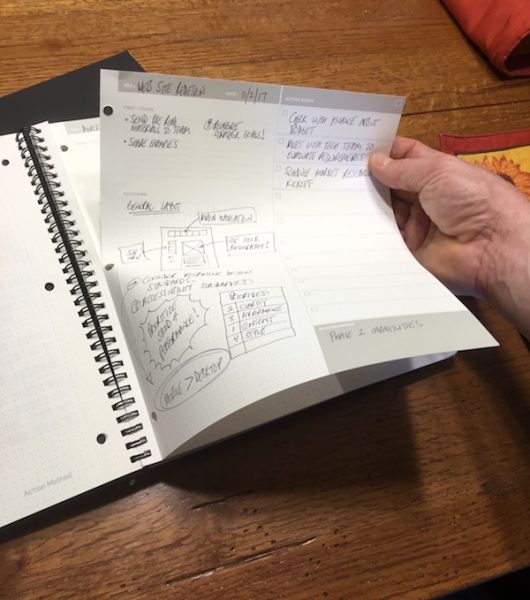 I was pleasantly surprised by how intuitive & simple the Action Method is as a note taking system. I've tried a variety of note taking methods to organize myself (most recently the Bullet Method) and found that many systems put too much complexity into the task of sorting and organizing things for my tastes. I just don't like to think that much. The Action Method, by breaking down your notes down into four simple categories, allows you to focus on your thoughts and not the process. It's wonderfully liberating, especially for those of us who are creative types.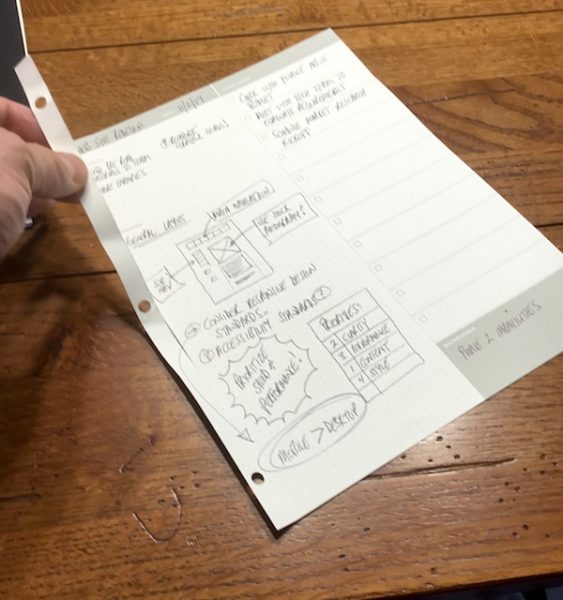 I typically oversee 10-15 different project work streams at a given time covering a broad range of creative, strategic and technical categories. I'm also moving constantly between projects as I interact with my different work teams. This can create a nightmare for keeping myself organized. The nice thing about the action method is that I can focus my thoughts and actions around specific work streams by dedicating a page to each project in my notebook. With easy reference to the action steps, I can quickly sort myself out and prioritize my next steps with a quick scan of the individual project pages. It's really useful for keeping me focused.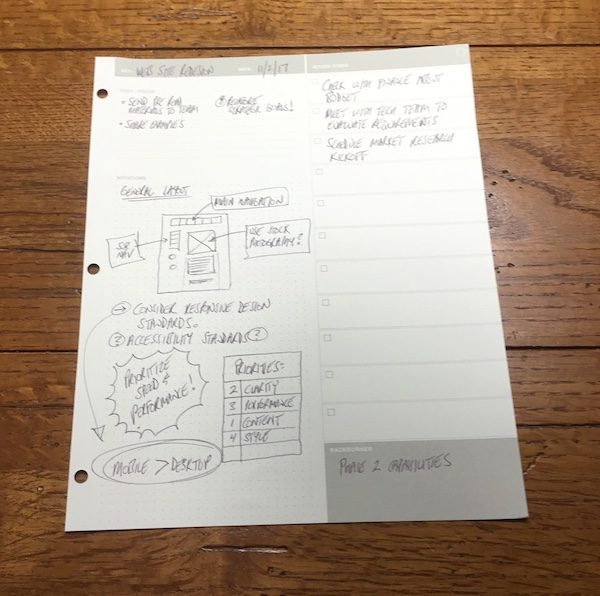 When it comes to deep dive meetings (such as creative brainstorming activities or group workshops), the Action Method format really facilitates the output of those sessions. When there's a lot of information flying about the room, you can quickly lose yourself in a sea of notes. With the Action Method, I can make sure that I pull the key action elements out of the content stream on-the-fly, with a clear set of post-meeting priorities to focus on.
Since I started this evaluation, I have had several people around the office ask me about my notebooks after seeing me use them in meetings. I've had numerous compliments on the simple format, the organization of to-do items, and the quality of the products. It speaks well to the attractiveness & effectiveness of the Action Method Notebooks… these aren't the kind of thing that usually gets attention!
Considerations and caveats
Notebooks and note-taking systems are a deeply personal experience. We all have our own preferences and working styles. That being the case, the Action Method Notebooks may (or may not) be right for you.
Price is the first and most obvious consideration. I really enjoy the quality and feel of high-end notebooks, but they're not for everyone. While Behance offers most of their products on their website for under $20, their shipping costs are rather high. The two notebooks I am testing cost $16 each, for example, but $10.25 for USPS priority shipping (the cheapest option available) brings the net cost up to $22 each. It looks like the price comes down the more you buy, but this is kind of a bummer. There are many alternative low-cost options out there is price point is a concern.
I'm a big fan of the Action Method, but it may be overly simplistic for some. It's great for organizing the notes from a meeting or work session. If you're accustomed to taking ongoing detailed notes throughout your day, however, you may get frustrated with this as a running note taking system. Detail-oriented project managers may also want more options for organizing your notes, subdividing action steps, etc.
I should point out that the covers are not coated in any way so the material will pick up scratches & soak up liquids. They do protect the interiors very well but expect some scars and marks along the way.
Conclusions and pricing
Maybe I'm old school, but I just can't quit paper notes. And as a creative professional, I appreciate products that put an emphasis on style, elegance, and efficiency. If you're looking for a new solution to organize your note taking that works intuitively and looks/feel great, I'd highly recommend the giving the Action Method Notebooks a try.
Behance offers a full range of products and accessories on their site that range from $5 to $20 including different style wire-bound notebooks, bound journals, pocket-sized books, pad styles, and more (see my notes above about shipping costs). Check them out at the Action Method web site.
Source: The sample for this review was provided by Action Method. For more info and to order please visit their site.

Product Information
Price:
$5.00 and up
Manufacturer:
Action Method
Pros:

Beautifully crafted, high quality notebooks
Minimalist upscale design
Simple, intuitive note taking method
Nice range of accessories and add-ons to customize your note taking

Cons:

Can get expensive, especially with shipping
Cover material picks up smudges and scars