We use affiliate links. If you buy something through the links on this page, we may earn a commission at no cost to you. Learn more.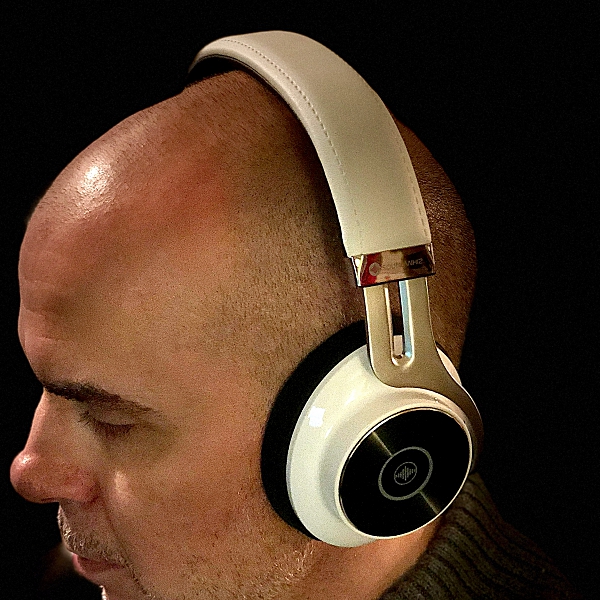 There are a lot of different styles of Bluetooth headphones on the market today. On-the-ear, over-the-ear, and in-ear are the most common. Personally, I own a pair of on-the-ear Sports headphones that I use when I go to the gym or walk my dog. I even have a pair of earbuds that I only use when cutting my grass. One thing I don't own is a pair of high-quality headphones that I can use solely for the purpose of relaxing and just listening to music. The Soundwhiz SymphoniQ Bluetooth headphones are exactly that and I was fortunate enough to get my hands on a pair to review for the Gadgeteer.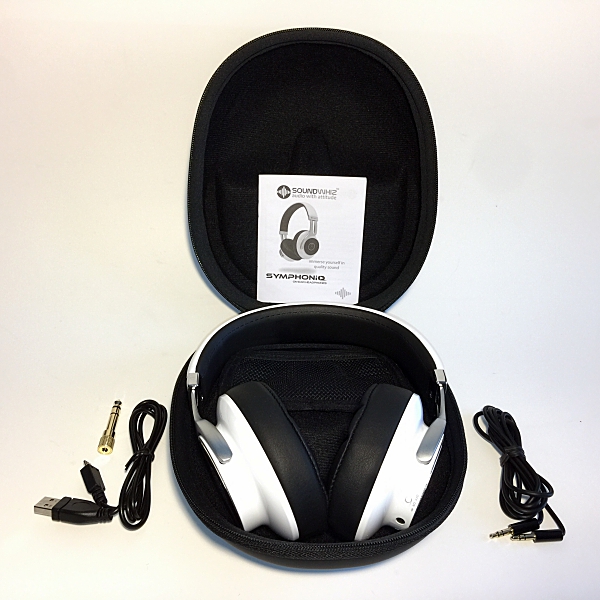 In the Box
SymphoniQ Bluetooth Headphones

Hard Shell carrying case

Micro USB charging cable

Audio cable

3mm to 5mm jack converter
Technical Specs
Bluetooth Version: 4.1 with APT-X

Noise Cancellation: CVC6

Pairing: Normal or NFC

Play Time: Up to 20Hrs

Talk Time: Up to 18Hrs

Standby: Up to 6000Hrs

Speaker: 40mm Dynamic Driver

Frequency: 10Hz – 20KHz
The first thing that appealed to me about these headphones was their striking design.
The clean Arctic white with black accents and just a touch of chrome gives them a real modern, edgy appearance. The SymphoniQ has build quality you can FEEL. The earcups are made of metal with soft leather covered memory foam ear cushions.
No cheap plastic here.
The adjustable headband is strong & flexible and has just enough spring to hug your ears for a stable fit without being over tight. I found them to be a little tight in the beginning but after wearing them for a few days they broke in nicely.
SoundWhiz even includes a nice executive looking hard-shell carrying case.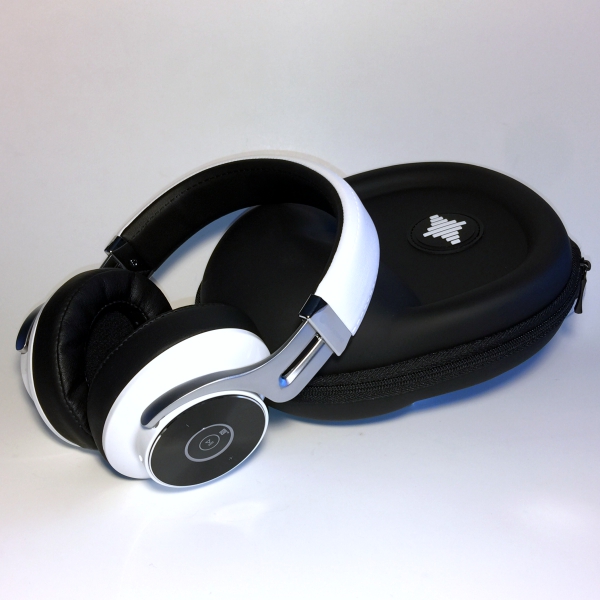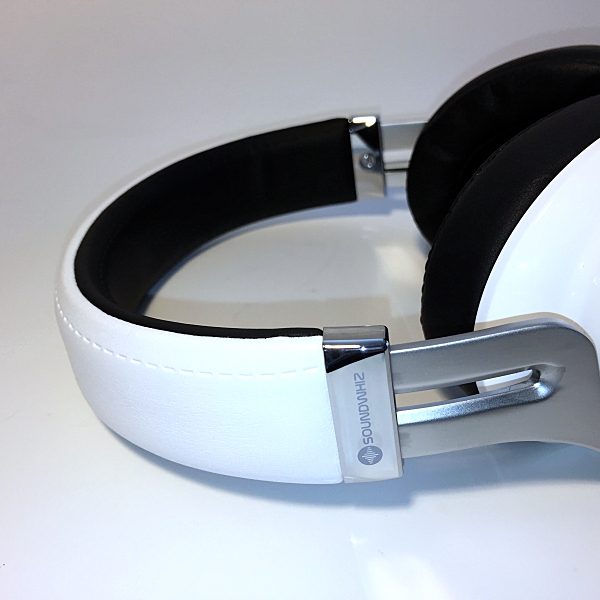 The headphones come with a built-in 480 mAh rechargeable battery. Charging the SymphoniQ is done using a Micro USB charging cable plugged into any standard USB port such as a phone adaptor or PC. SoundWhiz recommends charging the headset for 3 hours prior to first use. Once charged the headphones have an impressive 20 hours of playback time and up to 600 hours of standby time.
P
airing the headphones with your favorite Bluetooth device is easy.
Simple slide the on/off switch (located on the right ear cup) to the Bluetooth icon and hold for 2 seconds. The LED indicator light (located on the side of the right ear cup) will flash red and blue. Open your devices Bluetooth setting and select 'SoundWhiz SymphoniQ'. Once connected the blue LED indicator light will flash twice every 4 seconds.
There is even friendly voice prompts that will tell you when the headphones are powered on or off, pairing, connected or disconnected.
The SymphoniQ also automatically connect to the last paired device when you turn them on. To reconnect with a paired device in standby mode, short press the Multi-Function button to find paired devices in range.
If you have an Android device you can connect using NFC. Make sure your Android devices NFC is enabled and hold it next to the headphones Multi-Function-Button. The connection should occur automatically within a few seconds. 
The SymphoniQ also has Dual-Pairing which allows you to connect two Bluetooth devices simultaneously. If the headphones battery is low, or if you prefer a wired connection you can use the provided audio cable.
SoundWhiz even throws in a 5mm jack converter so you can plug into a stereo system, amp, or musical instrument.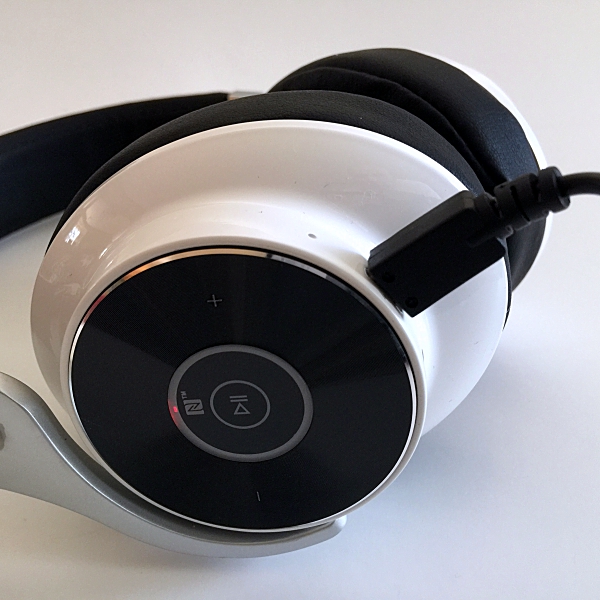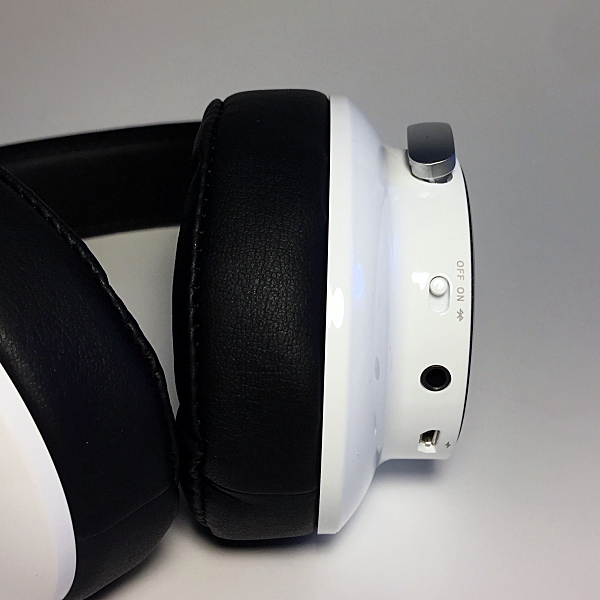 The headphones controls are located on the side of the right ear cup. During music playback, you can control volume, play and pause music, and next or previous track.
The large disc design of the controls makes them easy to use; no more fumbling for buttons.
Playing and pausing music is done using the headphones MFB (Multi-Function Button). A short press of the MFB will play and pause music playback. A short press of the (+) and (-) icons will raise and lower volume respectively. To play next track press and hold the (+) icon, do the same to the (-) icon to play previous track.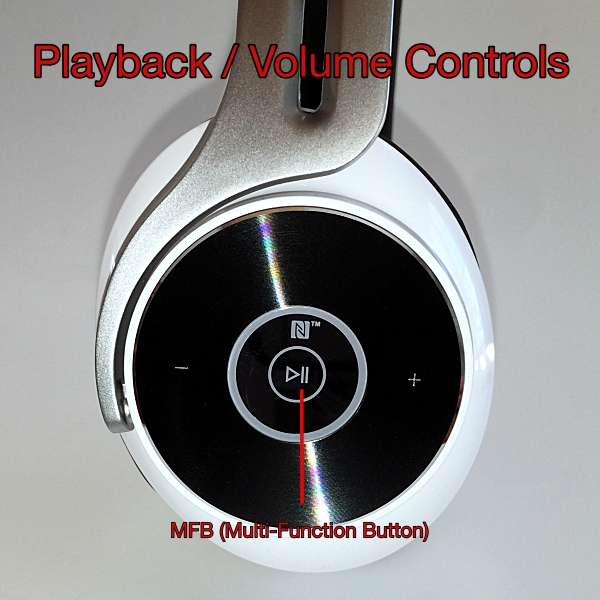 A built-in HD mic with CVC6 noise cancellation allows for crystal clear phone calls even when you're somewhere with a lot of ambient noise. To answer an incoming call short press the MFB, another short press will end the call.  A short double press of the MFB will automatically redial the last number. You can even manage 2 simultaneous calls using just your headset.
The SymphoniQ headphones feature an innovative hybrid semi-open back ear cup design.
To be honest, before I reviewed the SymphoniQ headphones I had no idea what an open back headphone was. What I learned is that there are generally two types of over-the-ear headphones, closed-back, and open-back.
Closed-back headphones are what most of us are familiar with. They basically isolate you from the outside world. It's just you and your music. Open-back headphones usually have a grill on the back of the ear cups allowing music to escape outward. Doing this provides a significantly larger soundstage, it's like listening to music in a room as opposed to it being beamed into your head. 
On the SymphoniQ instead of a grill SoundWhiz designed the ear cups so that sound could escape outwards and the face plates are more acoustically transparent and not hermetically sealed, therefore, allowing sound to escape out.
This would explain why these headphones sounded so different to me when I first put them on. Indeed the music sounded more spacious and detailed. Definitely, a different listening experience then what I was used to. 
These headphones produce a really rich sound, with a deep resonant bass and crystal clear mids and highs. Even though the bass really pumps it doesn't bleed over to other parts of the music, it's still controlled and detailed.
Vocals remain clean and the treble is clear and bright, so things like snares and high-hats pop out very nicely. All and all these headphones work wonderfully for listening to any kind of audio genre. From classical and rock to hip-hop and rap the SymphoniQ headphones handles them all beautifully.
I even use them to listen to my TV's audio and they do a great job with both movies and sports.
Because these headphones are semi-open back you still get pretty good noise isolation. There is some sound bleed but overall they do a good job of keeping out most ambient noise.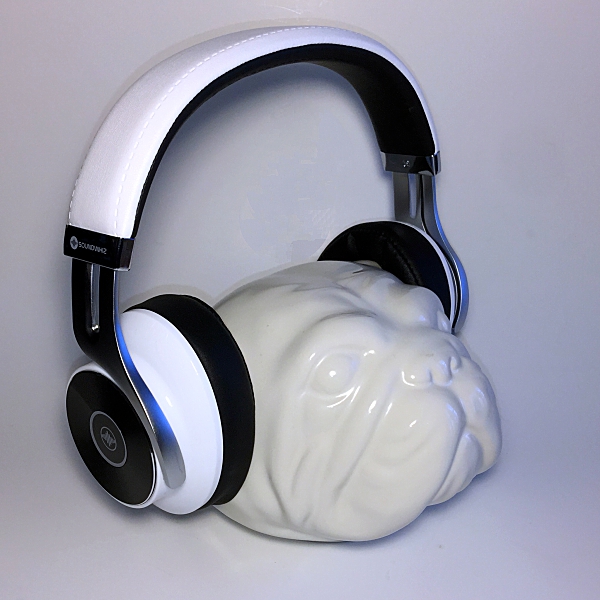 The SoundWhiz Symphonic Bluetooth Headphones are the perfect combination of style, comfort, and sound. Priced at $74.99 these headphones SHOULD be at the top of every Holiday shopping list this Christmas.
Source: This sample was provided by SoundWhiz. Please visit their site for more info and Walmart to order.