We use affiliate links. If you buy something through the links on this page, we may earn a commission at no cost to you. Learn more.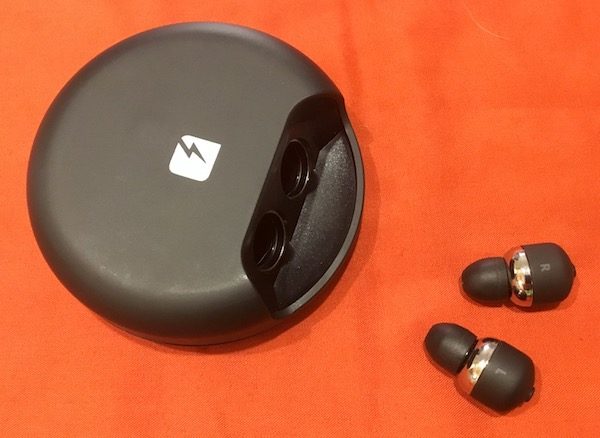 While "wireless headphones" have been around for a while, "true wireless headphones" are a relatively new concept in headphone technology. The ear pods sit independently in each ear. No wires. No nothin'! I've reviewed wireless headphones before, but the TRNDlabs NOVA True Wireless Earbuds are the first I have tried in the category. Let's go see how they do!
Packaging, storage, and charging
When you crack open the box on the TRNDlabs NOVA True Wireless Earbuds, you'll find yourself facing a black storage case that's roughly the size of a hockey puck at 3" in diameter and 7/8" deep. Multiple sized silicone earbud tips (S/M/L), a pair of memory foam tips, and a USB to Micro-USB cable complete the package out of the box.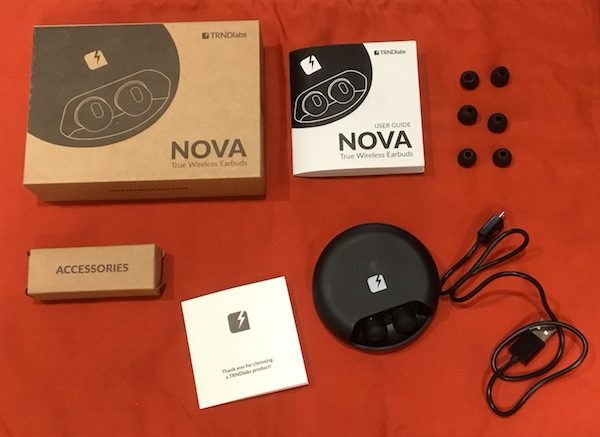 Rotate the top half of the puck clockwise, and you'll expose a panel that includes the Micro USB port for charging the base, and a standard USB port for charging other devices. Four blue LEDs on the top of the panel indicate charge levels on the base. The base itself takes about 3 hours to charge to full capacity, at which point it will provide up to 60 hours of earbud operation without an additional charge.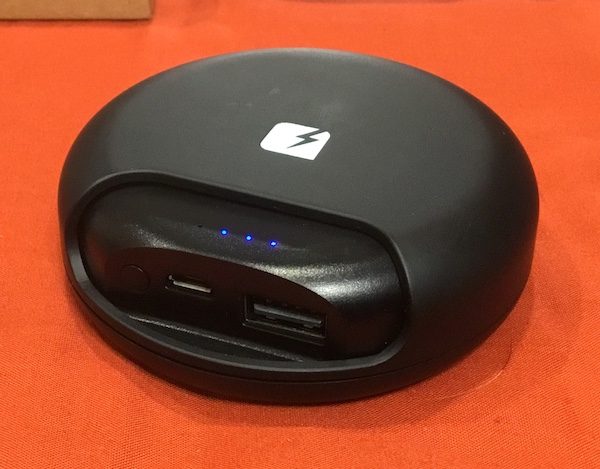 Rotate the top half of the puck counterclockwise to expose the earbud dock. A pair of magnetic ports keeps your buds secured in place when not in use. Each earbud had a red LED light that lets you know when they are charging in the dock and will go out when they are fully charged. It takes about an hour to charge the earbuds when completely drained. The buds will charge while you are charging other devices on the USB port, or while the base unit is charging, or both.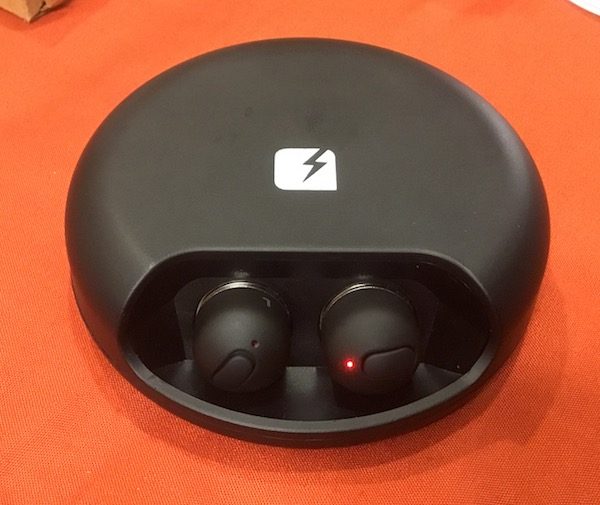 The case itself is quite rugged, keeping your buds thoroughly protected while knocking around in your pocket or bag. When combined with the additional on-the-go charging features, it makes for a great base package for the system.
Setting up for use
The TRNDlabs NOVA True Wireless earbuds are tiny and bullet-shaped with a single multifunction button on the tip of each earbud, and that's all there is to it. As you can see from the photos below, they are tiny!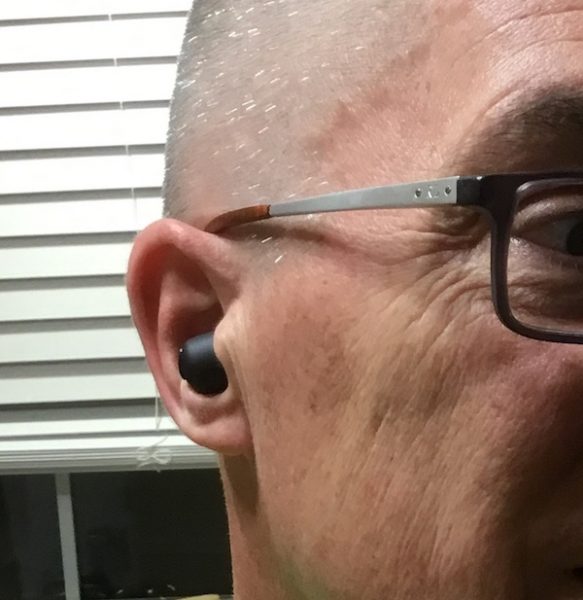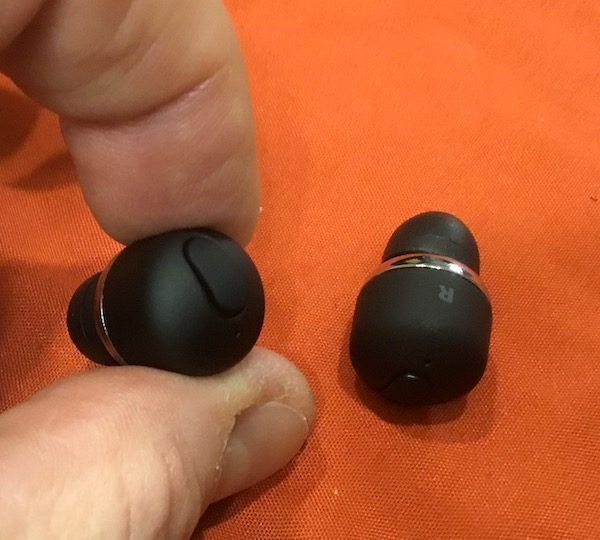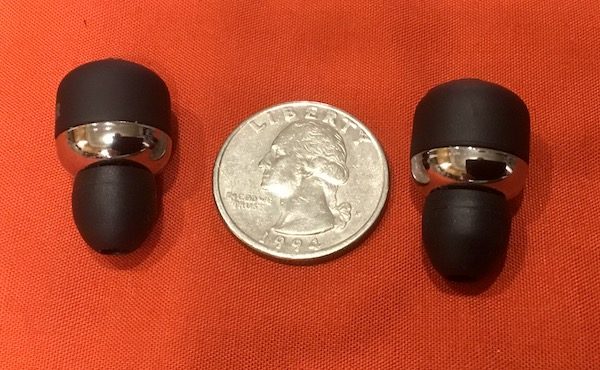 You turn the earbuds on or off by pressing and holding each button for three seconds. They will also turn off automatically if placed in the storage cradle, which is a nice feature for both convenience and conserving power. As you power the earbuds up, a series of spoken audio cues let you know the status ("Power on!" "Connected!" "Power off!"). They will also tell you which bud is which ("Left Channel!" "Right Channel!) so you know that you have them in the proper ears. Each earbud is also marked, but the extra audio cue is nice.
The earbuds are connected to each other by default, with the left earbud serving as the master unit. Bluetooth Pairing is easy. Go to your Bluetooth settings and connect to the "NOVA" device. The earbuds will tell you that you're connected with the words "Pairing successful. Connected!" The buds will automatically connect to the last paired device, but you can switch between devices using the Bluetooth controls on each device.
Once you are connected, the multifunction button on each earbud has some very basic control features. Press either button once to pause or play a track queued up on your device. You can take calls while wearing the earbuds by pressing either button once when your phone rings. Double-pressing either button will redial the last number you called. Any other phone functions (opening your music or podcast app, selecting tracks, starting a playlist, dialing someone from your contact list, volume control, etc.) are all activated from your device.
I do like that TRNDlabs is keeping it simple with the NOVA True Wireless Earbuds. There's only so much additional functionality you can pack into a tiny pair of earbuds without really making the usability too complex for normal operation. While the on-board functions are limited here, the controls and audio queues are intuitive and easy to learn.
Bring the noise!
Sound quality on the TRNDlabs is quite good. Audio is crisp and clear, and offers nice volume range. Since the buds sit deeper in your ear, you've also got quite a bit of ambient noise suppression. The bass levels are not particularly deep, which I would expect from tiny little buds like this. I've also noticed that the sound quality is directly impacted by how deep you have inserted them in your ear.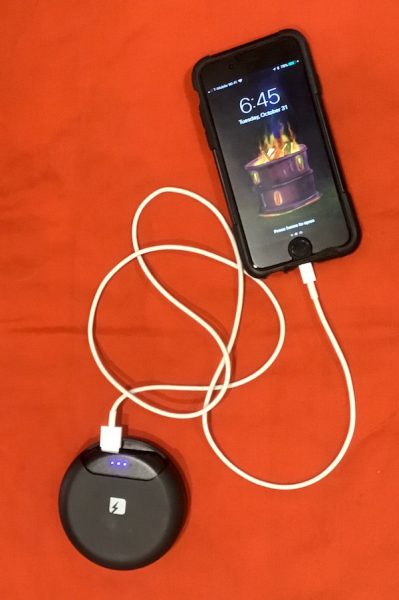 As I expected, phone call quality is a mixed bag as a result of the design. Incoming audio is crisp and clear, but the positioning of the microphone in the earbud makes for muffled audio going out. I've had several people comment that can be difficult to hear me, especially if I am speaking in a low voice in a crowded area. I've also noted that incoming call audio only plays in the master bud in my left ear. It's a trade-off that's unavoidable in this sort of design, but something you should consider if you're used to making frequent calls.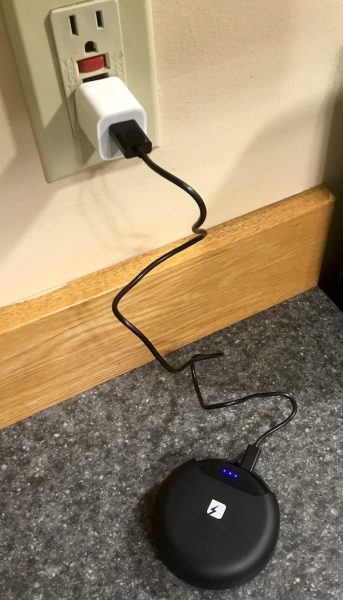 Overall, connectivity is quite good. The TRNDlabs NOVA True Wireless Earbuds use Bluetooth 4.1 technology with a range of about 30 feet. I tend to keep my iPhone in my bag or pocket and have noticed no issues with connectivity.
Running about and working out
I'll admit that the bullet-style earbuds take some getting used to, as there is nothing to anchor the bud in your ears other than the nibs. Once I found the right sized nibs, I found the TRNDlabs NOVA True Wireless Earbuds to be quite comfortable. They are really light and don't irritate during periods of extended use. I have experienced some issues with the right-hand bud sliding around or popping out, especially under strenuous conditions like a workout. In checking out other reviews online, this seems to be a problem for some people. It could be my tiny ears. I'm still experimenting with different sized nibs to get the right fit.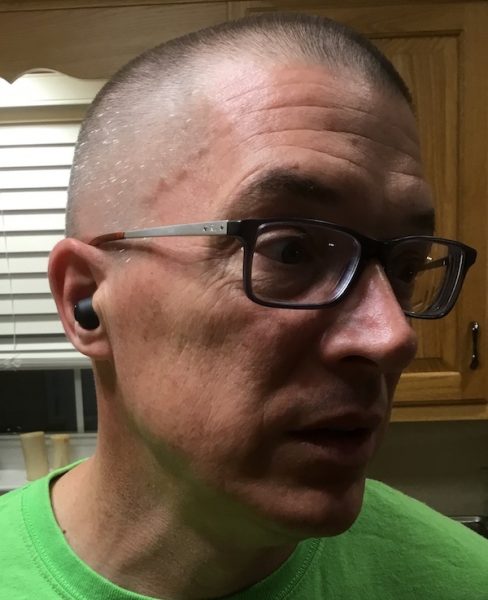 I've also experienced the occasional audio drop while working out, almost as if the audio is buffering or reconnecting. This may be the result of the activity, however… I've been sitting here playing these for two hours while writing this review and experienced no such issues. Other online reviews seem to collaborate this, but it's not a significant issue for most of the reviewers I have checked out.
Overall, performance and operation of the TRNDlabs NOVA True Wireless Headphones are really good. One of the drawbacks of many smaller earbuds is limited power capacity; with the portable charger/case TRNDlabs provides here, I never find myself with a dead pair of earphones. Simple controls make for easy and uncomplicated operation, which is a plus when you need to focus and just want to listen to music or podcasts while you're up and about (or working out). Sound quality is very good, and connectivity has been consistently good during the several weeks I have had them.
Wireless… or true wireless?
Based on my research, there are some drawbacks to true wireless headphones in general. That extra cable gives you a place to hand an additional control pod for a microphone to improve call quality, as well as extra controls like volume adjustments. Wireless headphones also tend to have larger earbuds, which helps with secure fit and better speakers. You also don't have problems with losing a tiny earbud if it pops out of your ear since it's always connected to its partner by that cable or headset arrangement. Both wireless and true wireless headphones have the same issue with limited power supplies from what I have seen, so that's not a big differentiator.
All that said, I find myself using TRNDlabs NOVA True Wireless Earbuds more than my wired/wireless headphones. I tend to do more listening than talking while using my headphones, however, so I am OK with the trade-offs. I don't find the sound quality to be an issue, and the ability to constantly charge the device when not in use is a big plus for me. They're also much more comfortable in my opinion, without any bulky stuff hanging off my ears. Your needs may be different, however, and you should think about how you use your headphones on a regular basis before making the jump.
Conclusion and Pricing
After doing some research into pricing, I can tell you that these earbuds look like a pretty good value relative to their competition. Apple's Earpods start at $160, and other higher-end competitors (such as Jabra and Samsung) start at $200+. The TRNDlabs NOVA True Wireless Earbuds retail for just $79! Add in the simple controls, great sound, and the additional charging features and you have a great little package. Check them out at TRNDlabs web site or on Amazon for more information!
Source: The sample for this review was provided by TRNDlabs. For more info visit their site.

Product Information
Price:
$79.00
Manufacturer:
TRNDlabs
Retailer:
Amazon
Pros:

Great sound quality
Portable charging features
Simple, intuitive operation
Great value compared to competitive products

Cons:

Bullet shape may not work for everyone (can slip out)
Outgoing voice is not great for calls
Limited functionality may not work for some