We use affiliate links. If you buy something through the links on this page, we may earn a commission at no cost to you. Learn more.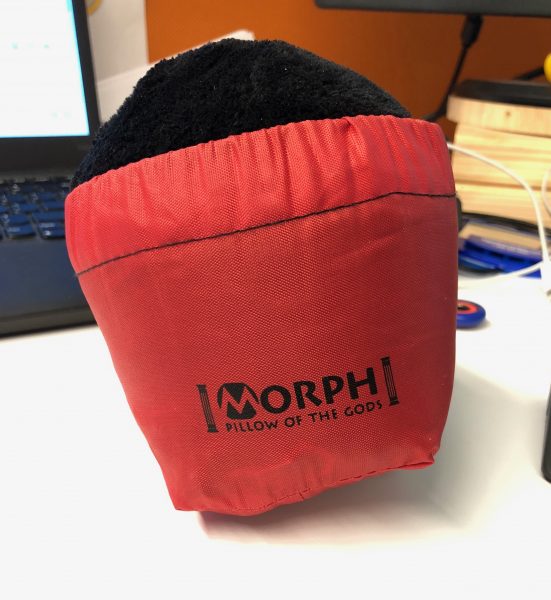 If you've ever taken a long trip that involves public transportation, you've been there: you're trying to catch a nap, but your head keeps bobbing around, or is rattling against the bulkhead or window. Travel pillows come in all shapes, materials, and sizes, from plushy inflatables to beanbags filled with soft foam pellets. Into this crowded market comes the Morph: Pillow of the Gods. They sent me one to put its divine powers to the test.
Note: Photos may be tapped or clicked for a larger image.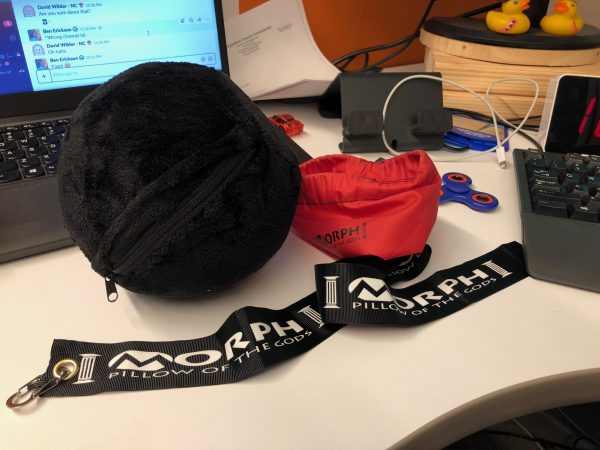 There are three pieces to the Morph: a drawstring nylon stuff sack, a 2.5 foot long branded ribbon, and the pillow itself. The stuff sack is red, well-sewn, and thin, which adds little weight to your bag. (I've found that things like serged edges on fabric and turned-under seams show an attention to detail that often carries throughout the product.) The 1.5" wide ribbon has a grommet on one end with a locking S-hook of thin, stamped metal. The main piece, the pillow, is covered in a removable plush velour fabric with a zipper along one seam. The internal stuffing is a single ball of memory foam. This allows the pillow to be compressed and mold itself to you in infinite ways.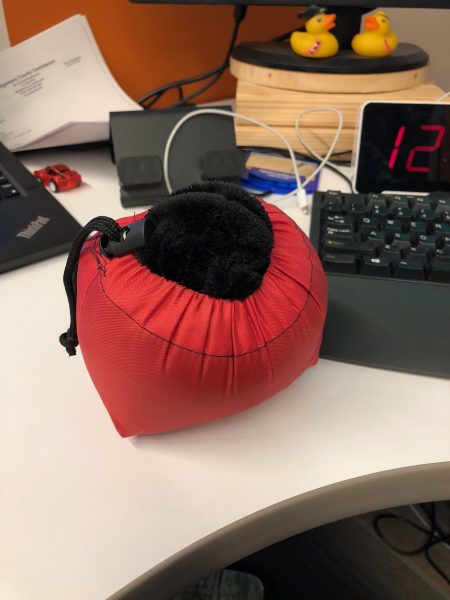 The ribbon has thick, rubberized printing along most of its length, which prevents it from sliding around if you pull it. And here is where the Morph's superpower is revealed. You clip the ribbon onto the pillow cover's zipper pull, and this lets you anchor the pillow in place. If you move, and the pillow slips out of place, it's not going to go running three rows up under seats or be lost into the nooks and crannies of the under seat space of the person behind you. You simply pull it back by its tether and place it back where you had it.
In order to give the Gadgeteer community the best benefit from product testing, I have been taking naps during part of my lunch break with the Morph pillow for a few weeks now. (Here at The Gadgeteer, we really put our all into testing for you folks!) Comparing it to the wadded fleece jersey I had previously used during naps, I can say it's much more comfortable and easier to find that perfect nap position. My testing budget did not allow for a quick overseas flight to give it a full battery of performance tests, but I think I can say it worked well.
While it is comfortable and easy to place into service, and I do like the addition of the tether, I can't say that this pillow is truly the Pillow of the Gods, but it'll give you a bit of comfort when you're trying to relax in a cramped space.
Source: The sample for this review was provided by Morph. Please visit the site for more info and Amazon to order.