We use affiliate links. If you buy something through the links on this page, we may earn a commission at no cost to you. Learn more.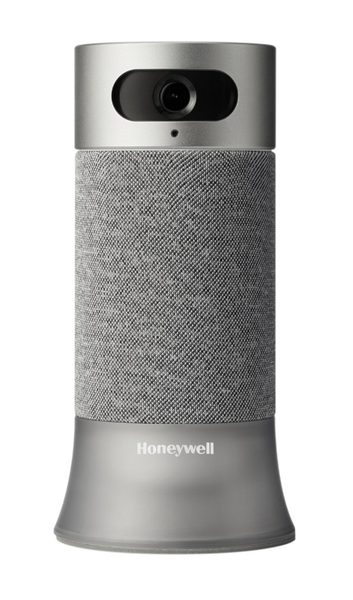 The Honeywell Smart Home Security System was just announced on Indiegogo ahead of its official debut at CES 2018. This DIY,  self-installed, all-in-one security solution is centered around a camera base station with an integrated 1080p HD camera and 145-degree field of view. The system is self-monitoring but also serves as an Alexa enabled speaker, so it can be controlled by and provide alerts to an app, other devices that are part of the Alexa ecosystem or respond to voice commands. It also supports Honeywell satellite wireless motion viewers to provide expanded home coverage. Read on to learn more!
The camera base station and additional devices can be adjusted using a schedule, location-based geofencing, or customizable event triggers. At launch, the system includes 24 hours of cloud-based video recording. Privacy may be achieved by turning video recording off in the app or by closing a manual privacy shutter on the base station. Monitoring and review of the video can be performed through the app. The system will incorporate facial recognition with push notifications upon launch, so system owners can be alerted to the people entering the secure location by name.  Future audio analytics updates will enable the system to know the difference between an alert from a smoke or carbon monoxide (CO) alarm, a dog barking or other loud noises.
Honeywell's Smart Home Security System is available through Indiegogo's Enterprise Crowdfunding service for a discounted price to backers through December 16. The bundle for sale includes the camera base station, window and door access sensors, and a key fob as another option to control the system. Following the exclusive Indiegogo pre-order campaign, the system will become more widely available early next year with bundled pricing starting at $499 MSRP.