The Gadgeteer is supported by readers like you! If you buy something through links on our site, we may earn an affiliate commission at no cost to you. Thank you! Learn more.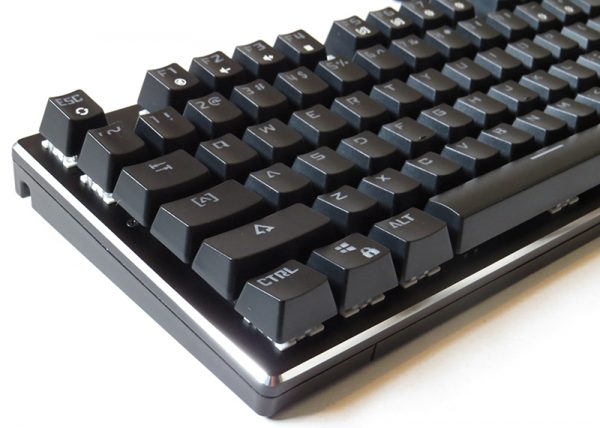 While I love the ability to brighten my desk via the RGB lighting systems and lighted PC fans, I've never really taken advantage of it. My PC speakers have some lighting, but that's about it. I noticed ACGAM had their AG-109R keyboard and G502 mouse set that utilizes the RGB lighting and are made for gaming, but what really caught my eye was the P09 gaming mouse pad that lights up as well! After seeing that, I had to try out the entire set.
Since I am reviewing three devices that are sold separately, I will start with the keyboard, move on to the mouse, then end with the mouse pad.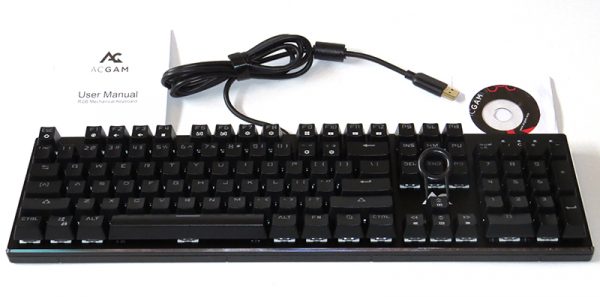 Inside of the keyboard box you'll find the AG-109R wired keyboard, a keycap puller, driver CD, and an instruction manual. I downloaded the drivers for the keyboard online since I do not have a CD drive on my computer.


It was a joke that my previous keyboard was loud, but when I started typing on this one, I laughed because it was even louder! The OUTEMU Blue switches are known for being loud, but they are very responsive and have held up to daily use for the past three weeks without skipping a beat.


Overwatch was the main game that I tested all three devices on, and other than the clicking sound being louder, there was no difference between the quality between this keyboard and my previous one. Each keystroke was registered and multiple keys could be pressed with no problem at all. Comfort-wise, I wish that it had a wrist rest like my old one, but the keys themselves were comfortable to type on. There are non-skid pads on the bottom of the keyboard as well as two feet that adjust the angle of the keyboard. I loved the size of the keyboard, as it's compact shape allowed me to have quite a bit more desk space compared to what I had before.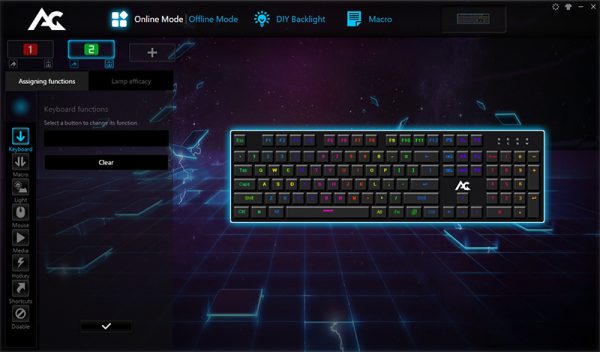 I enjoyed the color options on the keyboard, and for the first week I went through and switched up the presets to find out which I truly liked. In the end, I settled for one that had the WASD, Shift, Q, and E keys lit up a solid color, while the rest of the keyboard did a rainbow wave. When the keyboard was not used for a while, the lights would turn off to conserve power.
Other than the keys being really loud, the only negative that I found with the keyboard was that when I restarted my computer, it would go back to the default color setting on the keyboard until I opened the AG driver program from my desktop tray. Once open, it would switch right away to the settings I had originally chosen. Overall though, this ended up being a very solid keyboard and it worked very well for gaming.



Next up we have the G502 gaming mouse. Included in the box you'll find the mouse itself, driver CD, instruction manual, and a pair of interchangeable side mounts. The ones originally installed are a standard, generic version that you find in most cheap mice, while the alternate set to me is more comfortable as it allows me to grip and move the mouse much easier. Needless to say, I switched them right away. Just a couple of magnets hold them on, but I have yet to have it come apart on me, so they work very well and are very easy to change.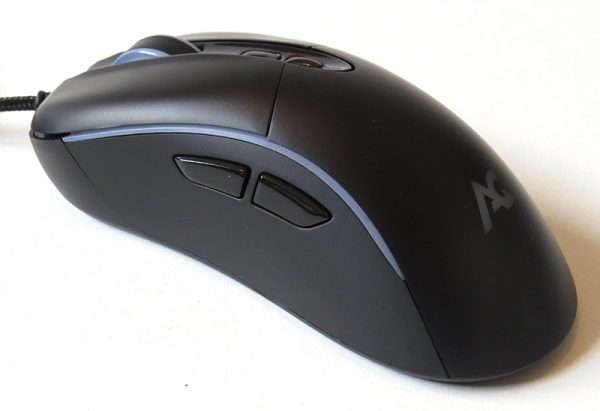 Most mice at this price range do not come with their own software for changing your mouse settings. This one does, which definitely gives it an edge over the competition. The software worked fine and all of my settings stayed when rebooting the computer. There are preset colors for the mouse that you can choose from that can be customized, and you can also change the color of the mouse that represents your DPI to match the other color settings you choose. I liked having six options to choose from for my DPI, though I only used two or three of them at max. Just having the option is nice.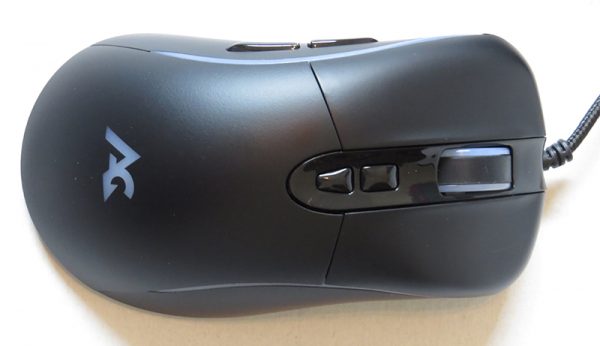 The mouse worked very well with both every day use and gaming. I was very surprised with how well it performed given its price tag. There was no hesitation when clicking the mouse buttons, and the two side buttons are placed in a very good spot for easy use. It glided well over my mouse pad, though I am noticing some wear already on the bottom pads. I am unsure whether or not this has to do with the hard mouse pad or the quality of the pads on the mouse itself, but I would recommend to ACGAM to buff up the quality on those bottom pads, especially if they want them used with their own mouse pad, and they'll have a very solid product in the G502 gaming mouse.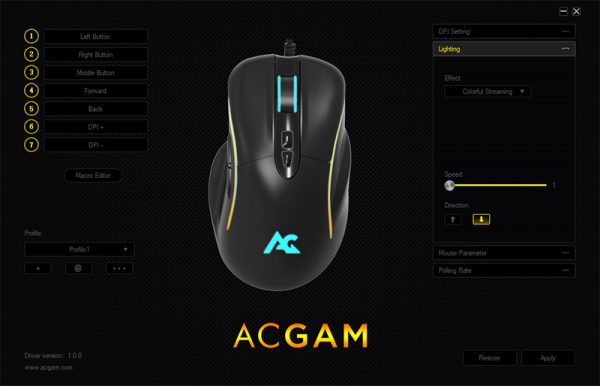 Lastly, we have the mouse pad. I had never seen a mouse pad that lit up before, and that is what really caught my eye with this whole set. Not only that, this is the first hard mouse pad that I have used, though I had seen them before. Just like with most soft mouse pads, this has rubber on the bottom to keep it from sliding around the desk.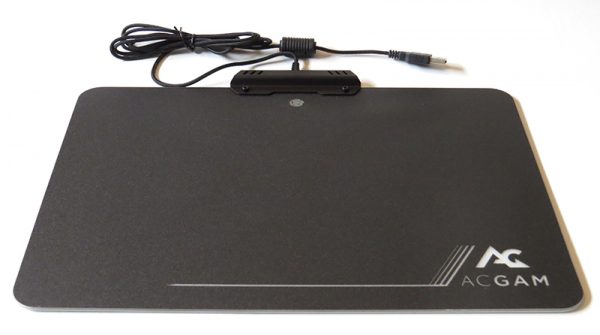 If you want color, you will need to plug it into a USB port. That's something to keep in mind if you have a computer with limited USB ports. There are no drivers for the mouse pad. You press the spot that looks like a fingerprint and it changes between several solid colors and a few rainbow variations. If you keep scrolling through the designs and you can also turn it completely off, which was necessary as it did not turn off when the computer did. The mouse and keyboard would, but for some reason, the mouse pad would not. Because of the lighting, there is a raised area on the top of the mouse pad that can be annoying if you catch your mouse cord on it.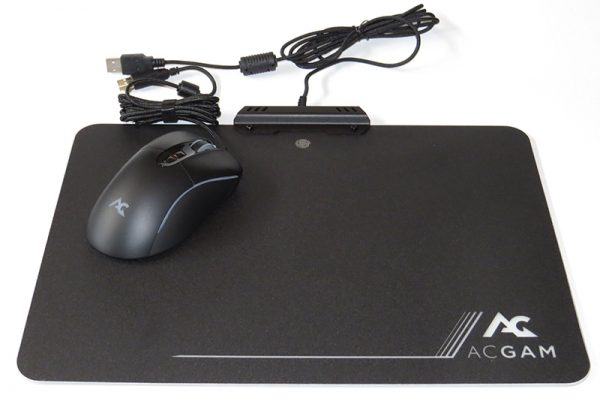 The mouse pad itself worked very well. I am still up in the air about whether or not I prefer the soft or hard version of a mouse pad, but regardless of my preference, the pad worked just as good for gaming as the one I used before. I do wonder like I mentioned above if the rougher texture of the mouse pad would cause extra wear and tear on a mouse.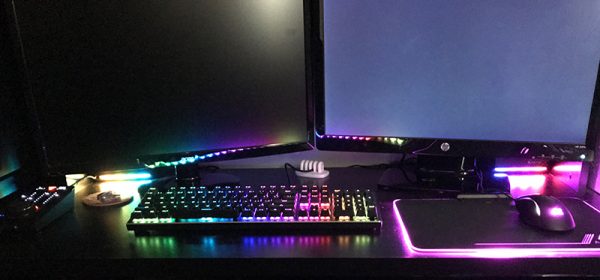 Overall, I enjoyed testing the ACGAM products, but I most likely will revert back to my previous keyboard and mouse pad. However, I do enjoy the mouse enough to keep using it for the time being. The RGB lighting matched my speakers pretty well on all the products, so that was neat, but it was not enough to topple my go-to keyboard that has lasted me for years. I would definitely recommend the G502 gaming mouse for a budget gamer. The keyboard is solid in quality and I would say it would be one to look at if you want to customize your RGB lighting experience. The mouse pad.. well, if you want to amuse your friends with color, maybe it is good, but in the end it just wasn't for me.
Source: The sample for this review was provided by ACGAM. Please visit their website for more information and Amazon to order the keyboard, mouse, and mouse pad.
Product Information
Price:
Keyboard: $56.99 - Mouse: $17.99 - Mouse Pad: $27.99
Manufacturer:
ACGAM
Retailer:
Amazon
Pros:

- Keyboard is sturdy and well made
- Keyboard can be customized to users liking
- Mouse is very well priced for decent quality and customization options
- Lighting can match other products that utilize RGB lighting

Cons:

- Keyboard is loud
- Mouse feet wore down quickly
- Mouse pad is rough and could have caused those feet to wear down