We use affiliate links. If you buy something through the links on this page, we may earn a commission at no cost to you. Learn more.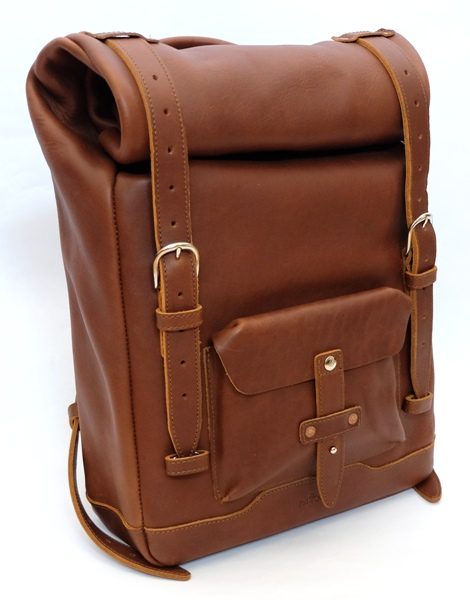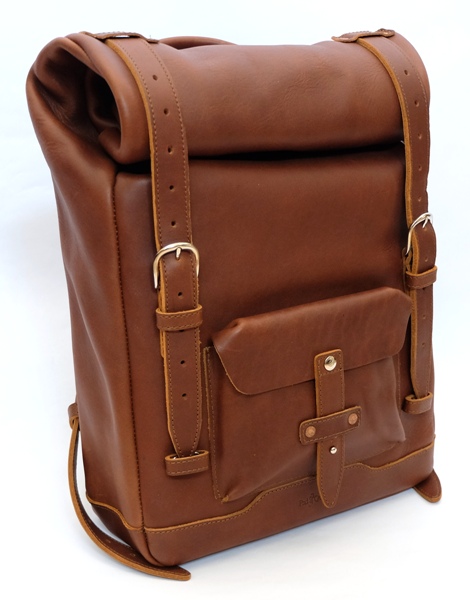 My favorite type of gear bag is a backpack, especially if you need to carry your items around for long durations of time. My favorite type of backpack is a high-quality leather backpack and thus, I was eager to review the Pad & Quill Roll Top Leather Backpack. While using this backpack over the last few weeks, I found that it is very well made using high-quality materials and holds all that I need to carry. It may not have many external pockets and getting things out of the backpack takes time, but the main compartment's quick side access zippered slot is available to help alleviate some of those troubles (if the items are small enough to fit through the zippered access that is). This backpack has easily become my favorite bag!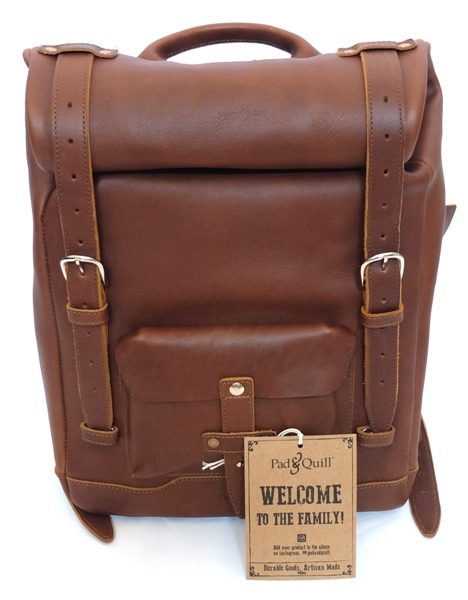 The Pad & Quill Roll Top Leather Backpack came with a "Welcome to the Family" card attached. This card states the following:
Welcome and contact information – if you have any questions about your item, contact Pad & Quill at [email protected]
100% satisfaction guaranteed – "For the first 30 days, if you are not 100% satisfied with you Pad & Quill item, no matter what it is or why send it back in like new condition for a refund."
25-year leather warranty – "If one of these [leather] items fails during the next two and a half decades due to a manufacturing defect, we failed – which is why we pledge to make it right with an exchange or repair."
Leather and canvas care – "For cleaning, simply use a damp cloth to remove dirt or diminish scratches. Occasionally refreshing the leather with our Pad & Quill Leather Oil & Balm will help increase its lifespan as well."
Design & Build Quality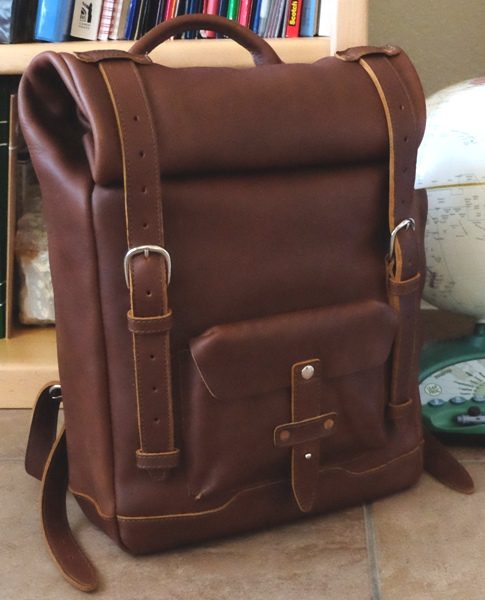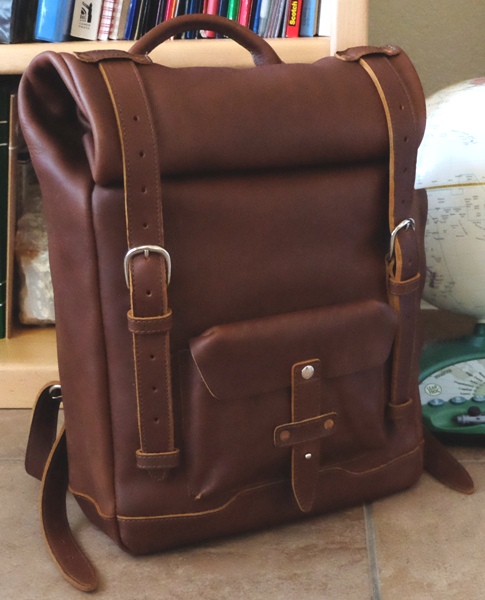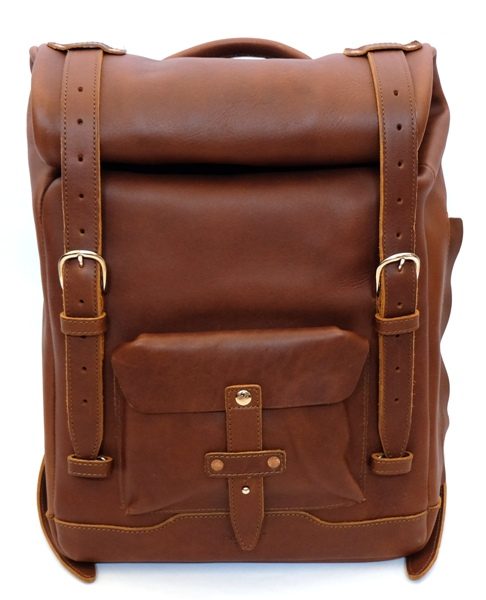 When I received the Pad & Quill Roll Top Leather Backpack, I eagerly opened the box and was greeted with the wonderful scent of leather. The Whiskey colored backpack is a beautiful dark brown color when viewed indoors (upper photo) and has a lighter brown color like that shown in the lower photo above when viewed outdoors (other available colors: Chestnut, Chocolate, Galloper Black). This backpack is made using full-grain, tumbled American bridle leather; parachute-grade, UV resistant nylon stitching; hand-pounded copper rivets; and solid nickel hardware according to the Pad & Quill website. Its outer measurements are about 12″ wide x 16″ long x 4.7″ deep. The tumbled bridle leather of the backpack is soft and supple to allow for easy rolling and unrolling of the main compartment closure and yet it maintains its ruggedness. The roll-top closure is also weatherproof.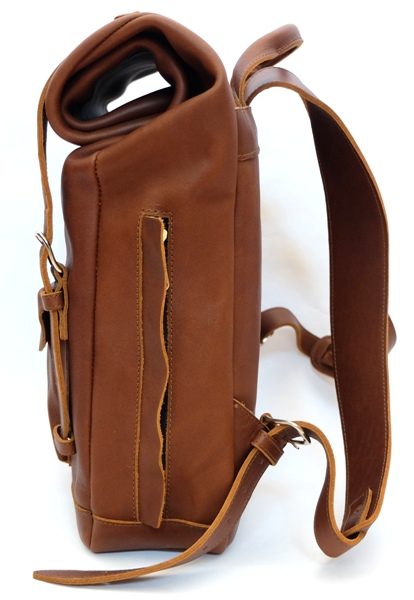 There is a quick side access zippered slot that allows you to insert or extract your smaller items without having to unbuckle and unroll the backpack.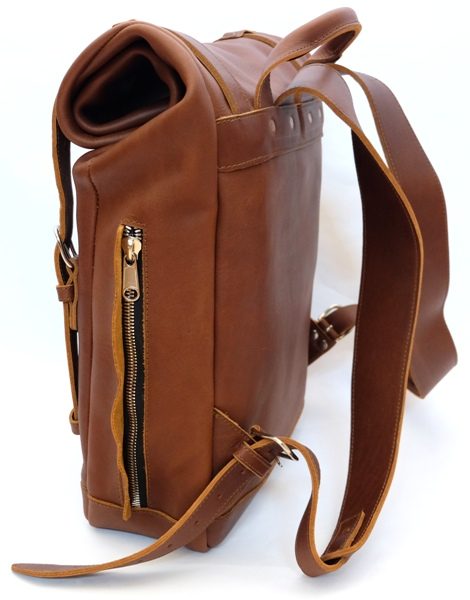 From this angle, you can see the zipper better.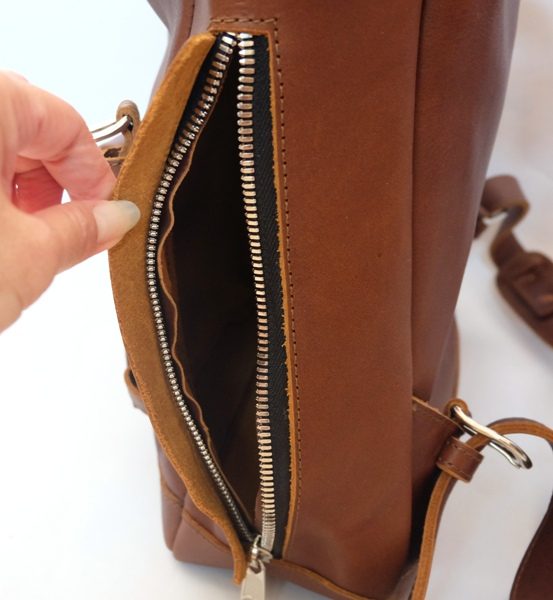 This is a high-quality heavy-duty zipper and measures 8.75″ long.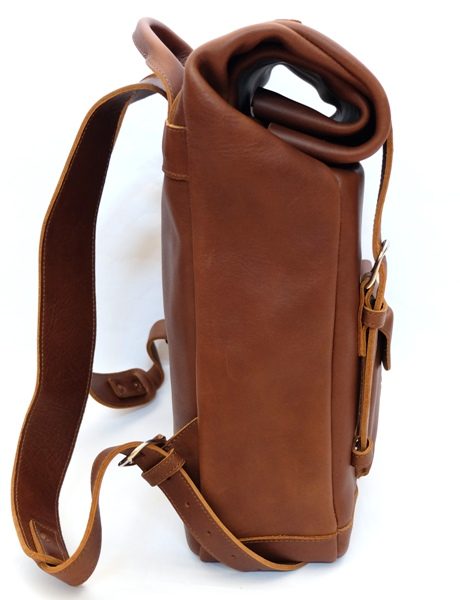 The other side of the backpack does not contain any pockets.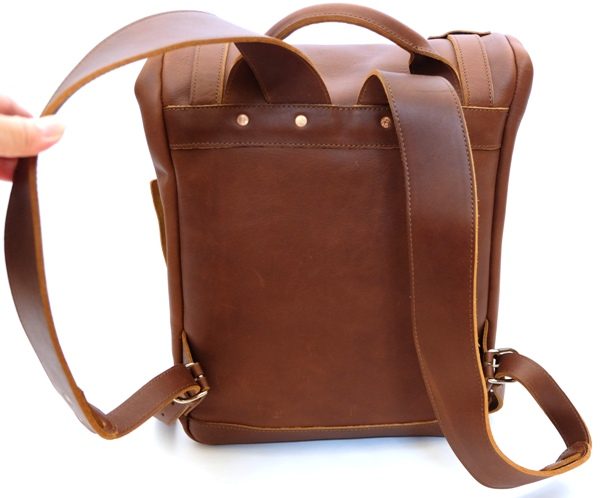 The back of the backpack shows how the shoulder straps and the quick-grab handle are sewn into the top of the backpack and reinforced with hand-pounded copper rivets to help increase the strength of these stress points.

The bottom of the backpack is about 12″ x 4.7″ (outer measurements) and 11.5″ x 4″ (internal measurements) as shown in the photo above.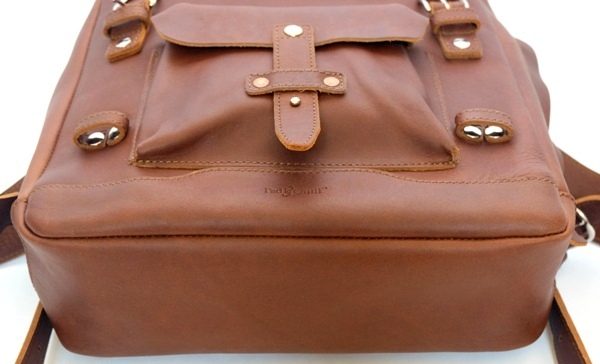 The lower front of the backpack sports the tasteful Pad & Quill logo. You'll also notice that the leather loops used to hold the straps close to the backpack are attached using rivets.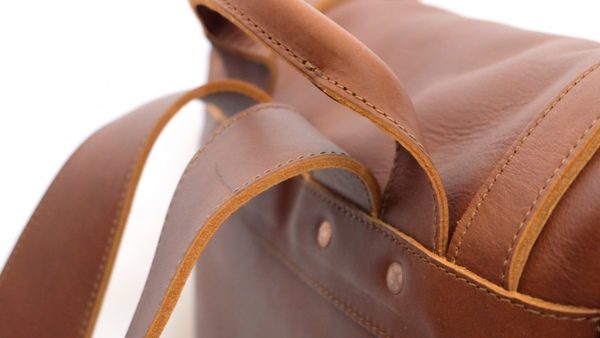 All of the straps of the roll top backpack are very thick. Each strap is made by sewing together two strips of leather, each of which measures about 2mm in thickness and thus the straps are 4mm thick. You'll also notice how all of the leather edges are raw edges (not burnished) as shown above. This is true throughout the backpack.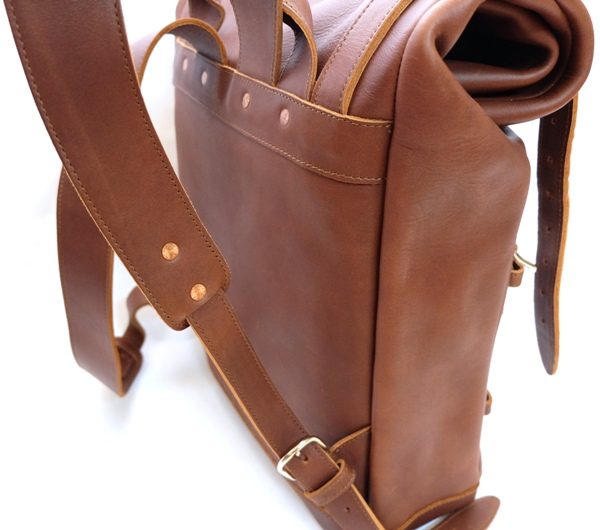 The shoulder straps consist of two leather sections connected by copper rivets. The length of the shoulder straps can be adjusted using the buckles located on the lower sides of the backpack.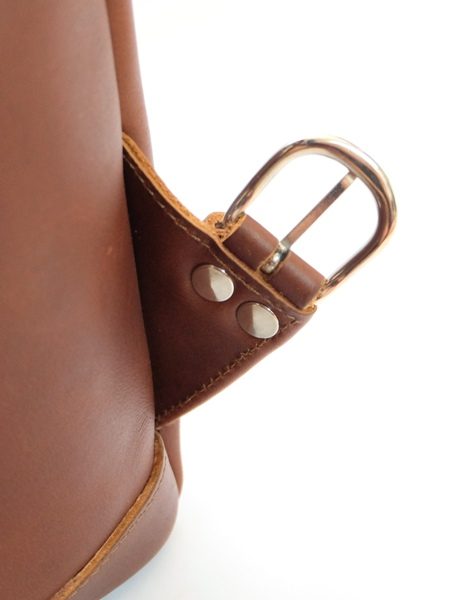 The buckles used to adjust the shoulder straps are attached with rivets and stitching to leather pieces which are sewn into the lower sides of the backpack.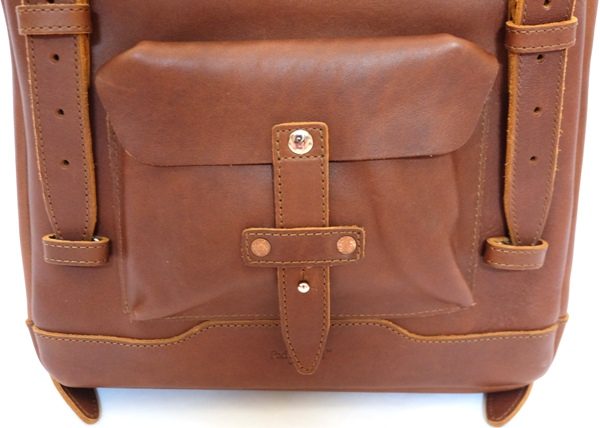 The front of the backpack contains a small pocket which measures 6.75″ x 4.75″ (internal measurements) but will only hold materials that are about a couple of centimeters total in width. You'll notice that the pocket is fastened using a leather strap and a metal ball stud fastener.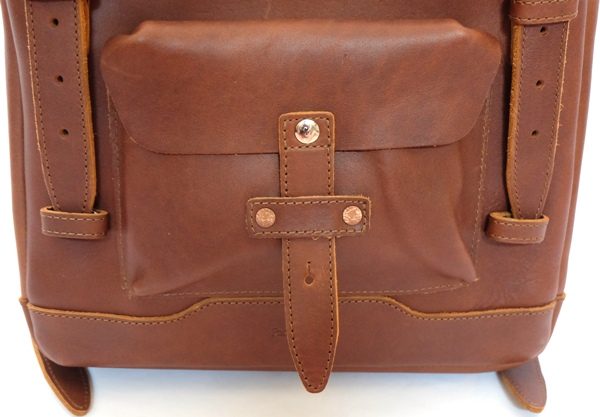 This pocket strap is easily unfastened by sliding the strap off the ball stud. There is a small thin strip of leather used to keep the pocket strap close to the backpack. That small strip is fastened to the front pocket using copper rivets.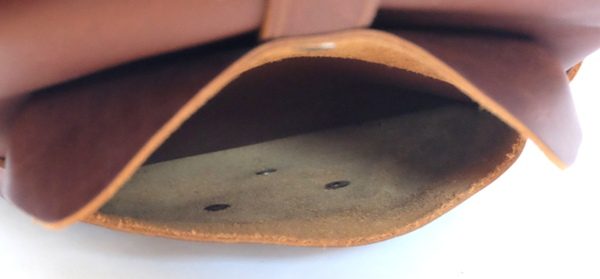 The inside of the pocket has raw leather on the front side and finished leather (from the front of the backpack) on the other. You can also see the rivets within this pocket and thus you might want to use caution when placing a small device in here as it might get scratched.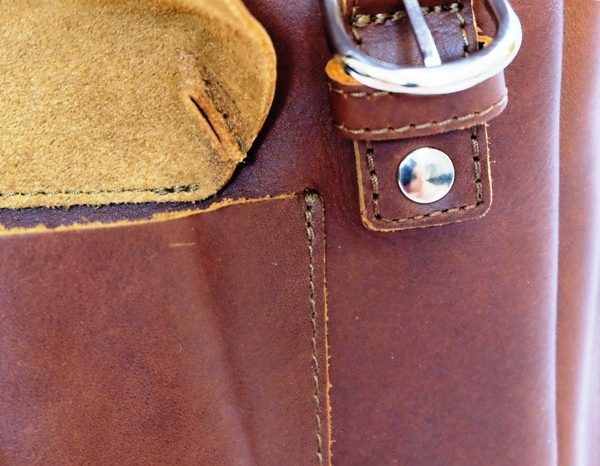 The thread used to assemble the backpack is a heavy duty parachute-grade, UV resistant nylon stitching. The above photo also shows how the buckles used to close the roll top opening are attached to the backpack using stitching and rivets as well.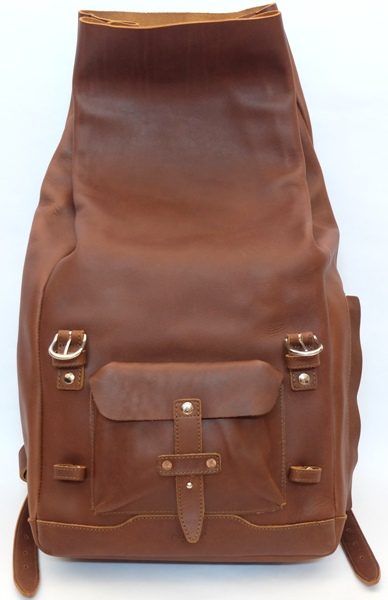 Roll top leather backpacks use a lot of leather making the backpack look rather long when opened (it's about 24″ tall when opened).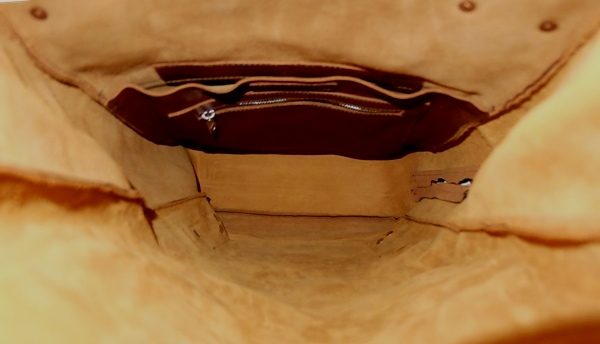 The roll top also makes the interior look rather cavernous/voluminous.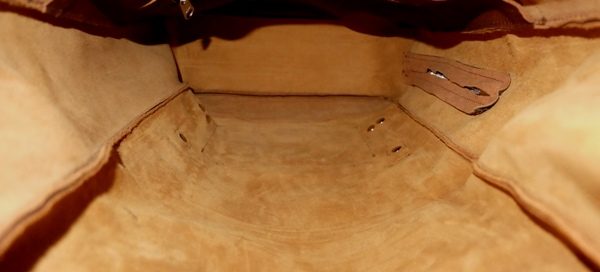 You'll also notice the rivets inside the backpack used to attach the loops and buckles on the outside. Again, you'll want to be careful if you are placing any of your devices inside here because they could get scratched.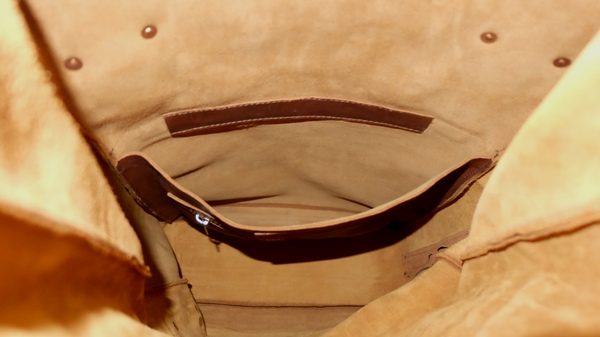 Looking inside the backpack, you'll notice that there is a nice internal leather pocket available to store a tablet or a small laptop (although it is not padded). This pocket is about 10.5″ wide x 12″ deep (internal measurements). The Pad & Quill website states that this pocket will hold up to a 15″ laptop (I do not have a 15″ laptop to test this).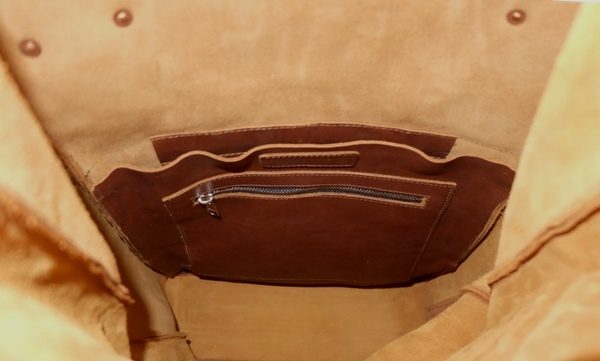 The tablet/laptop pocket has attached to it a small pocket which is enclosed by a zipper. This pocket measures 6.5″ deep x 6.5″ wide (the zipper is 6.5″ long but the pocket is actually almost 8″ wide internally).
Use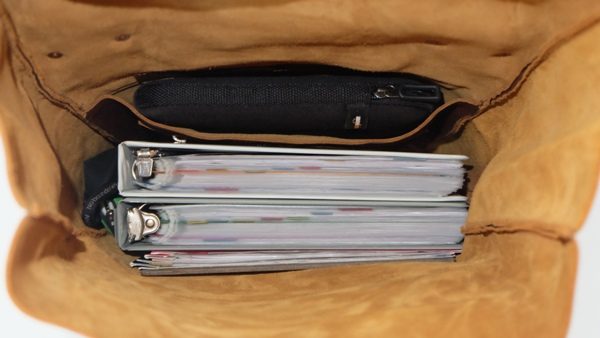 I was able to pack two one-inch binders, two paper folders, my portable keyboard (in the tablet/laptop pocket), and my pencil case inside the backpack. When the backpack is this full, the quick side access zippered slot is difficult to use unless the items are small enough and placed right in front of the zipper (like a bottle of water or pencil case).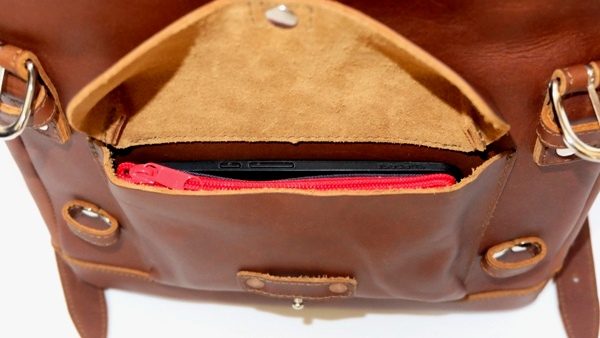 I was also able to store my small zippered pouch (which measures 6.25″ long x 4.5″ wide) and my Nexus 6 phone (6.375″ long x 3.375″ wide with the case on) in the front pocket. With just these two things, this pocket was full.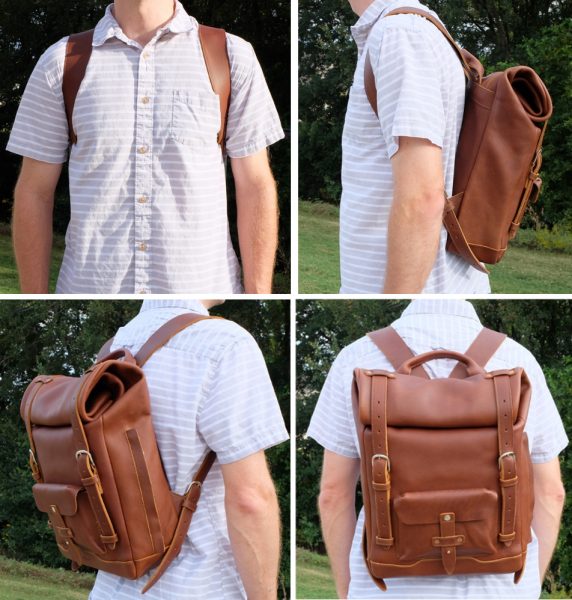 The backpack fits well and is comfortable to wear for short periods of time (I haven't yet tested it over a long period of time). It fits all of my materials that I need to carry around with me in a compact way and feels like it will last a long time. It takes a bit of time to access my materials in the main compartment but I consider that a minor inconvenience. The quick access zipper closure on the side of the backpack is useful if I have to quickly extract a small item from inside, but I don't usually have to do this. One of the benefits of the Pad & Quill Roll Top Leather Backpack is that its roll-top closure allows it to easily adjust to tall or small items and still be closed using the adjustable buckles.
Final Thoughts
The Pad & Quill Roll Top Leather Backpack is a fantastic, beautiful, well-made, very high-quality leather backpack that sells for $319. I love using it. It is made using 2mm thick full-grain, tumbled American bridle leather; parachute-grade, UV resistant nylon stitching; hand-pounded copper rivets; and solid nickel hardware. The Pad & Quill backpack fits well, allows me to carry all of my necessary materials, and has a 25-year warranty. It is important to note that it takes time to extract your materials from the backpack even with its quick side access zippered slot, but I found this to be a minor inconvenience. This backpack is now my favorite backpack and I highly recommend it.
Source: The sample used in this review was provided by Pad & Quill. Please visit their website for more information or to purchase one for yourself.
Product Information
Price:
$319.00
Manufacturer:
Pad & Quill
Pros:

Well-made, very high-quality
Carries all my necessary materials
Has 25-year warranty
Has an unpadded tablet/laptop internal pocket (for 15" laptops)
Has quick side access zippered slot

Cons:

Backpack alone weighs 4 pounds
You cannot access your materials quickly (although the quick side access zippered slot helps this if the items are small)