We use affiliate links. If you buy something through the links on this page, we may earn a commission at no cost to you. Learn more.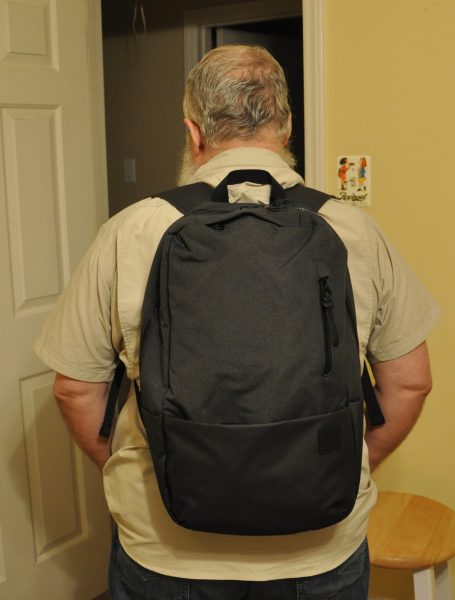 Carrying around all the things we feel we need on a regular basis means most of us take a bag of some sort with us to most places. It may be a purse, waist pack, laptop bag, satchel, or backpack, but it's all the same in the end: does it carry what you need to get through the day? Incase makes a lot of different models of bags, and they recently sent us a Compass backpack model in solid black to review.
Note: Photos may be tapped or clicked for a larger image.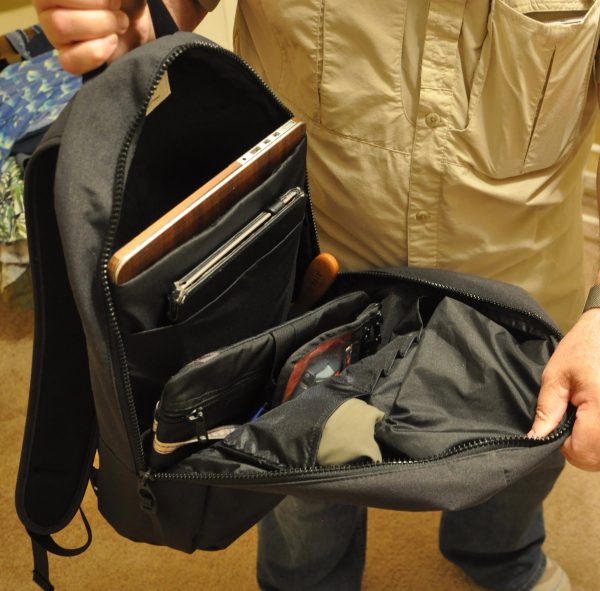 Here is Incase's description from their website:
Specs
Dimensions: 18.5" x 11.75" x 5.25" (L x W x H)
Volume: 24L
Compatibility: Up to 15" MacBook Pro, iPad
Material: Durable 270x500D blended weave polyester.
Heavy-duty, triple-coated 900D polyester front panels and base.
Storage: Top access, faux-fur pocket.
Front pocket with zip closure.
Front bottom pocket with key ring clip.
Main compartment with built-in organizers and padded laptop sleeve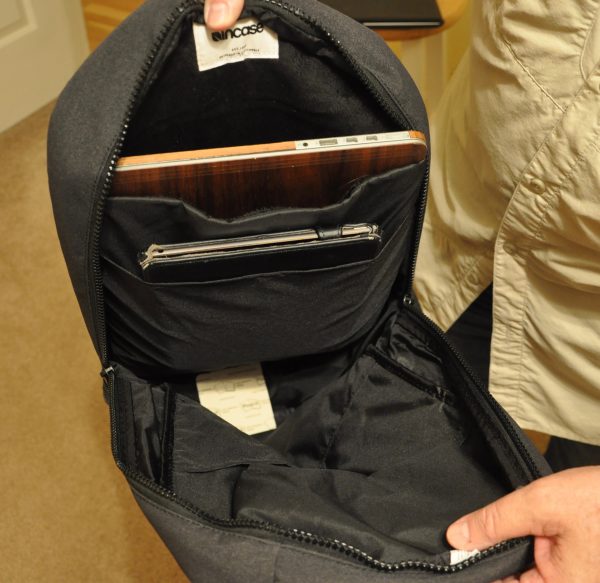 I moved my EDC stuff to this bag the first day, and have carried it back and forth to work for a few weeks now. The bag is sized to hold a 15″ MacBook Pro, and/or any size iPad. Across the back of the inside area is a full-height, plush-lined sleeve. There is only an inch or so of room above the inner face, which only the largest laptops will peek out of.
Never miss one of our posts again. Sent MON, WED, and FRI with the latest gadget reviews and news!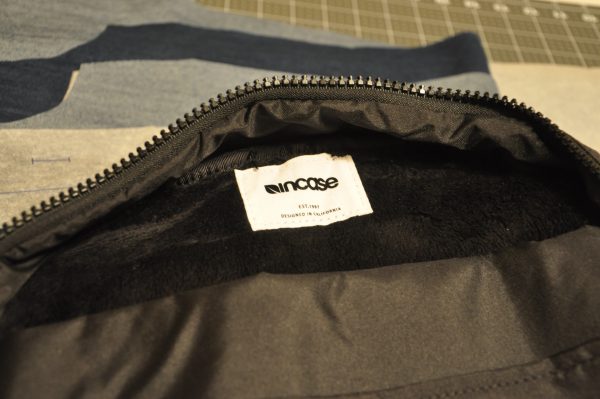 My work laptop is a Lenovo T440s, which has a 14" diagonal screen. It rattles around in the plush inner laptop sleeve and never sees out. My Retina 15" MacBook Pro slides easily inside, even with the walnut case on it I reviewed earlier, and does show over the top of the inner wall, but only a bit. The 12.9" iPad Pro fits without any issues. There is also a non-padded sleeve sewn to the laptop sleeve that does not reach the bottom of the bag. This will hold my iPad Air 2, as well as the larger iPad Pro, but doesn't offer the full coverage from other items afforded by the laptop sleeve. Letter-sized magazines and papers fit here without a problem. It is also loose enough to slide the headband of non-collapsible headphones into so that they don't settle to the bottom of the bag.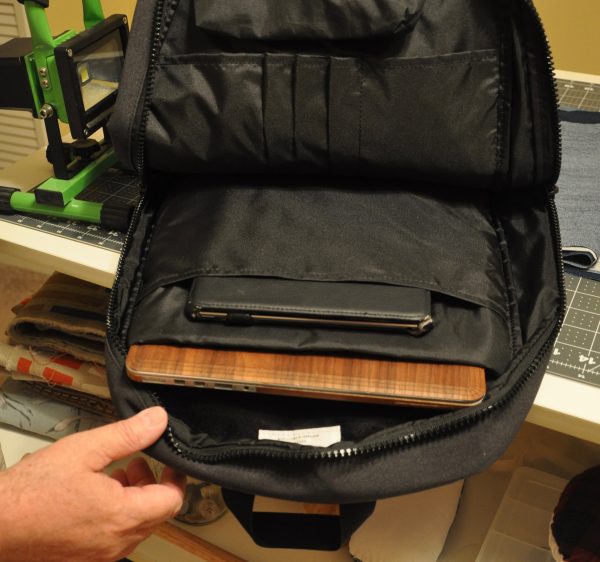 Across from the rear laptop sleeve, there are two flat pockets about 4" wide, with three pen silos in between. These are sewn in high on the bag, which allows them to be easily accessed, and other bulkier things to settle into the lower part of the bag. The remainder of the interior is open, so that umbrellas, hard drives, lunch bags, or whatever you carry around can fit with ease. It's quite roomy in there.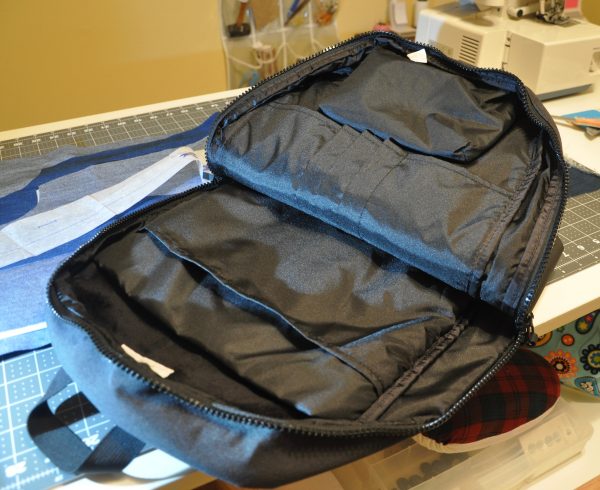 On the outside of the bag, on the side that everyone sees, there is a small faux-fur lined pocket suitable for sunglasses, a phone, or a music player accessed from a fine-toothed zipper in the seam. I keep my rechargeable earbuds in there, in their case, so that I can always find them and the case doesn't get opened accidentally. This pocket is a free-floating sac inside the interior, above the pen loops. My iPhone 6s Plus can fit in, but you have to wiggle it a bit, and there's no way it would fit with headphones attached.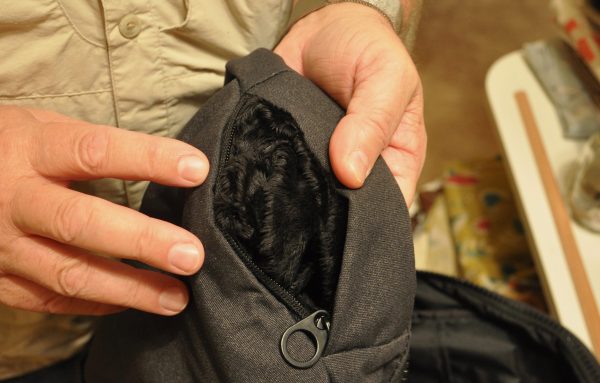 There is a larger lateral pocket a little lower, across the face of the rear flap, that holds most current phones and even some phablets. It is not furry inside, but easy to access by taking your left arm out of the strap and sliding the pack around to the front. The wide-toothed zipper zips down to open, however, so even though they would fit, I would not keep a passport or wallet in there. There is no way to secure it closed, although I never had it open by itself in use. But on a crowded bus or train, it could easily be opened by "bad actors."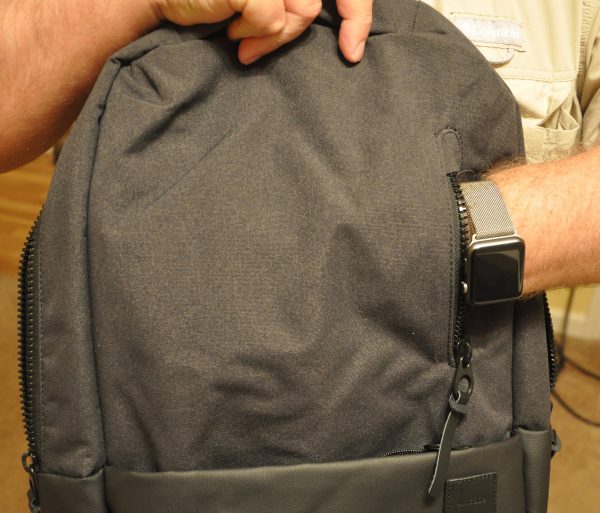 The last set of pockets is part of the lower heavy-duty coated covered band at the bottom, which extends around three sides. In some colors, this is an accent panel. The one I was sent is just a deeper black, but the coating prevents the bottom third of the pack from getting soaked through. Sitting your bag down on a damp or dirty lawn or floor can be remedied with a damp cloth. The pockets are accessed through a fine-toothed zipper that runs the full width of the back. There are two equal slash pockets on the pack side, but there is a lot of play in the design, so you could easily fit gloves, a phone, a banana, or a power supply into this area. There is a short 2" key strap just inside the opening with a metal clasp for your key ring. There is not near enough slack to actually use the keys while attached, however.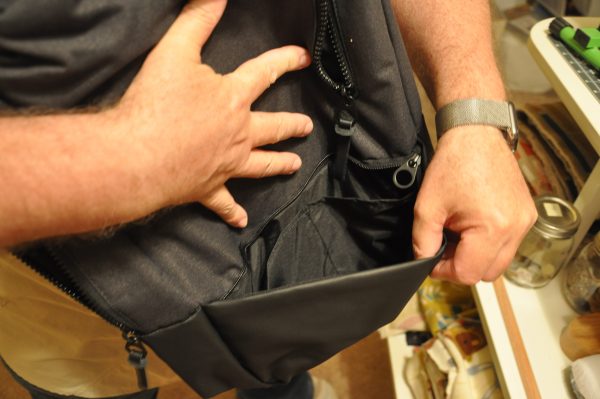 The back of the Compass has 2" horizontal bands sewn into the full back of open weave mesh with padding enough that you don't feel the hard edges of things in that rear laptop sleeve. The fully-adjustable straps are over 2" wide, but not nearly as padded as some I've used. They are sewn in at the top with a 1" wide simple webbing haul loop that is comfortably sized, without being stiff and irritating rubbing on your neck while wearing the pack. During my walks from and to the car for work and around town, I found the pack to allow me to haul much more than I could comfortably carry in my previous pack. While the Compass is too flexible to stand on its own, it holds a lot, organizes that content sensibly, and allows the user to carry along different configurations of items at different times.
At $79.95, it's well worth the money. The build quality is excellent, and the organization adds to the usefulness. It is available in Black, Black Camo, Navy, Deep Red, and Bronze.
Source: The sample for this review was provided by Incase. Please visit http://incase.com for more info and Amazon to order one.