We use affiliate links. If you buy something through the links on this page, we may earn a commission at no cost to you. Learn more.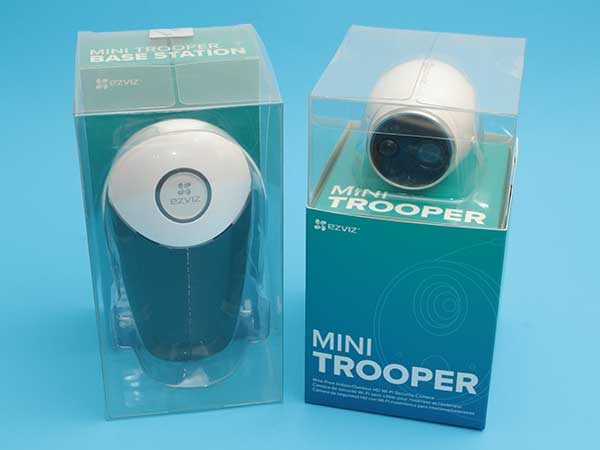 Choosing from the vast selection of WiFi security cameras that are on the market can be daunting. We're here to make your job harder by telling you about a brand that you may not be familiar with. The EZVIZ Mini Trooper is an affordable camera system that includes a completely wire-free camera. Let's take a look.
What is it?
The EZVIZ Mini Trooper is a WiFi security camera that runs on batteries so it can be placed anywhere in or outside your home and does not need to be tethered to a power cable and does not require a cloud-based subscription service.
What's in the box?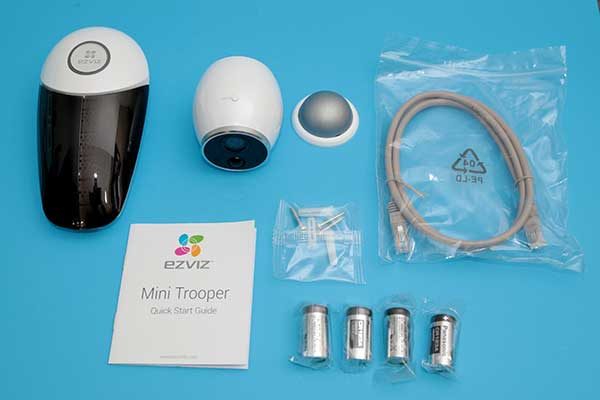 Mini Trooper Base Station
Mini Trooper Wire-Free indoor / outdoor camera
Magnetic base
Hardware
Ethernet cable
4 CR123A Batteries
Quick start guide
Design and features
Mini Trooper camera
The EZVIZ Mini Trooper setup requires both a camera and the base station. Let's check out the camera first.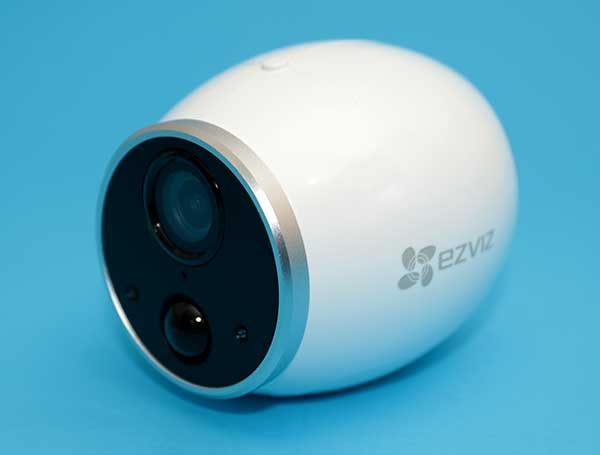 The 720P camera reminds me of an egg in both shape and color. This camera can be used indoors or outdoors as it has an IP65 rating and can stand temps from as low as 14° F to as high as 131° F.
The front of the camera has the lens, a microphone, a photoresistor, LED indicator, and a PIR sensor which measures infrared light radiating from objects.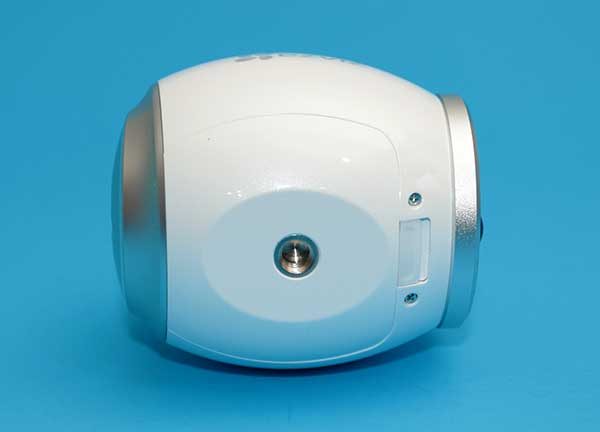 The bottom of the camera has a threaded socket in the battery cover which can be used to connect it to a tripod.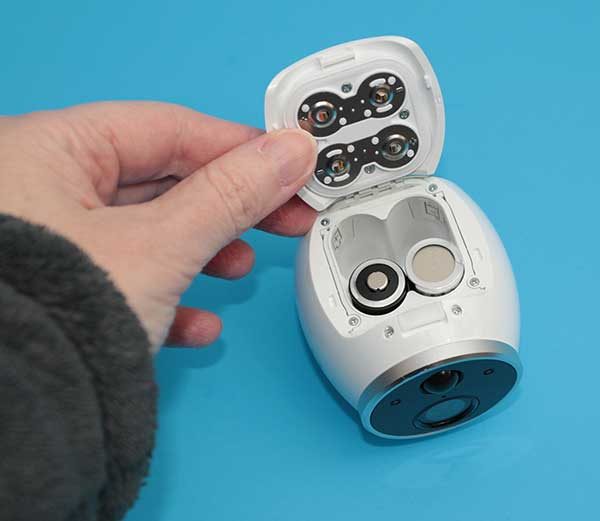 The cover opens to reveal the battery compartment which can hold 4 CR123A batteries. Interestingly enough, the camera can be used with just 2 batteries like you see above. Using all 4 batteries will result in the longest runtime of up to 9 months.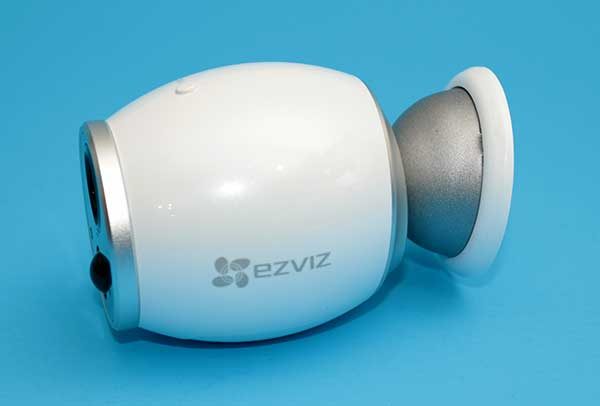 The Mini Trooper camera can sit on a flat surface or you can attach the included magnetic plate to mount it on a wall.
The Base Station
The Base Station is a hub that provides a dedicated connection for up to 6 EZVIZ cameras.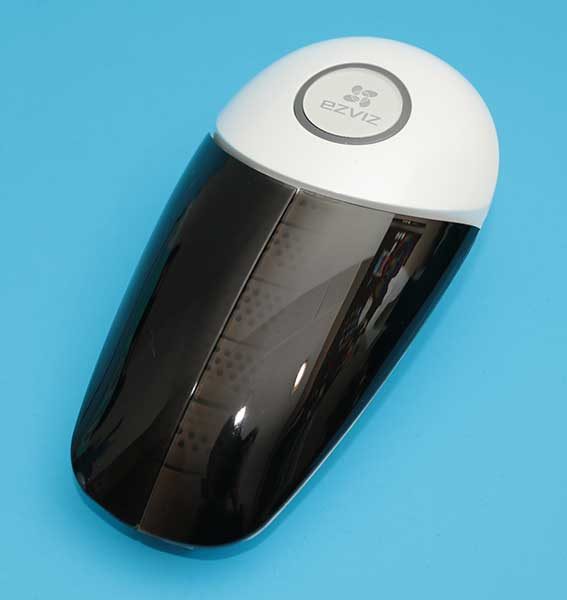 If the EZVIZ Mini Trooper camera looks like an egg, I think the Mini Trooper Base Station looks like a bug.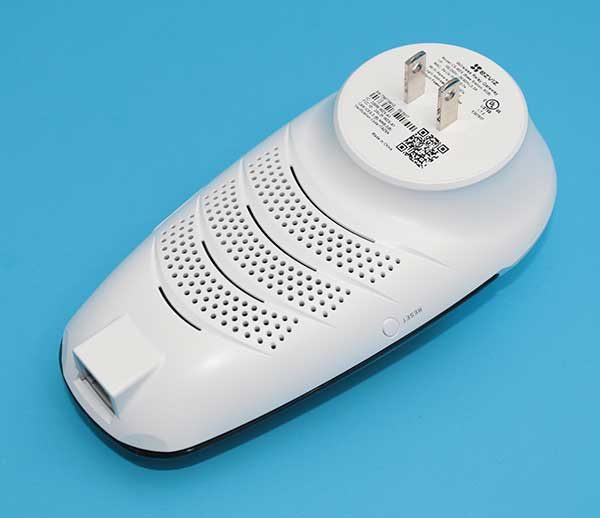 The Base Station has built-in prongs so it can be plugged directly into an outlet. It also has an Ethernet port at the bottom and a reset switch on the side.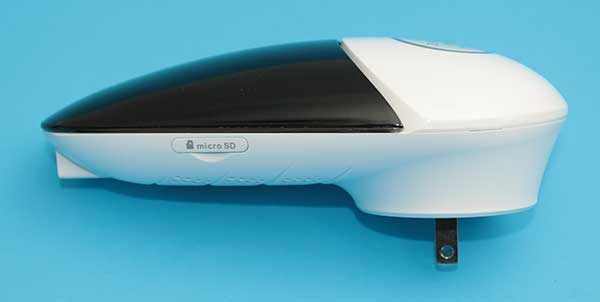 On the opposite side of the base station is a micro SD card slot which can be used to store video clips.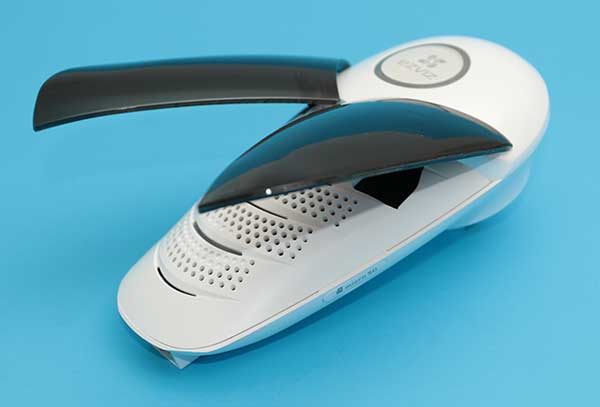 The Base Station's "wings" are antennas that unfold to enhance the wireless signal between the cameras and the base station.
Setup
Setting up the EZVIZ system is pretty easy if you opt to plug the Base Station into your existing network router using the included Ethernet cable. You can also set up the system wirelessly, but it requires a little extra effort isn't as straightforward.
All you really need to do is install the EZVIZ app on your iOS or Android device and follow the prompts that will tell you to plug the Base Station into the wall, load at least 2 batteries into the Mini Trooper camera, and place the camera within 300ft of the Base Station.
EZVIZ application
The EZVIZ application has a simple user interface that shows a live view of the camera with a battery indicator at the top and a timeline of detected activity at the bottom.
A messages screen shows thumbnails of events that were captured by the PIR sensor. Clicking a thumbnail will show the motion detection video if a micro SD card has been inserted into the slot in the Base Station.
Picture and video quality are decent given that the camera has 720P resolution with a 116 ° wide-angle lens and up to 25' of night vision.
The EZVIZ Mini Trooper security camera system is really easy to use because it has a basic set of features. And that's the problem with this system, it's a bit too basic. It is missing some key features like the ability to manually turn off night vision, two-way audio communication, and the ability to set motion trigger areas.
At first, I noticed that the motion detection feature was very hit and miss. I could walk right past the camera waving my arms and it would not notify me of detecting motion. I finally realized it was because I was pointing the camera through a window and the camera's PIR sensor will not work through glass. Placing the camera outside fixed that issue.
Final thoughts
There are quite a few things to like about the EZVIZ Mini Trooper security camera system:
Wireless camera that can be used indoors OR outdoors
Does not require a cloud storage subscription
Relatively easy to setup
But then there are things missing or lacking like:
Motion trigger areas
24/7 recording to microSD card
Night vision toggle
Night vision is pretty weak
Can't detect motion through glass
If you've already used other security camera systems that have some of the features missing from the Mini Trooper, this system will leave you wanting more. However, the EZVIZ Mini Trooper security camera system does make a decent first-time security camera system because it's relatively inexpensive, doesn't require monthly payments, and is pretty easy to set up.
Source: The sample for this review was provided by EZVIZ. Please visit their site for more info and Amazon to order.