We use affiliate links. If you buy something through the links on this page, we may earn a commission at no cost to you. Learn more.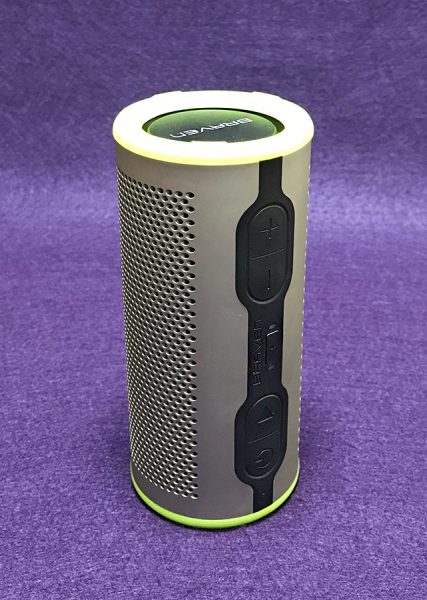 You gotta love promotional videos for outdoor Bluetooth speakers. There always seems to be young, beautiful people in great shape running and laughing near water. Reality is more like an overweight guy (me) plopping himself down on Cocoa Beach and sweating in the humidity and heat while my beautiful wife complains that the music is too loud. Oh well, at least the Braven Stryde 360 portable Bluetooth speaker I'm testing sounds good.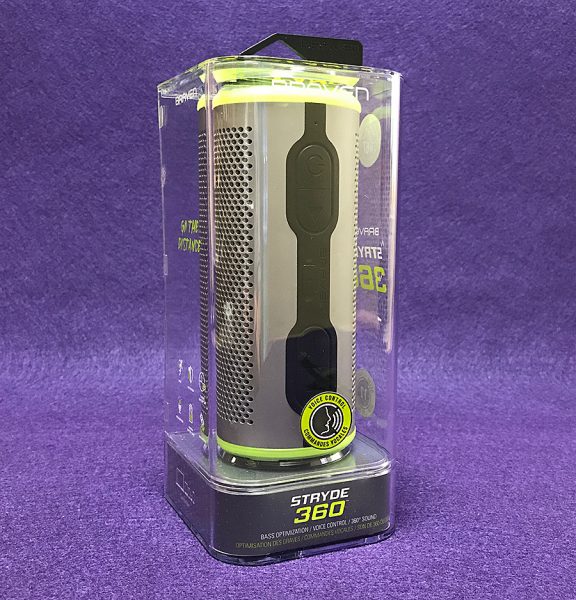 As someone who has reviewed many Braven speakers, I'm always amazed how they come out with so many models priced for anyone's budget—from the $50 105 palm-sized speaker to the monstrous $300 BRV-XXL—not to mention a line of quality home speakers. The new Stryde 360 Bluetooth speaker fits into the lower-priced range but with a few extra features.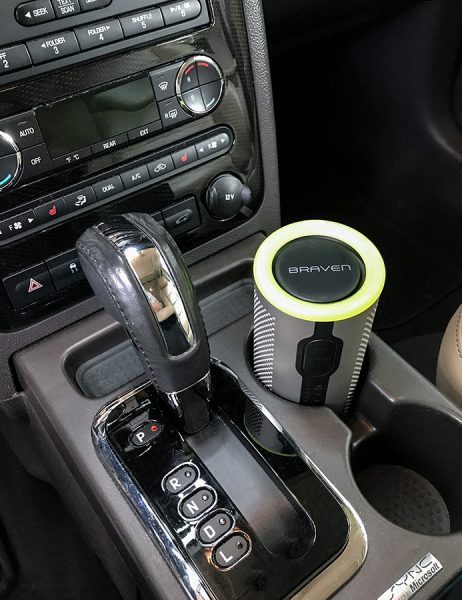 The portable Stryde 360 is made for the outdoors. It has IP67 waterproofing (it can be completely underwater up to 3 ft. for 30 minutes) in a tough, plastic exterior. It's circular shape can fit into some (but not all) car cupholders—think elongated coke can and you get the picture. The ends are circled in a bright, day-glow yellow/green color which helps the speaker be seen in the dark.
The circular shape allows sound to go in a 360° pattern, so it doesn't matter where anyone is standing when near the speaker.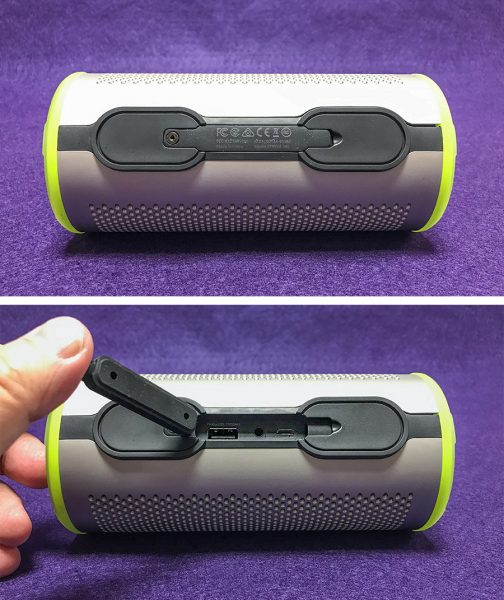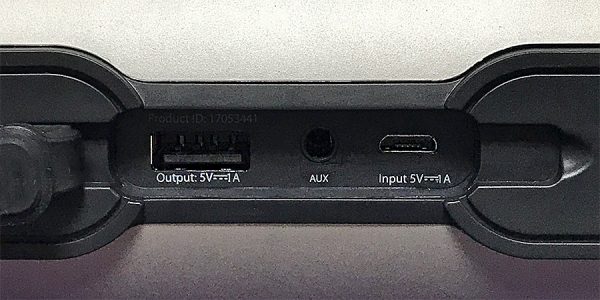 The body of the speaker is a neutral silver/gray with black rubberized buttons and port cover which protects charging, AUX and USB charging-out ports. The Stryde 360 has a built-in 2500MAH rechargeable battery that can recharge a smartphone—always a handy option for a portable speaker to have. Opposite the ports are on/off, Bluetooth pairing and play/pause/answer call buttons. There's also an LED power status light which changes colors depending on the level of charge remaining. Battery life is a respectable 12 hours.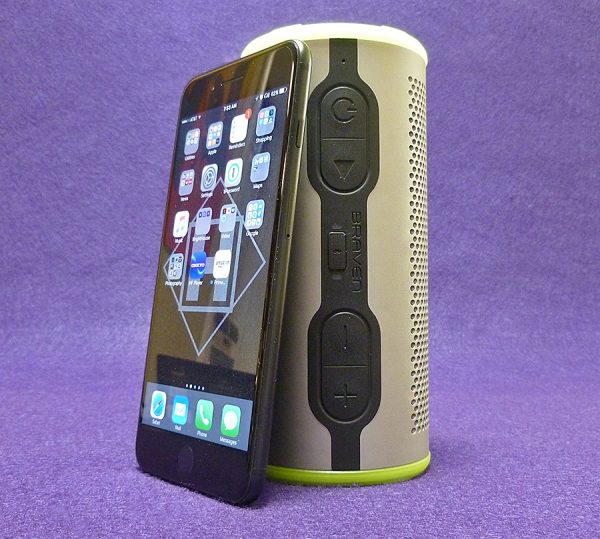 Pairing is simple with the Stryde 360. Just press and hold down the Bluetooth button until an audio signal lets you know it's looking for a device to pair with. You should then see the Stryde in any smartphone Bluetooth settings. My iPhone 7+ paired without any issues. The Stryde remembers my iPhone, so when I come back to it, It re-pairs immediately. A nice feature is that the Stryde will shut itself down after 30 minutes of no signal. This helps prevent undesired battery drain.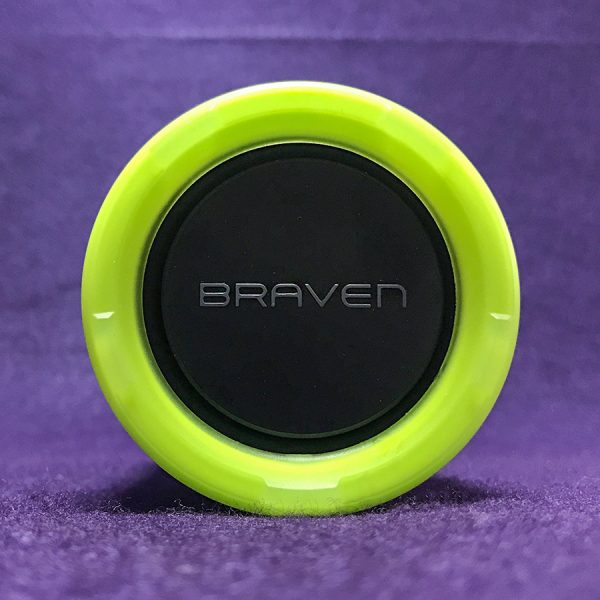 Two passive radiators sit at each end of the tubular shape, giving the Stryde 360 a decent amount of bass for a speaker its size. Unfortunately, bass doesn't travel far in the big outdoors since there's not a lot that low-frequency sound waves to bounce off of. That's not the Stryde 360's fault, it's physics. However, the speaker packs a satisfying punch when sitting close to it—as long as it's placed horizontally. If set up vertically, one of the passive radiators is blocked and can alter the audio quality. There is some bass distortion at max volume, but that's when the bass is at maximum levels in the recording itself.
Vocals (mostly middle frequencies) sound natural and up front.  This is good for two reasons: Music can sound more personal and talking (whether podcasts or radio) can be both strong and easily understood. Sometimes, larger and more bass heavy speakers can be problematic for spoken sources.
Higher frequencies on the Stryde 360 can border on harsh if the volume is pushed or the recording source is already a bit treble-happy. Most people are not fans of bright-sounding music, so this shouldn't usually be an issue.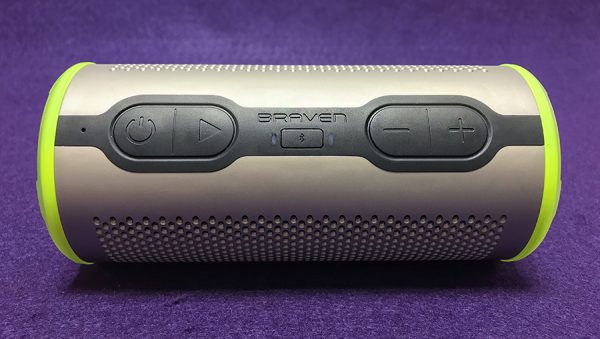 The Stryde 360 has speakerphones capabilities which work okay. The audio quality is much better than using only the iPhone's speaker, but my voice comes across to the other person clearer using the iPhone's mic as opposed to the Stryde's built-in mic. Unfortunately, a lot of Bluetooth speakers suffer from inferior mics.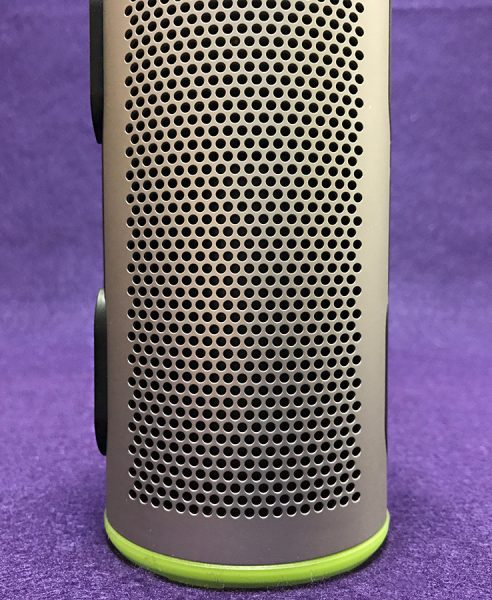 Music sounds a bit better than you might expect on a similarly sized speaker. Volume is more than adequate unless you're trying to have a party. The Stryde 360 is better suited to a small circle of friends.
I prefer listening rock and pop on the Stryde 360. The main reason is that these genres usually have little subtlety. More challenging and complex music is too much for the small speaker's abilities, especially outdoors, where the speaker is expected to be used. Blame that physics thing again.
Quibbling aside, I quite liked the sound of the Stryde 360. Even with the size limitations, music sounded fun and engaging. An extended version of the 80s classic "Cry" by Godley and Creme has an insistent beat with falsetto vocals that give a slightly expanded sound stage despite the restricted stereo of a single Bluetooth speaker. A less appreciated Godley and Creme gem, "Under Your Thumb" also sounds good on the Stryde 360. It sports fast synth playing that remains distinct with no muddiness in the sound.
Just for kicks, I chose a 50s country classic, "Blue, Blue Day" by Don Gibson. Both the vocals and guitar playing were sharp and clear although the drums and bass were a bit recessed due to the recording. The Stryde 360 was able to reproduce the clarity of the recording with ease. Audio from older recordings carries farther outdoors simply because the recordings were made for AM radio and are geared more for middle frequencies than most modern music.
That's not to say if you like hip-hop or electronica, the Stryde 360 will disappoint you. The speaker will still sound good, it just can't go as deep into the bass as a larger speaker can. Again, physics.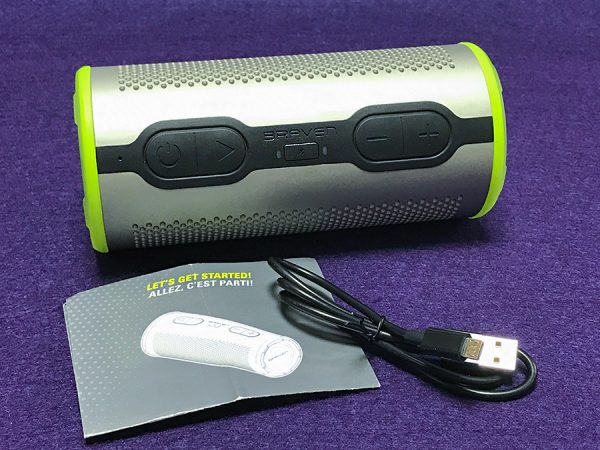 As I've said earlier, I have reviewed many Braven speakers. It's interesting that they all have different sound signatures, some that I like and some, not so much. I like how the Stryde 360 sounds. It's musical and extremely easy to operate.
Yes, I may never look as good as those laughing people in the promotional videos (I never did actually), but I still appreciate music everywhere I go. The Stryde 360 portable Bluetooth speaker goes anywhere without worrying about how wet or dirty it may get. And that's exactly how it should be.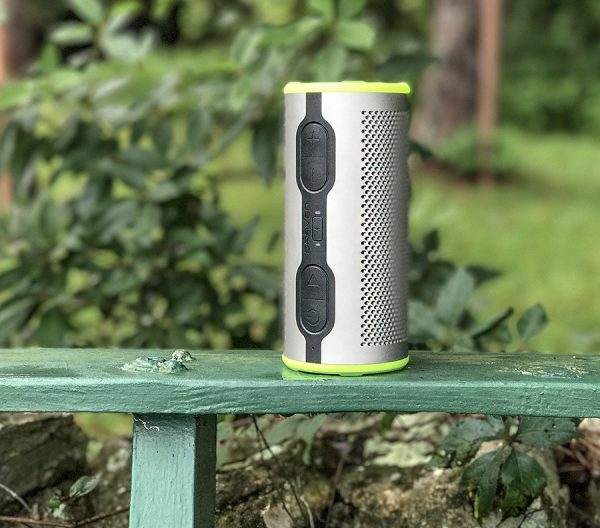 The Braven Stryde 360 portable Bluetooth speaker sells for $99.99 and is available from Amazon.
Source: The samples for this review were provided by Braven. Please visit their site for more information and Amazon to order.