We use affiliate links. If you buy something through the links on this page, we may earn a commission at no cost to you. Learn more.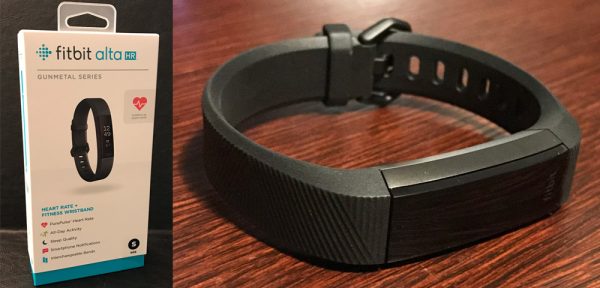 I'm new to the world of Fitbit and its wearable fitness trackers. What got me interested in trying a Fitbit was my wife's company was doing a fundraiser for charity based on steps with the leading team being able to donate to the cause of their choice. Spouses were allowed/encouraged to join in on the fun and since I wanted to get in better shape I wholeheartedly agreed. I don't typically wear a fitness tracker or smartwatch, preferring a classic timepiece on my wrist. So, the Alta HR's sleek and slim form factor appealed to me; allowing me to wear my watch on my left wrist and the unobtrusive Fitbit on my right. For this review, Fitbit sent me their stealthy Special Edition gunmetal Alta HR to try out. 
Note: Photos may be tapped or clicked for a larger image.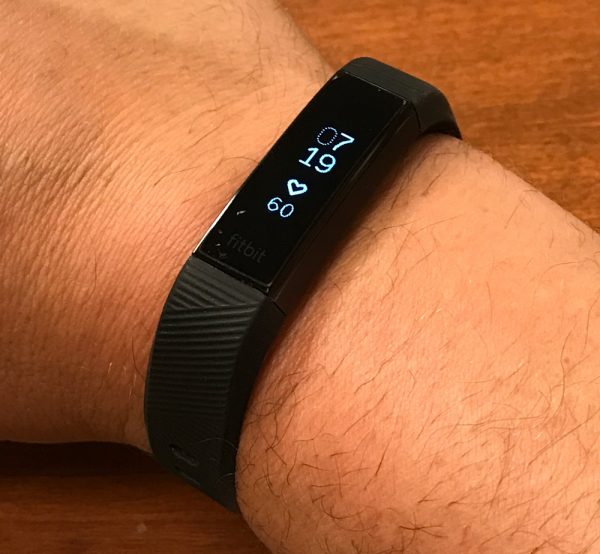 The Alta HR is one of the slimmest and most stylish fitness trackers on the market today. The HR is a follow on to the original Alta adding Fitbit's PurePulse heart rate sensor, quite a feat considering the device's tiny size.  In addition to built-in heart rate monitor, the Alta HR has an OLED display, 7-day battery life, all-day fitness tracking, sleep tracking with Fitbit's new Sleep Stages and Sleep Insights feature, notification mirroring, etc.
In the Box:

Alta HR fitness tracker
USB charging cable
Instructions
Like the device itself, what you receive in the box is relatively simplistic…fitness tracker, charging cable, and a few pages of instructions.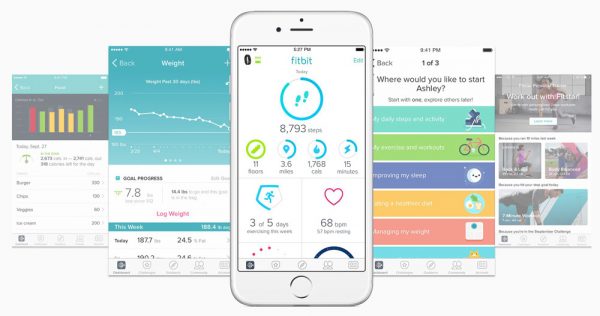 Getting the Alta HR operational is more about getting your Fitbit account setup and signed into the app than anything on the device side of the house. Once charged and paired to your smartphone, the device syncs with the app and you're more or less good to go.
Design: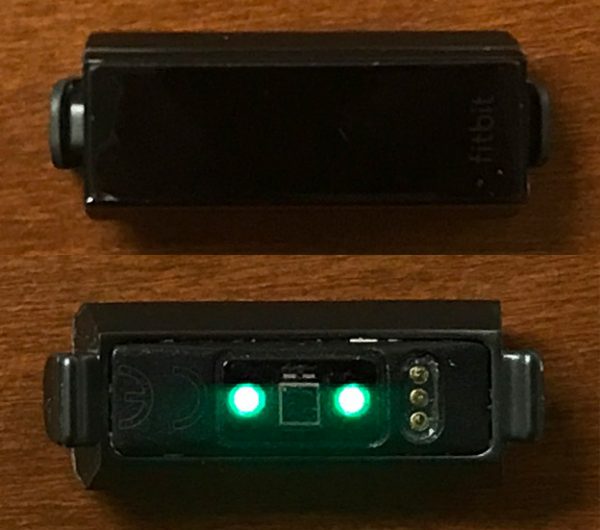 Like the original, the Alta HR has a plastic body surrounded by a metal frame with a 1.4 inch, 128 x 36 resolution OLED touchscreen display on top. The display is monochrome with decent contrast, though sometimes difficult to see in bright/sunny conditions. The Alta has a buttonless design; its "Single Point Touch Screen" allows you to navigate the fitness tracker's various screens by tapping its front face. The display is off until you either raise your wrist to look at it or double-tap it.  Approximately 3/4 of the time it correctly senses the wrist-raise motion, but the remaining times I would have to double-tap the screen to bring it to life. It did take a bit of initial practice to get the screen to respond. At first, I found the interface quite irritating with how unresponsive it was but with time I finally got the hang of it or the mechanism itself needed to be broken in. Either way, the device is currently responding well to screen taps with perhaps 10% of the time needing to repeat the effort.
This pic does a good job showing off the heart rate sensor and charging port on the back of the Alta HR.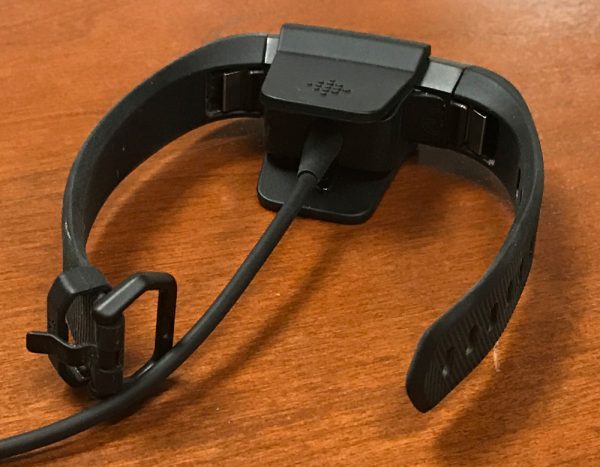 The Alta HR charges via its propitiatory USB cable that clamps onto the back of the tracker, locking it into place. The Alta HR charges relatively quickly (within a few hours) and operates nearly a week without needing to be recharged.
Setup: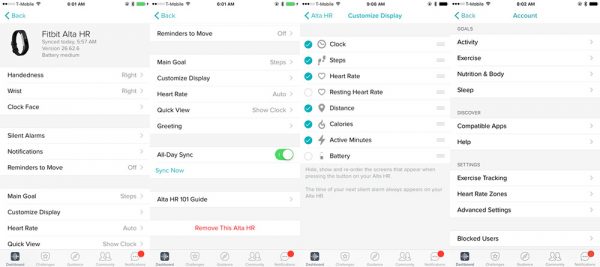 Like other Fitbit fitness trackers, configuring the Alta HR is done via the smartphone app. The pairing and setup process is quick and easy. Considering how small the screen is, Fitbit has done a good job optimizing what and how your fitness data is displayed. Being able to see your steps and heart rate on the fly is convenient and helps keep you motivated.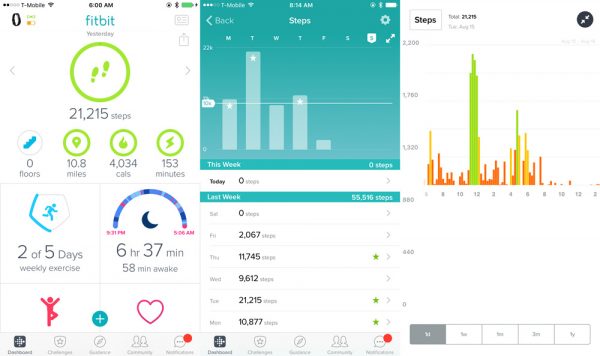 Though getting an in-depth workout analysis comes when you open up the Fitbit app and can see a multitude of data sets.
Functions:
As you can see above, the Alta HR tracks steps, estimated distance traveled, calories burned, and sleep quality; plus it nags you to move if you have been sedentary too long. I found all of the Fitbit's features very motivating, especially during the fitness competition. There is no doubt that between the two, I regularly hit 20k steps and beyond during the challenge.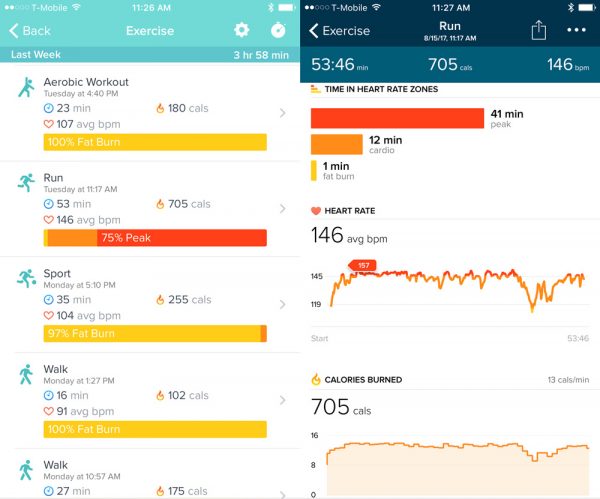 Like its predecessor, the Alta HR auto-scenes what type of workout you're doing and records them as blocks of effort. Though it did get a little confused with tennis but was spot on when I ran, walked, or did the elliptical machine. The Fitbit app keeps track of not only the type of exercising you're doing but its duration, calories burned, average heart rate, and type of exertion (aka burning fat/cardio/peak). With more data within each workout for greater in-depth analysis as seen on the right screen capture.
I found the heart rate data pretty accurate. When I compared my heart rate count to the grips on my elliptical machine, the Fitbit was within 2-5 beats/minute of the workout machine's. I was also pleased with my resting heart rate ( a good indicator of overall health) regularly at or below 60 bpm.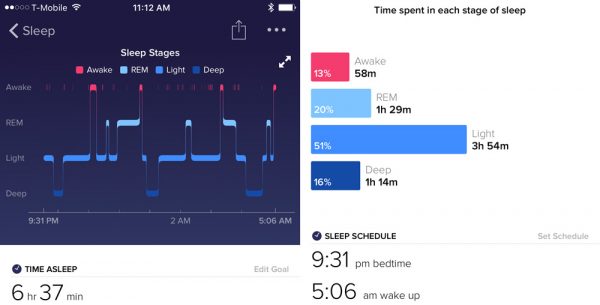 Fitbit's new sleep tracking is my favorite and most interesting feature of the Alta HR. I firmly believe that a good nights sleep is a key component to staying healthy and motivated. I shoot for 8 hours a sleep per night but rarely achieve it. In addition to tracking the duration and type of sleep, the tracking feature helped me realize lifestyle choices that impacted the quality of rest I was getting on any given night.
When paired with and in range of your smartphone, the Alta will also display notifications of incoming calls, text messages, calendar alerts, and will provide reminders (aka nagging) to get up and move throughout the day. These notifications can be difficult to read due to the small display but at least let you know they're there and to reference your phone if need be. I also like vibration on my wrist for calls, messages, and alarms cause there are many times I have my iPhone on silent and miss them.
A few features that would be nice to have:
Altimeter
Physical button similar to the Charge 2
Waterproofing (vs just being sweat proof)
I do quite a few stairs during the average week. Whether I'm walking from the bus tunnel to work or running the stairs in our building during lunch, it would be nice to track stairs climbed in addition to just steps taken. But in my case, it is a minor issue compared to wearing a larger device to gain that feature.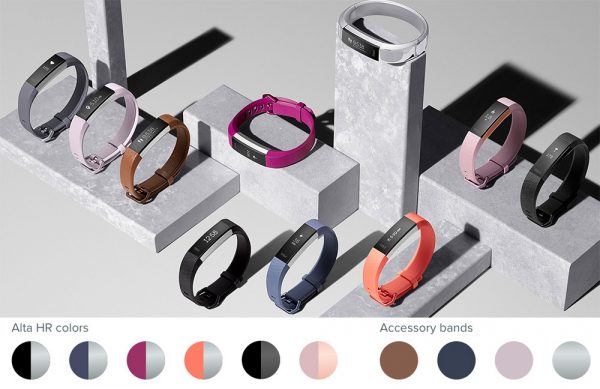 The Fitbit Alta HR is available in Black/Stainless Steel, Blue Gray/Stainless Steel, Fuchsia/Stainless Steel, Coral/Stainless Steel, Black/Gunmetal, and Soft Pink/Rose Gold. Fitbit leather accessory bands are available in Brown, Indigo, and Lavender. There is also a Stainless Steel option as well.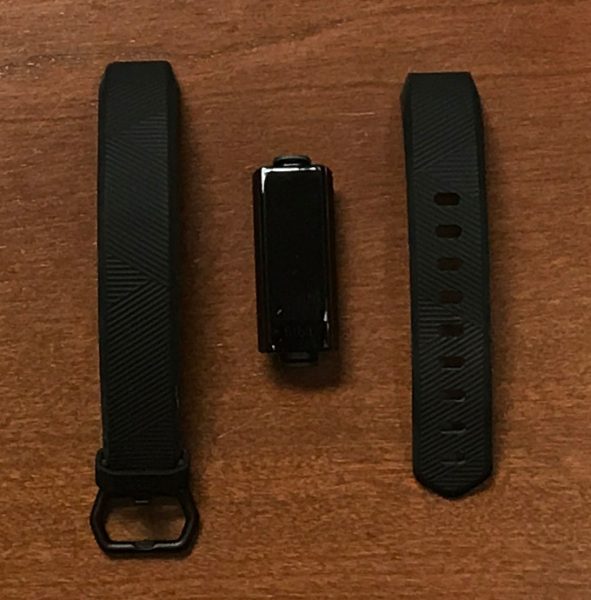 In addition to the stock Fitbit bands, there are MANY aftermarket Alta bands out there to express yourself. The Alta HR is engineered to swap bands in a blink of an eye. The design makes it quick and easy to exchange bands whenever you please.
I really like the Alta HR's slim, stealthy design with the Special Edition gunmetal version definitely being my fitness tracker of choice. Fitbit has done an excellent job creating a less is more fitness band that is comfortable to wear with solid features and specs. While the HR is lacking a few nice to have features, its form factor, heart rate tracking, accurate activity tracking, excellent sleep tracking, week-long battery life, and stellar app platform/ecosystem more than makeup for it.
Source: The sample for this review was provided by Fitbit. Please visit their site for more info and Amazon to order.

Product Information
Price:
$149.95 / $179.95 (Special Edition as reviewed)
Manufacturer:
Fitbit
Retailer:
Amazon
Pros:

Slim & stylish form factor
Excellent app & fitness ecosystem
Solid build quality
Does basic features well
Sweat-proof
Easy to swap out bands

Cons:

Expensive
Lacking a few nice-to-have features