We use affiliate links. If you buy something through the links on this page, we may earn a commission at no cost to you. Learn more.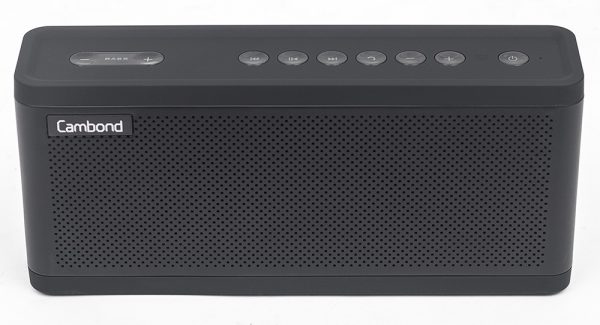 When it comes to speakers, the saying goes: the louder the better. But sometimes loud isn't good enough. Sometimes you want that bass to hit, or better yet, feel the rumbling lows that we don't typically get from ordinary speakers. Of course, our typical everyday speakers can achieve the high tones in the music but most Bluetooth speakers can't produce those punchy mids or thumping low bass. With the Cambond X-Bass Adjustable Bass Bluetooth speaker, getting that hard hitting and rumbling bass might be easier than you think.

The Cambond X-Bass Adjustable Bass speaker is a portable Bluetooth 4.0 stereo speaker that boasts a 15-watt subwoofer combined with dual 5-watt drivers which equal to 25 watts of powerful driving sound for your ears. This speaker has 4 bass levels that you can adjust accordingly. The Bass button is located on the left top side of the speaker. On the same top portion of this speaker unit are the buttons for the Previous/Next Track, Play/Pause, Talk button, Volume Up/Down, and Power.
Phone calls on these speakers are what you would expect. It sounds like a hands-free conversation. If you had the bass up prior to the phone call, the person's voice will sound deep and bassy. If that bothers you then you will just have to turn down the bass level to bring their voice to a more normal tone. On the other end of the line, calls sounded like you were talking from a speaker. There was a slight delay but nothing bad and definitely not a deal breaker. 9 times out of 10, when talking on a speaker, you will sound like you are on a speaker anyways and this is no different. But this speaker really isn't for phone calls, it's for listening to music.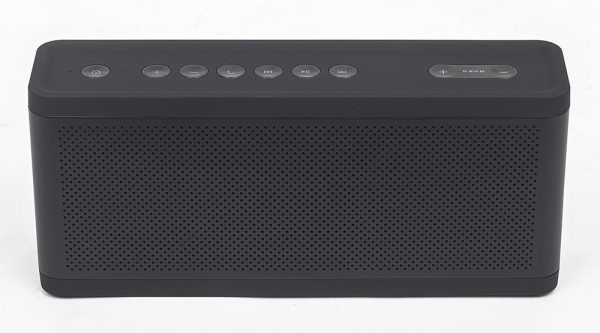 The X-Bass feels solid in its construction all around. It has a metal grill on the front and back, plastic top, rubber base, and the top buttons felt tight and responsive. These rectangular speakers have a dimension of 3.94″ x 9.06″ x 3.1″ inches.  The X-Bass weighs in at 2.32 lbs. so this speaker has some weight to it as compared to other similar sized Bluetooth speakers. Don't get me wrong, it's not super heavy but once you pick it up you will notice its weight. However, the X-Bass is still light enough and portable to throw in your backpack, messenger bag, beach bag, purse, or any other bag you want to stuff the speaker in. I like that it has small rubber feet on the bottom of the speaker to help protect the speaker from sliding around and scratching any surface you put it on.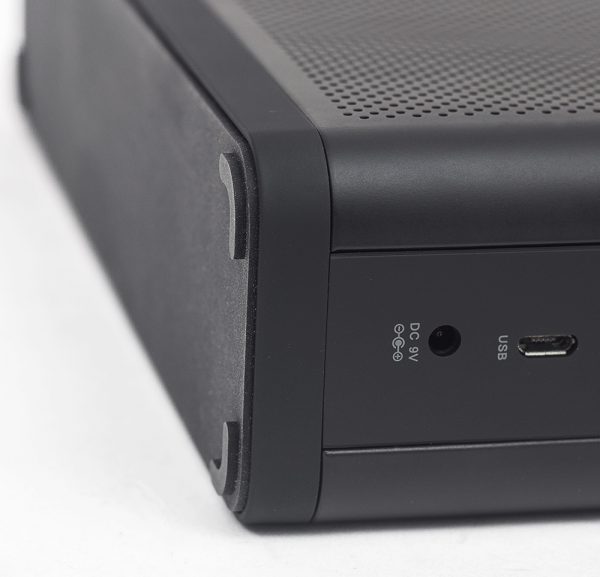 The Cambond X-Bass speaker is powered by 6700mAh Lithium-ion batteries and according to Cambond's website, the batteries can last 8 hours at 50% volume. I have to confess, I never really kept the volume halfway. I had the volume high.  I listened to these speakers with the volume cranked up. When you use these speakers, you will be inclined to use them the way they were intended to be; and that's to be loud. At least that's the way I used these speakers.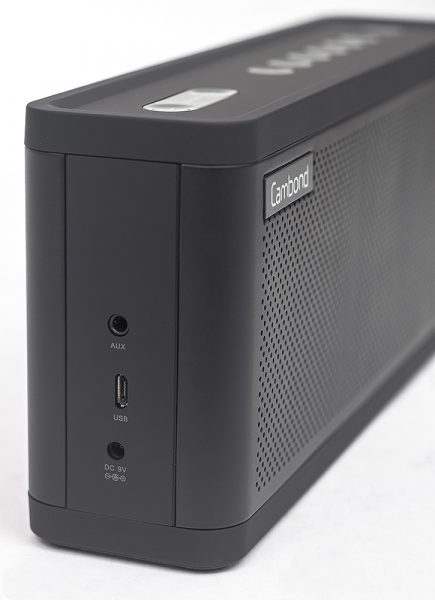 There is a 9V DC port on the bottom left side of the speaker to charge the battery or and can provide constant power to the speaker while in use. Above the DC port is a MicroUSB port which you can use as well to charge the speaker's batteries so you have a couple of options on charging the batteries which is nice. Just in case you don't have the 9V plug adapter with you at the time, you would be able to charge the battery via the MicroUSB port. A great thing about having the MicroUSB port is that you can plug in a portable charger just in case you are somewhere that doesn't have a wall outlet such as at a beach, at a picnic, or sitting poolside.
When the Cambond X-Bass runs out of battery, the X-Bass will constantly beep twice every 5 minutes to remind you that the batteries need recharging. And once the battery is full, the red charging light will turn off to let you know that charging is done. It takes up to 3 hours for the battery to reach full capacity.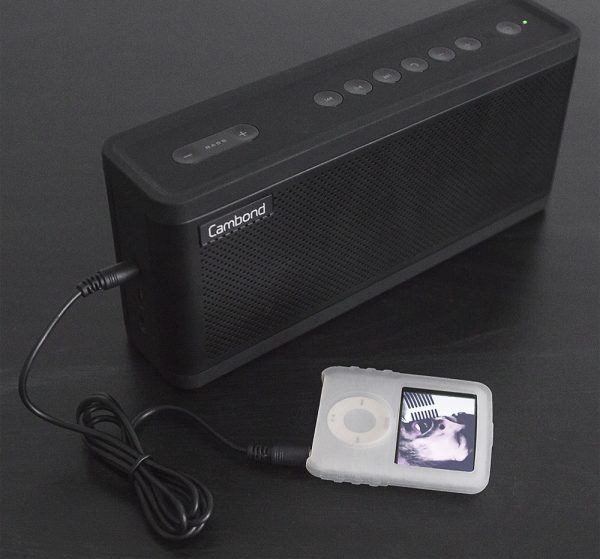 Although this is a Bluetooth speaker, there is an AUX IN port available. This is useful for when your music device is non-Bluetooth or isn't Bluetooth enabled. Just connect the included 3.5 audio cable into the device's headphone jack and the other end of the audio cable into the AUX In port on the Cambond speaker. NFC, or Near Field Communication, is also available as another form of connection to the Cambond X-Bass. Along with the 3.5 audio cable, the X-Bass comes with a MicroUSB cable, a 1A/9V adapter plug, a warranty card, and a manual.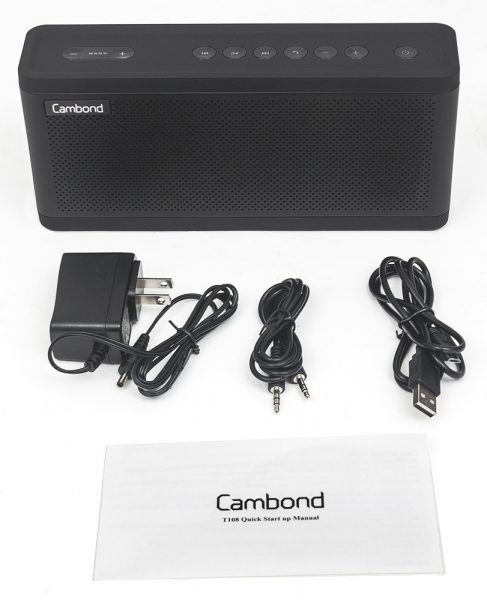 I found the sound of X-Bass Bluetooth speakers to be loud and produced great overall sound. I really enjoyed the bass that it pumped through its speakers. Trust me, I cranked these speakers up and they really hit for the size that they are. Keep in mind that to get the best sound out of these speakers, or any other speaker, the music you are playing is the best quality recording so that the frequencies are right in order to get the full effect of hearing and feeling the bass from the speakers.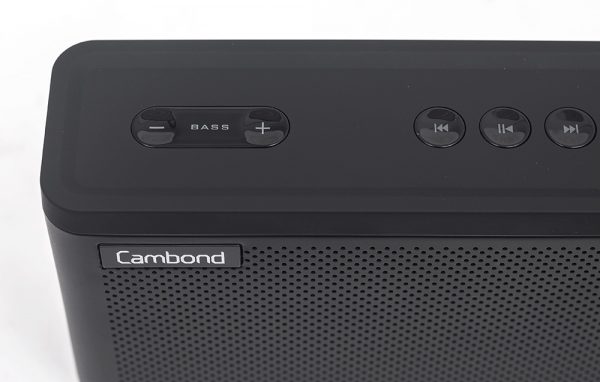 I played several type and styles of music and had different recordings from many of the songs, and they each sounded full thanks to the punchy mids and rumbling low bass. What a difference it makes listening to the full range of music coming out of portable speakers. It makes you really enjoy a song a whole lot more when the music is boosted up. And since these are portable speakers, you can enjoy the X-Bass speakers from Cambond anywhere you can bring them.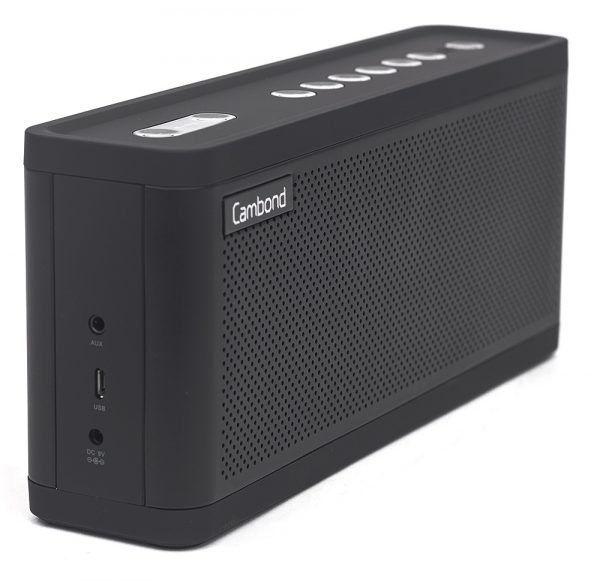 Source: The sample for this review was provided by Cambond. Please visit their site for more info and Amazon to order.
Product Information
Price:
$69.99
Manufacturer:
Cambond
Retailer:
Amazon
Pros:

Loud adjustable bass.
Solid construction.
NFC capable.
Has a 3.5mm audio AUX IN port.
MicroUSB and 9V DC charging ports.

Cons:

Slightly heavier than most speakers its size.
Average handsfree call quality.
Slight delay in speaker phone response.